EspañolTake your pick: press conferences without questions, intimidation, threats, slander, state harassment, privileged access, and even restrictions on newsprint purchases.
These are some of the problems facing the media in Latin America, according to a group of academics, politicians, and journalists convened for the Freedom of the Press Colloquium, hosted in Montevideo, Uruguay, on Monday by the Konrad Adenauer Foundation.
Local journalist Gerardo Sotelo sounded the alarm over a new technique of communications management by the region's presidents: limiting access to information, targeting critical journalists with lawsuits and threats, and abusing official channels to reward or punish independent media.
"We're still talking about these issues in Latin America, while the rest of the world is taking on the problems of the decline of the traditional media, new business models, the challenges of social media, and digital journalism," Sotelo said.
Among those who discussed the situation in Argentina were investigative reporter Alejandra Gallo, Congresswoman Cornelia Schmidt-Liermann, and Senator Norma Morandini.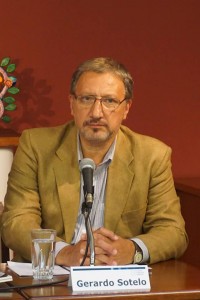 Venezuelan political science professor Guillermo Tell Aveledo meanwhile spoke about an ongoing crackdown on the press by the government of President Nicolás Maduro.
"In Venezuela, a series of hostile regulations have come into force against the media," Avelado told a press conference after the colloquium.
"These include economic pressure on opposition media, control of advertisements, restrictions on paper purchases by print media, restrictions on buying new equipment, and limits on granting licenses for radio and television," he explained.
Specter of Censorship
The assembled industry experts discussed the politicization of state-run broadcasters, and the purchase of media by business figures close to the government.
Many present also reported the arrest and imprisonment of journalists after sham legal processes, or the issuing of direct threats, in order to silence critical voices.
"This ends up generating an unfavorable situation for the practice of independent journalism and could lead to journalists self-censoring to avoid real or potential punishments," the assembled experts reported in a statement read out by Sotelo.
Nevertheless, they emphasized that social-media networks represent a channel for citizens to make their complaints against the government and the failings of the traditional media heard.
"The lack of self-criticism by the media has prompted citizens to accept acts of intimidation or censorship by populist governments," they added.
Si las marchas de los "resistentes" hubieran sido organizadas por la CIA, no hubiesen sido tan estruendosos fracasos.
AFP mintió.

— Rafael Correa (@MashiRafael) March 23, 2015

"'If the marches of the 'resistance' were organized by the CIA, they wouldn't have been such massive failures': Agence France Presse is lying."
Seeing Beyond Idols
Uruguay is one of the few countries in the region in which freedom of the press and independent journalism can be exercised freely. Nevertheless, the local representatives agreed that many local media outlets had been seduced by the style and popularity of former Uruguayan President José "Pepe" Mujica.
Many journalists limited the depth of their analysis of his administration out of affection for his simple lifestyle and kind personal manner, they suggested, raising the alarm over a society that "doesn't seek to know what's happening, if what's happening goes against their beliefs."
Finally, they agreed that the principal sources of aggression against journalists come from the political sphere, from media owners imposing self-censorship, and organized crime.
"We call for a world with professional and independent journalists, and for wider access to information for all citizens. All actors within society should be held to account before society through press conferences and an open agenda," they concluded.
On March 18, the Inter American Press Association (IAPA) warned a session of the Inter-American Commission on Human Rights (IACH) about the danger of pro-government media empires forming in several countries in the region.
For the IAPA, Nicaragua, Venezuela, Bolivia, Guatemala, Ecuador, and Argentina are all home to large media groups comprised of radio broadcasters, television channels, and print media subservient to those in power.
Translated by Laurie Blair. Edited by Guillermo Jimenez.