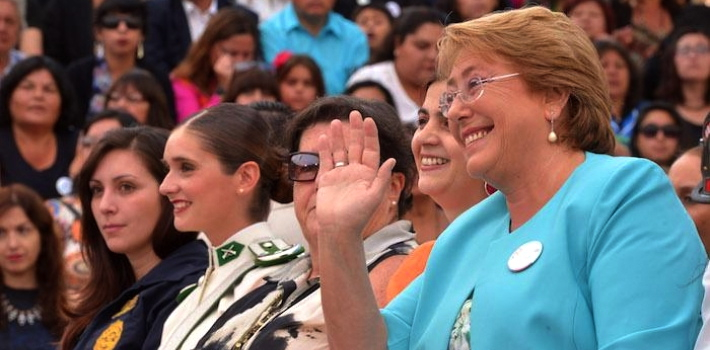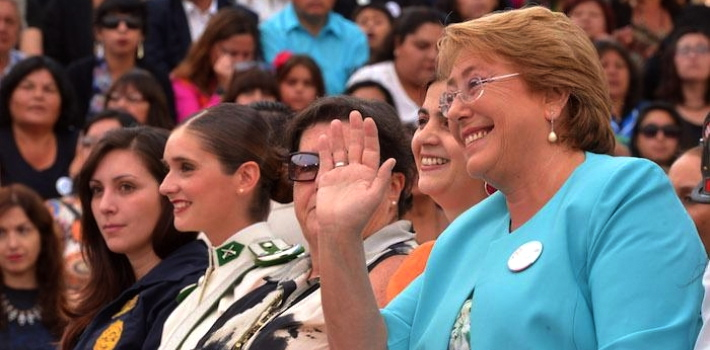 EspañolThis year's International Women's Day proved to be a major coup for feminism in Chile. President Michelle Bachelet hosted the Sunday celebration outside Santiago's Moneda Palace, and used the occasion to launch a new ministry for women and gender equality.
"We are getting our act together to ensure that women today, and especially girls today, will not have to wait a lifetime to live in a fairer world," the Socialist Party premier said.
It's one thing to talk about freedom and equality and another thing to propose initiatives.
Although the central government will not install the ministry right away, it is expected to be fully operational one year from now.
Surrounded by a delegation of Chilean women from various backgrounds, Bachelet explained how the new government body will seek to end gender inequality and violence and discrimination towards women.
"Equality helps to improve the lives of the entire family," she said. "This is evident when the woman lives with her partner and she can contribute with more revenue, but it shows much more in homes where they are the only providers; and these are more than a few."
Among other gender-related policies recently unveiled by Bachelet's New Majority governing coalition are moves to decriminalize abortion in cases of rape, non-viability of the fetus, and risks to the mother's health. In addition, Chile's new electoral law shall oblige parties to present candidate lists comprised of at least 40 percent women.
"We all know that it's extremely hard when [as a woman] you have to make sacrifices, when we are exposed to violence, and we know all to well that it's one thing to talk about freedom and equality and another thing to propose initiatives," Bachelet said.
The government of Chile's video pictorial and timeline to celebrate International Women's Day.
The initiative has received the support of Senate President Isabel Allende, also of the Socialist Party and daughter of the former President Salvador Allende (1970-1973).
Bachelet mentioned that of every 10 households, four are headed by a woman, so "every time we allow society to discriminate against a woman, you are limiting the opportunities for her and her family."
Bachelet first introduced the bill in Congress on March 27, 2014, saying she was "happy," having strived for gender equality her whole life.
The ministry, which will be headed by a sub-secretary and possess regional offices, will be responsible for proposing and implementing public policies and legal and regulatory initiatives to combat gender equality, spearheading a National Program of Equality.
It will partially be directed by an advisory board of specialists with "proven expertise," appointed by the sub-secretary. Both the Ministry of Finance and the Ministry of Women itself will then be in charge of establishing administration and funding procedures for the new government body.
It's just another useless bureaucratic body that will cost a lot of money to Chilean taxpayers.
Axel Kaiser, executive director of Chilean policy institute Foundation for Progress told the PanAm Post that, in his view, the principal problem for women in Chile is their lack of integration into the workforce.
"Chile has a lower female participation rate than the Latin-American average," he said, highlighting low employment levels among those with less formal education in particular.
Kaiser says, however, that Bachelet has failed to confront the issue of employment inequalities by maintaining inflexible labor laws, and that the new ministry will fail to achieve significant results.
"The Ministry of Women will not do anything to improve the situation of women in Chile; it's just another useless bureaucratic body that will cost a lot of money to Chilean taxpayers."
Fergus Hodgson contributed to this article.