EspañolFearing for his life, Damián Pachther — the Israeli-Argentinean journalist who broke the story of Alberto Nisman's death on his Twitter account — fled the South American country over weekend and arrived in Israel on Sunday, January 25.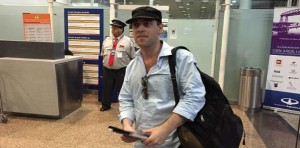 Thirty-one-year-old Pachter had made known in the days prior to his departure that his life was in danger and that he could not stay in the country any longer.
However, in an attempt to discredit him, Argentinean state news agency Télam and the Casa Rosada presidential palace released via social media details about his plane ticket. They alleged a return date to Buenos Aires of February 2.
The Buenos Aires Herald reporter departed on Saturday, bound for Montevideo, Uruguay. From there he flew to Madrid, Spain, and finally landed in Tel-Aviv, Israel, at 3 a.m. (Argentina time) on Sunday.
A salvo en Tel-Aviv. Gracias a todos. En breve hablamos.
Dami.

— @damianpachter (@damianpachter) January 25, 2015
"Safe in Tel-Aviv. Thanks everyone. We'll talk soon. Dami."
"Pachter, who told several outlets he was leaving the country because he feared for his life, left Aeroparque [Buenos Aires airport] this morning at 6.58 a.m. on flight AR2382 with the destination of Montevideo. According to Aerolíneas Argentinas, the passenger has secured a return ticket for February 2 on flight AR2395," state news agency Télam noted on Saturday evening.
Why the Threats?
In a conversation with a journalist from local newspaper Clarín at the Buenos Aires airport on Saturday, Pachter said his tweet where he announced the death of prosecutor Nisman allegedly hindered the government's "operation" to modify the crime scene and make it look like a suicide.
"I ruined it for them with that tweet. I messed up the [government's] operation. They wanted me out of the way… I was lucky. That's how serious it was. I'm leaving because my life is in danger. I can't stay here anymore. I can't return to the country, at least until the end of this administration. I'm in the crosshairs. It was really serious. I received a message and then something else happened, which confirmed the whole thing and then shit hit the fan," Pachter said right before boarding.
A personal account of his escape appeared in Israeli newspaper Haaretz on Sunday, where Pachter describes the "craziest" 48 hours of his life.
On Friday, a fellow journalist from the BBC questioned him over an apparent tweet of his that Télam had quoted (which tweet remains unknown). Pachter assures he never wrote it, and he decided to leave his home right away for Retiro, the Buenos Aires bus terminal.
He then bought a bus ticket to an undisclosed location: "After several hours of travel, I [arrived] at a bus station, where I stayed for a couple of hours. That was a mistake: I believe that's when someone started following me. I didn't realize at the moment."
Pachter said that a man — who he believes was an intelligence agent — sat two tables away in a coffee shop.
"I had to think about the best course of action, because when an intelligence agent follows you in Argentina, it's never good news. He didn't want to have a cup of coffee with me, that's for sure."
Télam representatives have denied releasing false information about the journalist's tweet "as he alleged in a Sunday article published by Israeli newspaper Haaretz."

https://twitter.com/CasaRosadaAR/status/559510905508356096
"The National News Agency did not publish any article alluding to an apocryphal tweet by journalist Damián Pachter."
Pachter, who went from 400 followers on Twitter to over 25,000 in just a week, warned his mother via a text message before leaving the country: "I have no idea when I'll be back in Argentina; I don't even know if I want to. What I do know is that the country where I was born is not the happy place my Jewish grandparents used to tell me about."
Buenos Aires Herald's Support
The Buenos Aires Herald have shared that since Pachter did not show up to work on Friday, they tried to reach him at around 3 p.m., when he was scheduled to come into the office. Three hours later the reporter called in to say he was on his way to the doctor, because he didn't feel okay, and that he would call his editor later.
In a statement, the outlet said that "In the wake of news that the reporter feared for his safety and was going to leave the country, we note that he did not, at any point, express this concern to the organization.… The organization is closely following the case with concern and is working to give the journalist all the necessary support."
Privacy on the Line in Argentina
On Sunday, Julio Cobos — former vice-president under Cristina Kirchner's first administration (2007-2011) and now opposition presidential candidate — said he would demand an explanation from the state-owned company Aerolíneas Argentinas, after they divulged Pachter's flight itinerary.
"The government's official media accounts, in a clear act of irresponsibility and impunity, published information about the journalist's destination and whereabouts … We want to know who provided this information and who authorized it," Cobos said in a press release.
The Association of Argentinean Press Entities (ADEPA) have also critcized the Kirchner administration over the fact that Pachter has exiled himself abroad: "A country whose government tries to control the media suffers from attempts to distract or obstruct the right to information on affairs of public interests."
On Monday morning, Chief of Staff Jorge Capitanich struck back during a press conference that in Argentina "all journalists enjoy full protection."
"It was said that a journalist felt threatened, and no one knows where he is, with no notification to the organization he works for. So it is very important to publish such information, so there's public knowledge about his whereabouts. That's why the government decided to release it."
Translated by Daniel Duarte. Edited by Fergus Hodgson.