EspañolOn May 27, Chile's Telecommunications Sub-secretariat (Subtel) officially demanded mobile companies stop offering free access to social networks. Subtel claims these special offers violate net neutrality, and gave mobile companies until June 1 to comply or face potential fines.
The statement, published on the agency's official website, explains that while Law 20453, enacted in August 2010 and effective since March 2011, allows companies to manage their own networks, such private management cannot be discriminatory, "nor can undermine free competition."
It further adds that companies cannot block or interfere with the user's content access. Article 8, paragraph II of the legislation states, "any action of prioritization or discrimination affecting content providers, applications or users to the detriment of others, will always be considered arbitrary."
SUBTEL Informa: Sobre Ley de Neutralidad y Redes Sociales Gratis http://t.co/jZxBMXamvX

— Subtel (@subtel_chile) May 27, 2014
According to the law seeking to ensure neutrality for Chile's users, Subtel affirms that carriers "must provide each user an Internet access that does not arbitrarily distinguish between content, applications or services, based on their source or ownership, regardless of their contract with users."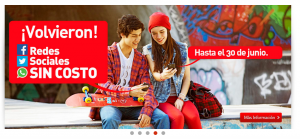 The agency's decision comes after three Chilean telecommunications companies (Virgin Mobile, Claro Chile and VTR) started offering mobile data plans including certain social networks or messaging services like Facebook, WhatsApp, and Twitter, for free. Subtel claims this arrangement favors these services' data and puts the rest on a "slow lane."
Using these social networks is free as their usage does not detract from the contracted data plan. Any other app from platforms not in the promo package still work, but with data charges.
As of June 2, mobile companies that continue to offer the freebies will be punished by the regulator. Pedro Huichalaf, Undersecretary of Telecommunications, said that the providers could face fines up to CL$42 million (US$76,000). He also stated that companies already knew about this since April 17, when Subtel issued a memo on the issue.
Huichalaf stressed during a CNN interview that companies that interpret the law differently will have to fight the decision in court. He further claimed that these special offers hinder free competition.
"If they offer free internet, that's fine, but it has to apply to all services. It cannot be arbitrarily restricted by the company. Why Facebook, Twitter, and Whatsapp and not other social networks? No one can establish an arbitrary difference or limit internet access to some websites," said Huichalaf.
The government official said the law establishes clear rules for all companies. Their goal is to prevent smaller companies that do not offer these free services from claiming that larger companies that do are violating net neutrality, and are being forced to offer the same services to keep their customers.
For its part, Virgin Mobile explained to its customers that they are still negotiating with Subtel. "While we wait for the results, we will continue to provide unlimited Whatsapp connection until further notice. As the first company to offer free social network access, we request clarification from Subtel on the issue."
Claro Chile and VTR did not issue any statements. When asked about the case, employers referred us to their website where the company explains Chile's regulatory telecommunications framework, but they did not provide an opinion on the alleged net-neutrality violations.
Chile's observance of the net neutrality law comes after the recent enactment of a similar bill in Brazil, and the celebration of #NetMundial Convention in April, where 85 countries drafted regulation proposals and discussed the future of internet governance.