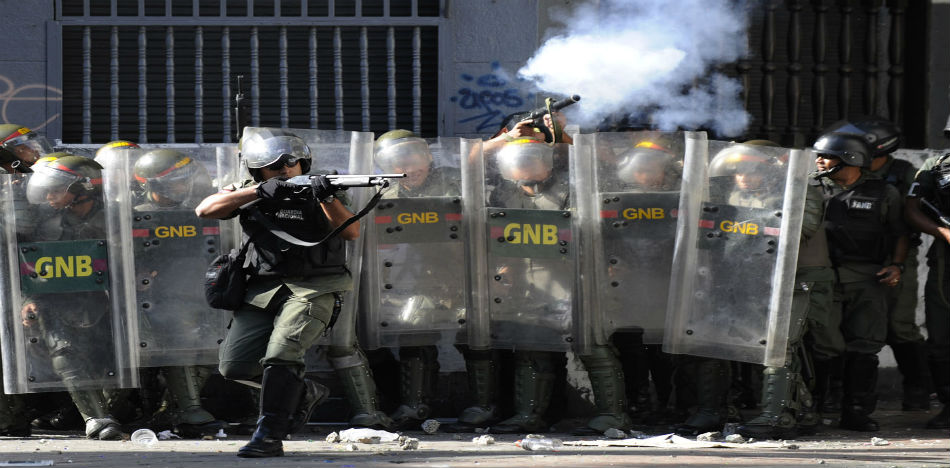 I do not think that an open letter to the Armed Forces, guards, or police in Venezuela will be effective. They will probably never get to read it.
Venezuelans have the ability, through their actions and words, to make a statement to these army guards and soldiers who insist on hurting, assaulting, and murdering their fellow Venezuelans, their brothers and sisters, in the name of the Bolivarian revolution orchestrated by Fidel Castro, implemented by Hugo Chavez, and stubbornly protected by Nicolás Maduro.
These soldiers and police totally blinded by the head of the regime and what it represents, are repressing the elderly, young people, children. Elders who have seen the creation and development of this repressive state machinery that was born with Chavez, young people who have only known this type of government and have lived their whole lives under the same Chavista authoritarian regime, and children who suffer from tear gas in hospitals, hunger or illness due to lack of food and medicine all over Venezuela.
Perhaps many of these guards do not rebel out of fear, threats by the regime, threats to relatives who dare to question the dictatorship, because the lives of their loved ones are threatened. The reality is that if Nicolas Maduro's dictatorial regime continues in Venezuela, his relatives will die or suffer sooner or later, either because of lack of medicines, hunger or the terrifying degree of criminality all over Venezuelan streets.
The issue lies in the following. At some point, hopefully sooner rather than later, the dictatorship will fall. Once that dictatorship falls, all those who were propped up by the use of terror, fear and threats of the Bolivarian narco-state, will be unprotected and their violations of human rights will be exposed to absolutely everyone.
The children, grandchildren, and great-grandchildren of these members of the army or GNB will feel ashamed of having relatives who defended a murderous and torturing dictatorship. Is that what they want for their future generations?
This is the precise moment when those guards must make a decision that will change not only their lives but also the lives of their future generations: on what side of history do they want to be? On the side of repression or the side of freedom? On the side of the dictatorship or the side of democracy? You should not forget that it was Simon Bolivar who said "curse the soldier who points his weapon against his own people." They will not want his curse to fall on them.
The GNB Primer has 84 articles. Article 8 states that the guard "will always provide comfort for the afflicted, will aid those under assault from criminality; whoever house is in flames, will soon see the fire extinguished; whoever sees their child  dragged away by the current, should consider them saved; and finally, they must always look after the property and security of all."
This article is one of many that the guards are breaching. Mainly because their presence on the streets and loyalty to the regime have become an unfortunate development for all Venezuelans in good faith who seek a free and democratic Venezuela. These guards, who operate to defend a dictatorial, stubborn, capricious and drug dealing regime, are the dictator's faithful tools, who does nothing more than use them at his convenience, causing them to betray their country, their own people, to Venezuela, while defending a a group of thieves living with luxuries and riches.
Article 26 of the Charter states that "the Bolivarian National Guard must ascertain the whereabouts of thieves who have committed a robbery and also the whereabouts of the stolen goods, as well as the places where they may be hidden, as well as the people in whose possession they may be found, whether it be jewelry, clothing, field products, equestrian gear, or any kind of livestock." This is yet another commandment they are not fulfilling. In fact, they are working for and providing their services to those thieves whose whereabouts they should be seeking to discover.
Likewise Article 37, states that the GNB must have "a tireless zeal in the persecution of wrong-doers and disturbers of public peace." Paradoxical, while its leaders, the military of high command and the dictators of the regime are the first evil-doers who disturb public peace, as indicated in Article 44, which states that "it will always be the duty of the Bolivarian National Guard to pursue and capture all the violators of laws, especially murderers and thieves", another provision which they are not fulfilling. The main killers, thieves and lawbreakers in Venezuela are those who are in power at this precise moment.
It is time for these guards and police to have courage; like Venezuelan women did in the last march of women on Sunday. It is time for them to decide on what side of history they want to be and how they will be judged, not only by the people of Venezuela, but also by their children, grandchildren, and great-grandchildren.