Español"If we don't receive an answer soon, I will chain myself. Wherever I'm heard, that's where I will go," Damelis Veracierta, told El Nacional newspaper. She is the mother of one of the seven Venezuelan students who were expected to have their preliminary hearing on Tuesday. After almost three months of imprisonment, they have seen no charges, nor a trial.
However, the Bolivarian National Intelligence Agency (SEBIN) refused to transport the students to court, so their hearing has been deferred to July 29 at 9:00 a.m. local time. As yet more time ticks away, parents have chained themselves in front of the city's UN Programs for Development (PNUD) offices as a sign of protest, just as their children did until they were detained.
"[The parents] are also a part of this conflict; you can imagine what they feel when they hear back from their kids and this happens, or worse, when they don't hear back at all," said student leader Juan Requesens to the PanAm Post.
Ángel Contreras, Gerardo Resplandor, Gerardo Carrero, Abril Tovar, Nixon Leal, Anderson Briceño, and Dioris Albarrán are among 30 students who were detained on May 8, after the police dismantled their "camp." They had occupied an area in front of the PNUD's office, asking the United Nations to send a commission to evaluate the violent situation and human rights abuses in Venezuela.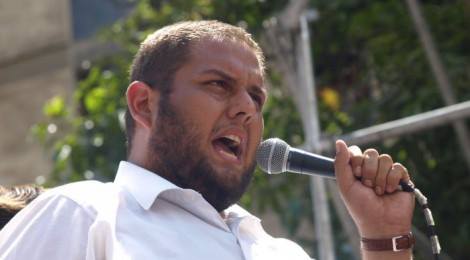 "Yesterday the government decided they weren't going to let our friends attend the hearing they had set … Those in government once again show their cruel side," said Requesens. "It is not only a human rights violation, but an autocratic ruling.… The government keeps showing their arbitrary, militaristic, and authoritarian side," added the Venezuela Central University student.
Family and friends of the detainees had been waiting at the court from the early hours of the morning. Upon hearing the news, they went to the SEBIN headquarters.
Ángel Contreras's mother, Katiuska Ravelo, says that they asked for an explanation, but the authorities refused to address the crowd: "The court released two different transfer orders, one at 7 a.m. and one at 10 a.m., and they did not transfer our children," she explained.
Gaby Arellano, student coordinator for the Popular Will party, called upon the prosecutors and judgeds who are working on the case: "You have the chance to vindicate this country's justice system and stop acting as political murderers who follow the Venezuelan Socialist Party's decisions.… We want justice, and freedom for all our classmates who were fighting in the "camps". We refuse to believe all judges follow this government's instructions."
Carlos Vargas, a student leader from Andrés Bello Catholic University (UCAB), insisted that students will continue the struggle for the future of the country and for democracy: "Today we are outraged that the democratic principles that are the basis of the republic, have been violated … We are victims of constant human rights abuses, and we will continue to fight peacefully."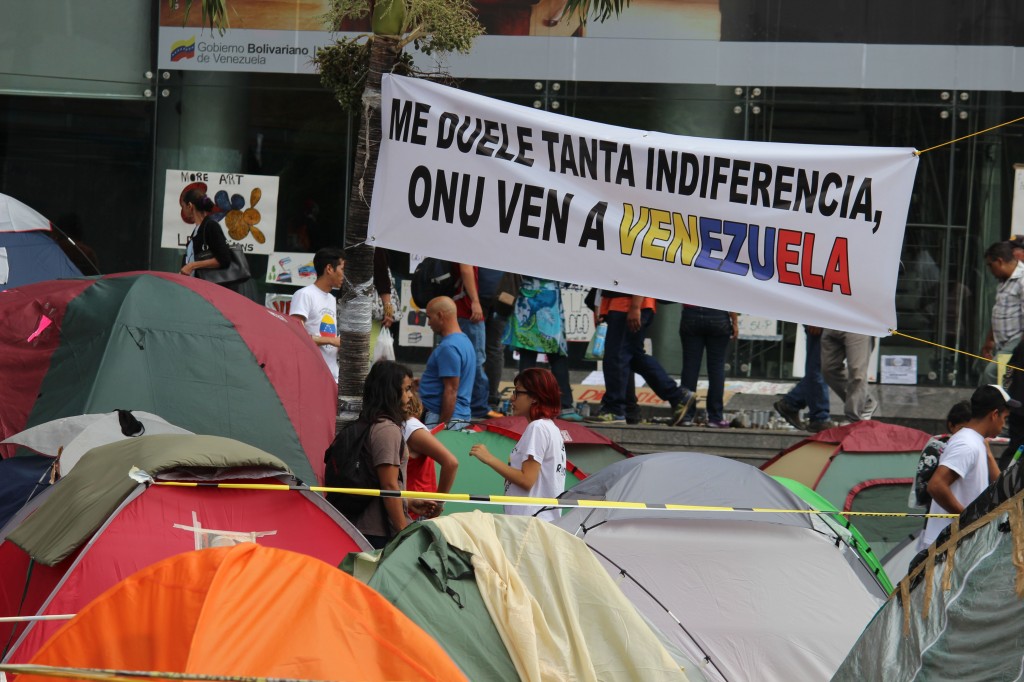 In February, opposition leaders Leopoldo López, María Corina Machado and Antonio Ledezma, together with students, led a series of peaceful protests as a response to the national crisis, high inflation rates, food shortages, and the climate of insecurity. Since March, students have been camping out in different parts of the capital, to continue the protest against the crisis the country is experiencing.
La Salida, as it has come to be known, gave rise to a series of student-led protests — some of which did turn violent — and the regime responded with repression. This resulted in at least 43 individuals losings their lives and 878 injured. According to the  Penal Forum, an NGO providing legal aid, 3,220 students have been detained, of which 233 were underage at the time.
[youtube http://www.youtube.com/watch?v=JFS94vD4NdQ?version=3&rel=1&fs=1&showsearch=0&showinfo=1&iv_load_policy=1&wmode=transparent]
On Wednesday, in a related development, Leopoldo López's trial began. He could face up to 10 years in prison if he is found guilty of fostering violence during February's anti-government protests.
López's defense last week asked for the jury to postpone the trial, because the evidence they presented had yet to be accepted. Juan Carlos Gutiérrez, one of López's lawyers, said López has not had a fair trial, as the minimum legal guarantees have been violated.