Little Bush says … we are at war on terror, but that is a metaphor, though I doubt if he knows what that means. It's like having a war on dandruff, it's endless and pointless.
~ Gore Vidal
The real risk the United States faces as a nation is not terrorism but an utter disregard for unintended consequences, both in the domestic and international realms. 
A broken foreign policy that places fear before realism, while addressing speculative guesses instead of looking at facts, has ignited a series of legislative and executive reforms in recent decades. These reforms have boosted defense spending and put the lives of countless US soldiers in grave danger. But those are not the only consequences of the country's intrusive and heavy-handed interventionism; the immigration crisis we now vilify is also the byproduct of our disregard for unintended consequences.
Government agencies have admitted that, like the War on Drugs, the War on Terror was never meant to end. Yet opinion leaders continue to bet on Washington hawks, instead of listening to those with a realistic approach to US foreign policy.
Tyranny apologists fawn over politicians who promise to govern with fear in mind. To them, the larger the government, the stronger it will stand against its enemies — fabricated or not. But a big government does not arise without weakening its own people.
The true cost of foreign intervention is a hard one to grasp, but the stated dollar figure alone is not the issue. Higher taxation, stepped-up borrowing, and inflation are all economic policies of a nation in constant war, and they impair the freedom of citizens to do as they please with their money. Perpetual war generates perverse incentives, for economic policies that penalize workers and their employers, and the United States has been in constant conflict abroad ever since her lawmakers decided to wage wars on imaginary enemies.
In spite of this writing on the wall, talking heads continue to promote the usual suspects for the executive branch. Have they not realized that what the people want and what the political establishment want are two different things?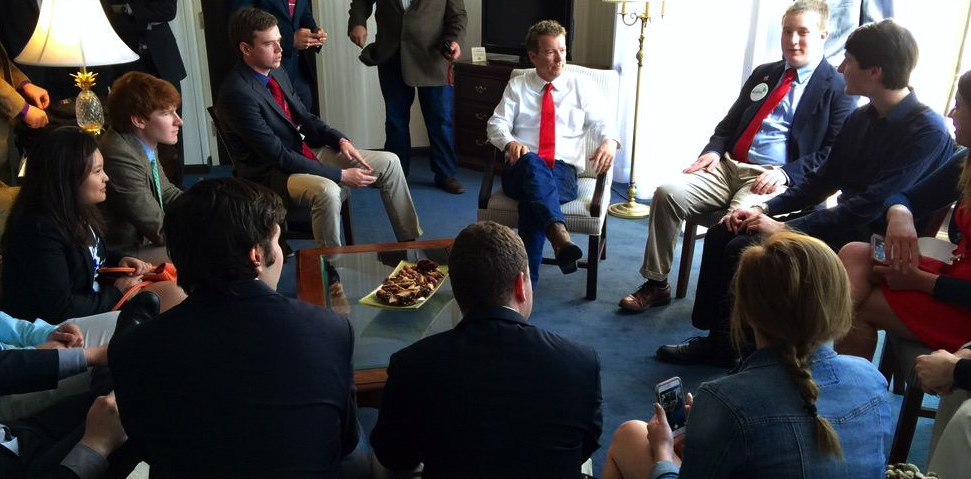 Interventionism Takes Center Stage
As establishment Republicans and Democrats rush to support hawks like Hillary Clinton and Marco Rubio, real US Americans rush to rallies and other gatherings where Senator Rand Paul is the star. Paul's appeal to the base and grassroots is his realistic approach to foreign and drug policies and the use of drones, and his stance against crony capitalism.
In New Hampshire over the weekend, Rand Paul took his colleagues to task during the Republican Leadership Summit. The event was a great opportunity for all major presidential aspirants, but few were as successful as Paul.
As he spoke to hundreds of Republicans in New Hampshire, Paul claimed to have little faith that his GOP colleagues would have a better time fixing US-Middle East relations:
There's a group of folks in our party who would have troops in six countries right now — maybe more. This is something … that will separate me from many other Republicans. [They] will criticize Hillary Clinton and the president for their foreign policy, but they would have done the same thing — just 10 times over!
As he ripped into his competitors, Rand brought up US involvement in Libya and Hillary Clinton's disastrous participation in the incident that led to the death of four US Americans. He reminded the audience that those who criticize his foreign-policy stance now all wanted to go into Libya in the first place. In other words, they all have blood on their hands.
Everyone who will criticize me wanted troops on the ground … in Libya. It was a mistake to be in Libya. We are less safe. Jihadists swim in our swimming pool now. It's a disaster.
But military involvement in Libya wasn't Paul's only example of bad policy toward the Middle East. He also talked about nation-building and the Unites States' never-ending addiction to toppling foreign dictators in the name of freedom.
Every time we've toppled a secular dictator, a secular strongman, we've gotten chaos and the rise of radical Islam. We have to decide when getting involved is good and when it's not so good.

There's a group of folks in our party who think it's always good … There's people in our party who supported giving arms to [Muammar] Gaddafi before they supported giving arms to the "freedom fighters" who turned out to be al Qaeda.

I'm not saying don't be involved in the world. I'm not saying don't defend our interests. But think about it. As a physician, we're taught: first, do no harm.
By choosing to talk realistic foreign policy with Republican voters, Paul brought their attention back to what the real problem is: interventionism. Those who want to frame him as an isolationist deny facts and live in a world ruled by fabricated fantasies on what the country's real enemies are.
US Americans appear to be ready to change the country's tune by denouncing hawkish politicians who work relentlessly to put their lives in greater danger with each passing year. Could the establishment as well as the media finally begin to understand that the cultural change is already here?
Edited by Fergus Hodgson.