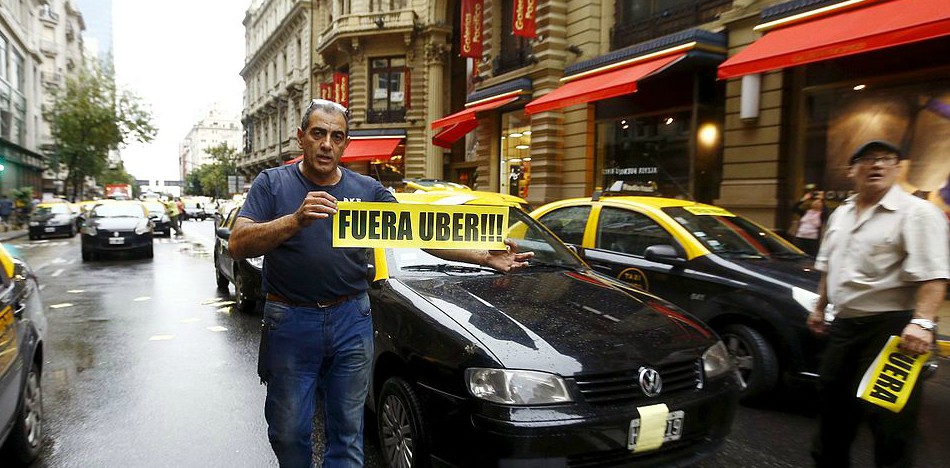 EspañolTaxi drivers in Chile gathered in the streets this Monday, July 10 to protest the "unfair competition" that Uber and other ride sharing services present in Santiago.
The 3,000 drivers, who drove through the heart of the capital blocking traffic and disrupting public transportation routes, claim that there should be a law regulating ride-sharing service activities in the country.
Taxi drivers have accused officials of inaction when it comes to the Uber-Taxi controversy, which has arisen across most of the Americas with various intensity. In Chile, taxi drivers claim there is "ridiculous, non-existent" oversight of the applications.
"The applications wipe out taxis at night and during the day," said Nicolás Sayes, one of the leaders of the National Confederation of Taxis. "The issue has been drawn out and now it's an extreme situation. Many people are losing their vehicles."
Sayes called for curtailing ride-sharing applications through a law that protects taxi drivers until regulations is put in place.
"We want to put an end to it," Sayes said. "We can't keep waiting."
The taxi drivers claim they must pay high taxes as well as licensing fees that Uber and Cabify do not. Additionally, taxi drivers are subject to technical reviews of their cars.
Uber and Cabify have extended their presence to other Chilean cities over the last year, including Viña del Mar, Valparaíso, Concepción and Temuco.
Sources: La Prensa Gráfica, El Comercio,