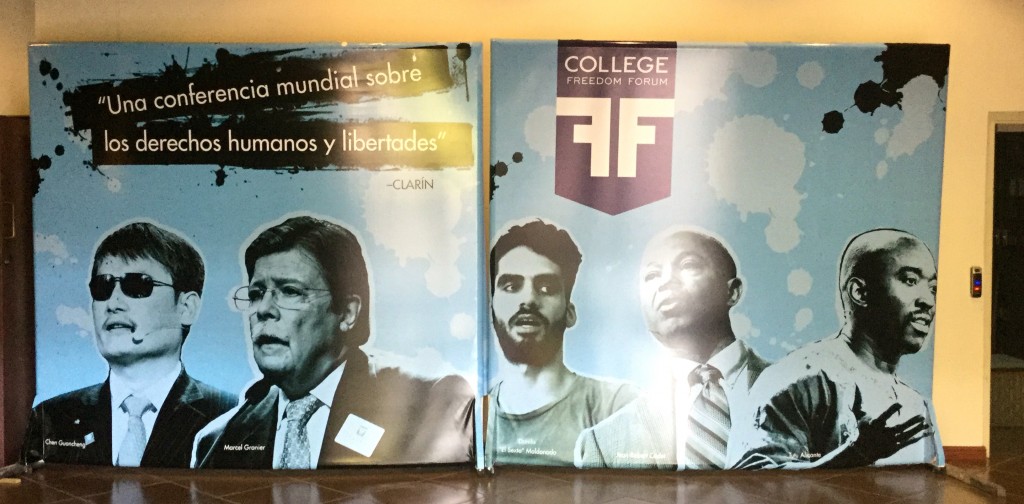 Español"Freedom is our most precious good but also the most vulnearable" said Marcel Granier, a Venezuelan journalist and defender of free speech.
Granier was one of five speakers at the College Freedom Forum, held for the first time in Latin America on March 4. The event was organized by the Human Rights Foundation (HRF) in partnership with the Francisco Marroquín University (UFM) of Guatemala.
Speakers at the College Freedom Forum speak to the audience about their life-long fight for freedom and human rights.
Along with Granier, the speakers were Jean-Robert Cadet, promoter of the anti-child-slavery movement in Haiti; Chinese human rights lawyer Chen Guangcheng; Tutu Alicante, an activist against corruption in Equatorial Guinea; and Cuban graffiti artist Danilo Maldonado.
"Freedom is a noble and permanent cause," said Thor Halvorssen, president and CEO of the Human Rights Foundation, who introduced the speakers as "street legends" in the worldwide freedom movement.
Jean-Robert Cadet was enslaved during his childhood and adolescence. Although slavery is legally abolished in Haiti, there are still "restaveks," children sent by an impoverished family to work in another household.
Cadet says his earliest memories are from his time engaged in domestic service labor: sleeping under a kitchen table and waking up every day with a kick in the ribs.
He adds that, although he lived as a slave, he was not aware of the fact. Cadet explains that girls usually suffer more from slavery, often undergoing torture. One girl was beat in front of him. That was a pivot point in his life, when he knew something was wrong with the system.
The family Cadet lived with then moved to New York. Used to having a slave, they took Cadet with them. Since he had no birth certificate or passport, the family falsified his papers to travel. In the United States, he continued with his chores. But fearful of the US authorities his "family" sent him to school.
Unable to keep the house clean and go to school at the same time, Cadet was thrown out. His teachers then found out about his situation and helped him graduate from school. Gradually, Cadet had more opportunities to work and study.
He always remembered the small girl who was tortured in front of him. This inspired him to write about his childhood memories. Encouraged by his wife and with the help of a university professor, Cadet published his book: "Restavek: From Haitian slave boy to middle class man in the United States."
Happening now: @iguangcheng advocates for the rights of individuals with disabilities in #China at #CFFUFM16 #CFF pic.twitter.com/ihN0zUK9yY

— Oslo Freedom Forum (@OsloFF) March 4, 2016
Chen Guangcheng was also deprived of his liberty. Born in a poor Chinese village, he lost his sight when he was six months old. Unable to go to school, Guangcheng learned about life through the stories his father told him.
The characters in these stories were his models to fight against injustice. With difficulty, Guangcheng became a lawyer. As an attorney, he felt he could help others under similar conditions defend themselves against the abuses of China's communist government.
"Everyone can play an important role in the transformation of a society for the better. The determining factor is personal motivation of this person and a willingness to make an effort. You will face difficulties, but no barrier is impossible to conquer, " said Guangcheng as told the audience about how he was jailed for four years due to the Chinese government's persecution.
After fulfilling his sentence, the government unlawfully condemned him and his family to house arrest. In 2012, Guangcheng and his family escaped by taking refuge in the US embassy in Beijing. His memories can be read in the book: "The Barefoot Lawyer: the Struggle of a Blind Man for Justice and Freedom in China".
China has laws, but since it is an authoritarian government, it lacks the rule of law. The Communist Party uses the law as a tool for population control. This, he says, is corruption.
A corrupt government prevents social development, diminishes human dignity, and tramples freedom. Corruption and violence dominate Equatorial Guinea, a country ruled by the same president for 36 years. It takes brave individuals such as Tutu Alicante to denounce such tyranny.
"Equatorial Guinea is easy to explain," says Alicante. "It is dominated by an unholy trinity:" President Obiang, his wife, and their son.
"Corruption is a violation of human rights" Alicante says, because when a ruler squanders and steals public money, there are less resources to improve the nation's quality of life.
The incredible @TutuAlicante speaks truth to power and calls for a free Equatorial Guinea at #cffufm16 #CFF pic.twitter.com/tGp6FANBGa

— Human Rights Foundation (@HRF) March 4, 2016
Corruption often involves censorship against critical voices. That is Marcel Granier's story. The Venezuelan journalist and activist had his Radio Caracas Television (RCTV), the oldest station in Venezuela, seized by President Hugo Chávez in 2007
[adrotate group="8″]Chavez criticized RCTV, accusing it of slandering the Venezuelan government and its military. In that year, Chavez banned RCTV's air transmission concession, undermining the free flow of ideas and opinions in that country.
What becomes of a country where you cannot criticize the government? What can a person do in this situation? These were some of the questions put out to Granier during his lecture. For him, it is up to the citizens interested and involved in public affairs to ensure that a government does not restrict freedom.
"Without participation," he said, "there is no democracy. If there is no democracy, there is a dictatorship."
Another defender of freedom that knows about about resisting a dictatorship is the graffiti artist Danilo Maldonado, who defies censorship in his country by criticizing the Cuban government through street art.
"Advertising is a way to dominate a society," said Maldonado. "In Cuba, the government controls all advertising. So I believe that a graffiti artist can be a publicist who also expresses his opinion through art."
Maldonado was imprisoned for 10 months for painting two pigs named "Fidel" and "Raúl" as a way of criticizing the Cuban dictatorship. "I blindly believe in art. Art conquers all," he concluded, encouraging attendees to use all necessary means to denounce human rights abuses.
The stories told in the CFF reminded attendees that freedom makes them human. Gabriel Calzada, president of the UFM closed the event by stating that human rights are something real and concrete. "Human rights are the rights that all human beings have to life, property and freedom," concluded Calzada.