EspañolColombia's jail system is overpopulated by 53.3 percent, according to a report released on October 1 by the National Institute for Jail and Prison Studies (INPEC). At present, the nation houses 117,037 inmates — 108,845 men and 8,192 women — 35.6 percent of whom have yet to be sentenced.
The problem of overcrowding in Colombian jails has been growing more visible, now backed up by the report's data. On September 29, for example, more than 500 inmates were part of a hunger protest in El Pedregal, a prison in Medellín, to demand better sanitation facilities and more respect for their fundamental rights.
Rodrigo Ardila, a delegate and comptroller for Medellín has acknowledged the poor jail conditions, with one facility intended for 140 prisoners now holding 513: "There are not sufficient sanitation services. Halls with 250 people and only one bathroom. Other halls have only one or two bathrooms with one or two showers."
Drug-trafficking crimes represent 15 percent of the incarcerated population in Colombia. Daniel Raisbeck, an historian and classics professor at Our Lady of the Rosary University in Bogotá, believes this presents an opportunity, since an end to drug prohibition would drastically reduce the number of crimes, and thus the number of people incarcerated.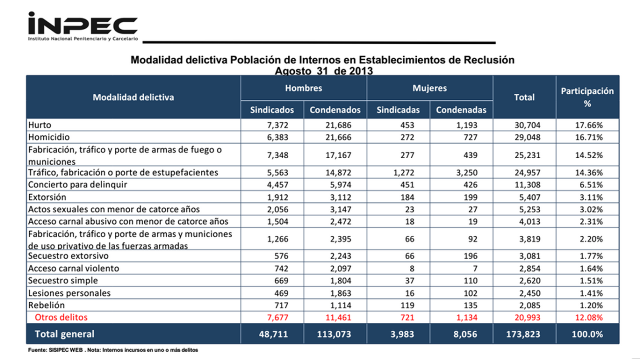 "It is worth noting that crimes related to bearing weapons and murder — 14 and 16 percent of the prison population, respectively — are related to the violence created by the drug war. It is a fact that this war makes a commercial activity a criminal offense, which could be perfectly legal," Raisbeck says. "Any analysis regarding better jails must take this into account."
Parks as Makeshift Prisons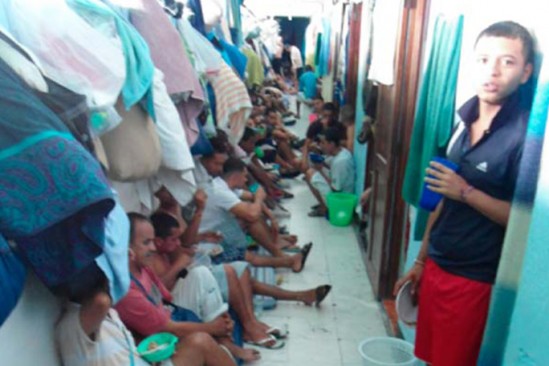 Colombian authorities detain more than 100 people every day for minor crimes, and the steady supply continues to exacerbate the overcrowding of various prison facilities. In western Bogotá from July to September, officials chose to use the green areas of public parks as impromptu holding cells for more than 40 people accused of non-violent crimes, such as theft and drug dealing.
A inmate held in a park described his conditions to the Associated Press: "Food and sleep [aren't] such a big problem," he said. "The real issue here is access to hygiene."
Jorge Armando Otálora, head of the Office of the Ombudsman, declared this situation as a clear affront to human rights.
"We, the Office of the Ombudsman, put forward the necessity of declaring this a social emergency to the central government. It is a systematic violation to human rights. We cannot talk about reconciliation and peace processes if we are mistreating human beings and ignoring their fundamental rights in other regards," Otálora said, referring to both inmates and guards.
In August, more than 1000 INPEC guards went on strike to protest the inhumane conditions in which inmates are held captive. Guards refused to make inmate transfers from attorney facilities to common jails and halted family and lawyer visits for inmates.
Incarceration after the Peace Treaty
One of the main challenges ahead for Colombia's jail system is the possibility of thousands of inactive guerrilla after a peace treaty, although whether they would serve time or not is yet to be confirmed. For Eric Sottas, a representative in Colombia from the World Organization Against Torture (OMCT), a possible solution for this problem is to divide future inmates into two categories, depending on the magnitude of their crimes. For lesser crimes, people would be asked to complete alternative sentences rather than be sent to jail.
In 2013, there were discussions about privatizing jails to make them more efficient and less expensive. Jail privatization would mean that the government would pay a foreign or private entity to preside over the prison system.
However, Daniel D'Amico remains "skeptical that a private prison service would be feasible or efficient in Colombia." He is the winner of the Israel M. Kirzner Award for his dissertation, "The Imprisoner's Dilemma: The Political Economy of Proportionate Punishment."
D'Amico explains that the empirical research surrounding contracted prisons in the United States regarding the performance outcomes across public and privately run facilities has been inconclusive.
"In the case of Colombia," he says, "such private interests may be more problematic as their system of government seems more prone to corruption. Some theorists have argued that under such conditions, private operation of prison facilities would lead to serious quality degradation."