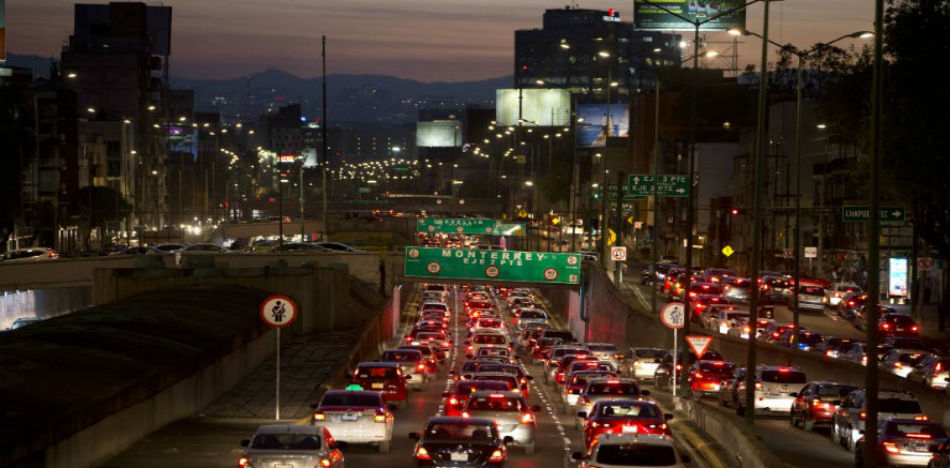 EspañolDriving in Mexico City, Caracas and Bogota requires an extra bit of patience, one report says.
Based on figures from 2016, INRIX, a traffic data agency, calculated traffic patterns and road and town designs to determine that those three cities are the worst for driving in South America.
The report, which includes an index analyzing urban movement, also measured noise and traffic conditions in 1,064 cities in 38 countries, concluding that Mexico City, Caracas and Bogota are among the 15 worst capitals for traffic.
"Population and economic growth, along with continuous urban development, are the main causes of traffic jams," INRIX said.
The report also ranked cities and countries by how much time they spend in traffic per year. Seven US cities are included among the 15, with Bogota and Sao Paulo appear in the top 10.
Cities
1. Los Angeles, USA: 104.1 hours in traffic jams per year
2. Moscow, Russia: 91.4 hours
3. New York, USA: 89.4 hours
4. San Francisco, USA: 82.6 hours
5. Bogota, Colombia: 79.8 hours
6. Sao Paulo, Brazil: 77.2 hours
7. London, England: 73.4 hours
8. Atlanta, USA: 70.8 hours
9. Paris, France: 65.3 hours
10. Miami, USA: 64.8 hours
11. Bangkok, Thailand: 64.1 hours
12. Caracas: 62.6 hours
13. Mexico City: 61.5 hours
14. Washington DC, USA: 61 hours
15. Dallas, USA: 59.4 hours
Colombia, perhaps unexpectedly, ranks second among countries for hours spent in traffic, with 47 per year. The next South American city on the list is Venezuela, in sixth place, then Brazil at 8th, tied with Puerto Rico.
Countries
1.Thailand: 61 hours in congestion per year
2. Colombia: 47 hours
2. Indonesia: 47 hours
4. Russia: 42 hours
4. United States: 42 hours
6. Venezuela: 39 hours
7. South Africa: 38 hours
8. Brazil: 37 hours
9. Puerto Rico: 37 hours
10. Turkey: 34 hours
11. United Kingdom: 32 hours
12. Germany: 30 hours
12. Slovakia: 30 hours
14. Canada: 28 hours
14. Luxembourg: 28 hours
Source: CNN en Español