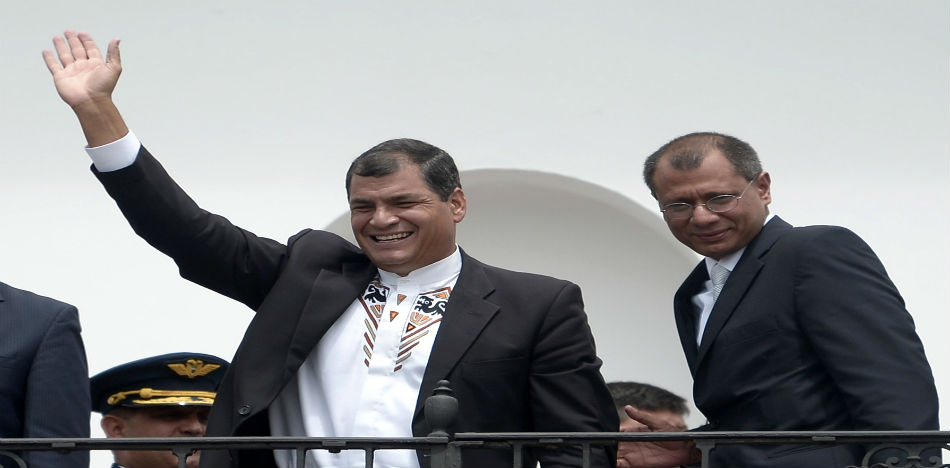 EspañolPresident of Ecuador Rafael Correa recently came out against a Panama newspaper's report about his Vice President's connections to money laundering.
La Estrella in Panama reported that Ecuador's Vice President Jorge Glas was connected to money laundering, which Correa called, "crap, garbage and gossip."
Correa went on the program Enlace Ciudadano 499 and said the report was a "tabloid that attacks everyone," adding that it wasn't serious press and "does not use serious sources."
According to La República, Correa challenged the media to back up the information.
"I present a challenge: by next week, prove that Alexis Mera was in Panama, prove that there is a secret record of it held by Panama's government," he said. "Once again, they will be proven liars."
The Ecuadorean President reportedly gave the media a week to prove that Secretary Alexis Mera was in Panama to prevent documents from being disseminated against Vice President Glas.
Last Thursday, Attorney General Galo Chiriboga said Panama's "Criminal Assistance" does not mention Jorge Glas in the corruption report from Petroecuador.

On October 6, the Prosecutor's Office announced that they are investigating new transfers in Panama from several of former Minister of Oil Carlos Pareja Yanuzzellu's offshore accounts. He also received millions of dollars from Alex Bravo, Petroecuador's former manager.
Currently, Jorge Glas is up for re-election with Lenin Moreno. On the other hand, Secretary Alexis Mera reported that both Yanuzzelly and Bravo received bribes from the companies contracted by Petroecuador to refurbish the Esmeraldas Refinery.
Source: La República