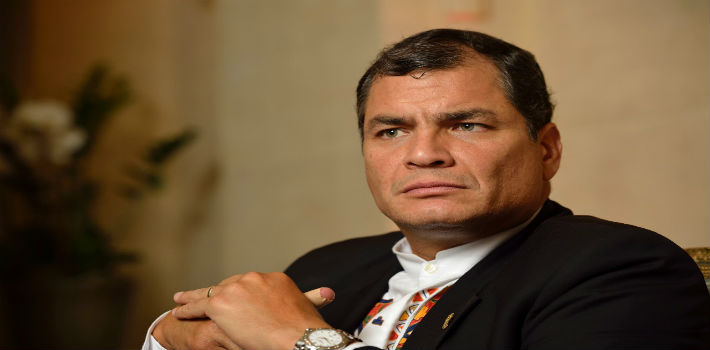 EspañolThe website 4Pelagatos in Ecuador has received numerous threats allegedly for publishing articles about President Rafael Correa's daughter, according to The Andean Foundation for Media Study and Observation (Fundamedios).
The media outlet responded to the threats by accusing the Ecuadorian government of intimidation tactics, and blaming them for anything that might happen to columnists, reporters or other collaborators to the website. President Correa responded to the controversy on Twitter early last week.
@FrancisGuthler La máxima expresión de miseria humana: se meten con la familia, pero es mi culpa porque "yo la metí en el baile"
¡Cobardes!

— Rafael Correa (@MashiRafael) September 15, 2016
The lowest of human misery: they get my family involved, but its my fault.  Cowards!
Then, 4Pelagatos responded to the tweet.
Yes, you were the one who got your daughter involved, using her school work to justify your thesis. Making peoplle believe that authoritarianism is just a problem of cultural and political perspective. It was you who, in a fit of pride, used your daughter to show that even a girl understands the truth which, according to you, the oligarchy is determined to deny. It was you who did not hesitate to expose your daughter to the dynamics of public debate. And we brought that to your attention.

4pelagatos did not "get your family involved," as you say in your tweet, repeated in chorus by your army of trolls with unprintable insults and disqualifications. This site has criticized your lack of finesse in the position of power. (4 Pelagatos).
On Saturday, some members of 4Pelagatos — Martin Pallares, Roberto Aguilar, Jose Hernandez and Gabriel Gonzalez — were threatened via social network Twitter, as well as feel victim to having their phone numbers, addresses and photographs spread publicly.
According to Fundamedios, Martin Pallares was threatened by a presidential officer named Alejandro Alvarez, identified as the National Director of Government Reports. He reportedly threatened the journalist and warned him "not to mess with the president's family."
So far, the Attorney General of Ecuador Galo Chiriboga has still not said anything regarding the matter.
The result of these events comes from a newspaper article published on the website in April.
One article's headline read: "Correa puts her daughter in the dance" which was a form of questioning the Ecuadorian president's use of El Telegrafo to spread news about his 18 year old daughter.
Source: 4 pelagatos