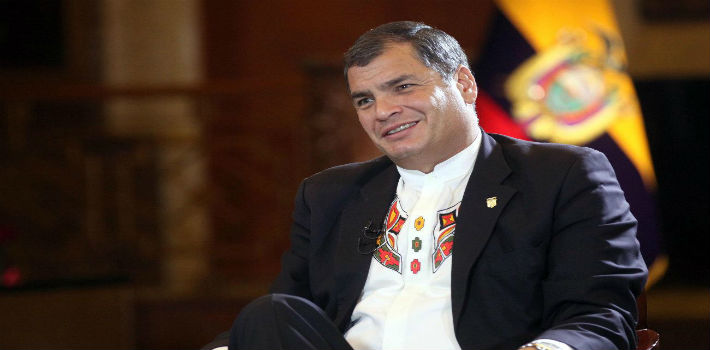 EspañolRafael Correa, president of Ecuador since 2007, has promised that he won't run for reelection in 2017 despite the 1.2 million signatures collected by supporters to call for a constitutional referendum on whether he should be allowed to compete for a fourth term.
On Thursday, August 18, the socialist leader explained on his Twitter account that he plans to retire from politics and spend time with his family, nevertheless claiming that he would surely win again were he to enter the presidential race.
Gracias jóvenes queridos. Gracias colectivo "Rafael contigo siempre". ¿Qué mayor alegría para un presidente que ver a miles de jóvenes…

— Rafael Correa (@MashiRafael) August 18, 2016
Thank you, dear youths. Thank you "Rafael With You Always." What greater joy for a president than to see thousands of young…
..movilizados para que pueda presentarse nuevamente a una reelección? ¿Que hayan reunido más de 1'245.000 firmas en apenas 45 días y solo…

— Rafael Correa (@MashiRafael) August 18, 2016
people mobilizing to allow him to run for reelection? To collect over 1,245,000 signatures in just 45 days…
…en base a su esfuerzo y voluntad?
Ni todos los partidos de oposición juntos, con toda su prensa y millones, han podido ni remotamente…

— Rafael Correa (@MashiRafael) August 18, 2016
through pure will and individual effort? Not even all the opposition parties combined, with all their media and millions, could remotely
…hacer aquello.
Estoy seguro que de ser candidato los derrotaría nuevamente: hay legado, hay conciencia, hay una Patria nueva. Pero mi…

— Rafael Correa (@MashiRafael) August 18, 2016
achieve this. I'm sure that if I became a candidate I would defeat them again: there's a legacy, a conscience, a new country. But I
…decisión está tomada. Tengo una deuda con mi familia, y, sobre todo, existen valiosos cuadros de AP que pueden tomar la posta y…

— Rafael Correa (@MashiRafael) August 18, 2016
have made my decision. I have made a promise to my family and, above all, there are valuable people in the PAIS Alliance party who can take the lead…
On August 15, a political movement called "Rafael With You Always" delivered over 1.2 million signatures to the National Electoral Council, way above the 8 percent of voters to required to request a referendum in Ecuador. The electoral body will now proceed to verify the signatures and announce the next step.
Even though the Ecuadorian Congress, controlled by the ruling party, passed in December a constitutional amendment allowing for unlimited re-election, it was modified at the last minute by Correa himself to exclude from the 2017 elections all presidents who had served for two consecutive periods.
"Rafael With You Always" seeks to nullify this amendment through a referendum, so that their leader can run again for president.
However, Correa has said he has other plans: moving to Europe with his family and pursuing academic projects.
The upcoming presidential and legislative elections will be held on February 19, 2017.
Source: El Nuevo Herald