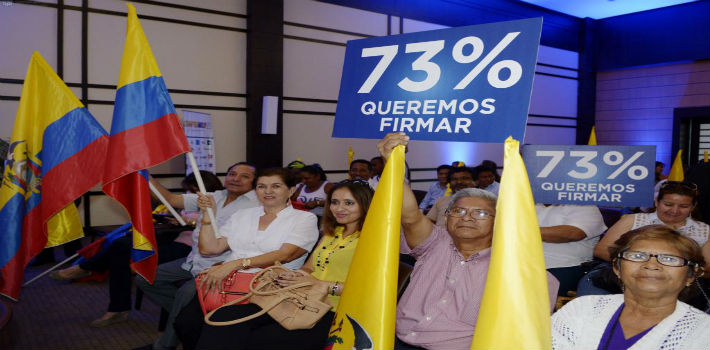 EspañolEcuador managed to collect over 1.2 million signatures supporting the proposal for a referendum that would allow President Rafael Correa to run again in 2017.
After 45 days of collecting signatures, the movement gave the National Electoral Council (CNE) the results in northern Quito. It reportedly exceeded the minimum percentage required for a referendum, which is eight percent, by about 930,000 signatures.
CNE Secretary Fausto Holguin and his staff must make an official count of the signatures within 48 hours.
Spokeswomen for the pro-referendum group Pamela Aguirre and Stephania Baldeón have said confirming the signatures will bring the country one step closer to eliminating the limited-term rule.
The coordinator of the counting process for the CNE Milton Paredes said the review "will determine if the number of valid signatures reaches the 929,062 required, i.e. 8 percent of the people listed in the electoral register."
Source: EFE