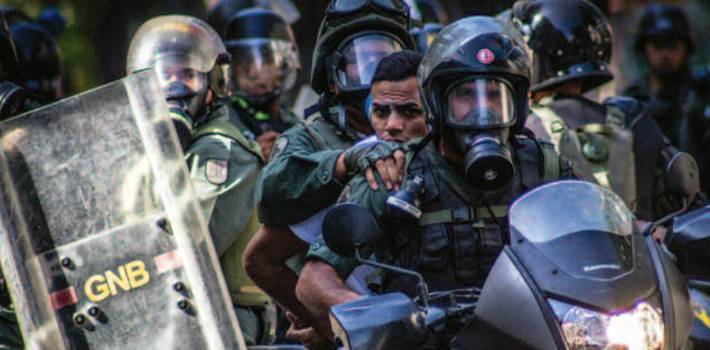 Español There is something amiss when a group of highly credentialed scholars rubber-stamp an argument that would fail the smell test were it submitted by an undergrad — especially when that argument cuts at the heart of a timely geopolitical controversy.
Human Rights Watch Alert
One hundred and thirty one individuals, almost all US scholars, have signed an open letter demanding Human Rights Watch (HRW) close its "revolving door" with the US government; the letter makes the unsubstantiated claim that HRW is biased against states openly hostile to the United States, specifically Venezuela.
The "Revolving Door" Argument
Signatories say HRW is soft on US human rights abuses, including the treatment of alleged terrorists at Guantánamo; instead of urging HRW to adopt tougher evaluative standards for US-related cases, however, the letter bizarrely questions why HRW does not extend "similar consideration" to Venezuela.
HRW Is Biased, Except When It Is Not
Drawing a false analogy, the letter questions why HRW challenged Venezuela's candidacy for a UN Human Rights Council seat but did not challenge the candidacy of the United States; ironically, the letter links to an HRW report highly critical of US policy, troubling the letter's central claim.
Drawing Attention to Venezuela, but Not to Torture
The letter draws attention to the torture of alleged terrorists by the United States, but avoids all mention of protests in Venezuela as well as a recent HRW report attributing systematic human rights abuses, including torture, to Venezuelan security forces.
Redefining the Terms, Reassessing the Interests
Signatories to the letter include individuals committed to defending the Venezuelan government "even when there are clear criticisms or problems with the process," which raises questions about whether the letter is intended to influence the course of the Venezuelan crisis.
From Caracas with Love … and "Dirt"
The activist credited with "orchestrating" the open letter is sympathetic to the Venezuelan regime and promises to have "more dirt soon," but he does not explain why the letter was rushed to press in the absence of a detailed investigation of its central claims.
Everything Old Is New Again
The letter surfaces one week after HRW released its report on torture in Venezuela and appears to respond to the objectives of the Venezuelan regime on two fronts: (1) by introducing the possibility of a conditional defense for breaching standard human rights protocols in the treatment of alleged protesters (redefined as terrorists); and (2) by attempting to discredit HRW, and thereby its report documenting torture in Venezuela, by alleging — without substantiation — that the organization has a "revolving door" with Washington.
Last week, the progressive channels of cyberspace were abuzz over the circulation of a letter calling on Human Rights Watch (HRW) to close its "revolving door" with the US government (USG).
The letter, sent to HRW Executive Director Kenneth Roth and subsequently made public through social media, was signed by 131 individuals, almost all of whom are US scholars. The field is rounded out by a smattering of activists, a few Canadians, two Nobel Laureates, and Oliver Stone.
WikiLeaks retweeted a link to the letter; Michael Moore did his part on Facebook.
The signatories of the letter take issue with HRW's claim to be "one of the world's leading independent organizations dedicated to defending and protecting human rights." This claim, the critics say, is compromised by the fact that HRW has, or has had, a number of key personnel with close personal and/or professional linkages to the US government.
Specifically, the critics name five individuals: a former HRW staffer who is now at the State Department; a current HRW board member who self-identifies as a friend of former US President Bill Clinton; a current HRW advisory committee member who is a former ambassador to Colombia; another HRW advisory committee member with past ties to the National Endowment for Democracy; and a former HRW advisory committee member and former CIA analyst who now acts as an intelligence liaison between the US government and civil society.
Is this proof positive of a revolving door between HRW and Washington? In short: no.
The HRW-USG connections on which the signatories focus date back more than a decade and involve less than 2 percent of the 285 people who currently serve on HRW's board of directors and various advisory committees. If past committee and board members are included (not to mention past and current staff), the share of conspiratorial linkages thus exposed is even less palpable.
Far from a revolving door, it seems the HRW-USG connections are the exception rather than the rule.
The central demand of the signatories is that anyone who has "crafted or executed" US foreign policy be restricted from working or advising at HRW. Maybe this is a good idea. But it seems a stretch to imply that being a friend of Bill Clinton equates to crafting and executing US foreign policy.
The signatories make no effort to connect any of the five individuals named in the letter to specific policies that show HRW is advancing an agenda set in Washington; nor is there anything in the letter that demonstrates jurisdictional inconsistency on the part of HRW.
So, what is this really about? Who is behind it? And why should it matter now?
As it turns out, the letter is based on a 2013 article that resurfaced in February of this year, one day after protests broke out in Venezuela. Orchestrated and signed by some of the staunchest defenders of the Venezuelan regime, the letter comes one week after HRW published a detailed report accusing the Venezuelan government of systematic human rights abuses, including torture. The timing and content of the letter suggest it may be intended to influence the course of the Venezuelan crisis.

The "Revolving Door" Argument
The signatories suggest that the so-called revolving door between Human Rights Watch and Washington ensures HRW's work is fashioned to serve US foreign policy interests
The argument begins by citing Tom Malinowski, a former HRW advocacy director who is now with the US State Department. In 2009 — in his capacity as a representative of HRW, and in response to the controversy surrounding the US detention policy at Guantánamo — Malinowski offered a conditional defense of rendition (the practice of transporting criminals or alleged terrorists to alternate locations for interrogation).
The signatories clearly think rendition is problematic, although they do not explicitly reject it.
The argument seems to be that HRW's conditional defense of rendition grants differential wiggle room to the US government on human rights issues, while HRW's work in other jurisdictions, particularly in countries overtly hostile to the United States, relies on a far more rigid human rights protocol; Venezuela and Syria are offered as examples.
This may be true. But nothing in the letter substantiates the claim; nor do the signatories suggest that a study be undertaken to test the revolving door thesis.
Considering the scholarly credentials of the signatories, this seems odd, especially given that some of the same individuals signed a 2008 open letter that blasted a Human Rights Watch report on Venezuela for "advertis[ing] broad and sweeping allegations that are unsupported by the evidence" — an exercise the signatories called "outrageous and completely indefensible."
HRW's 2008 report was highly critical of the human rights situation in Venezuela. While the Venezuelan government and 118 expert signatories to the 2008 open letter moved quickly to downplay the report, HRW's findings, particularly as concerns judicial independence, have since been corroborated by other international bodies, most recently by the Inter-American Commission on Human Rights.
Against this backdrop, what is most disconcerting about the new campaign against HRW is not that it demands greater scrutiny of human rights issues, but rather that it seems to demand less.
Drawing on the atypical case of rendition, the signatories argue that there is something untoward about HRW's engagement on human rights issues involving the US. Instead of demanding tighter evaluative constraints to ensure HRW meets a higher standard in assessing US cases, however, the signatories move in the opposite direction. Bizarrely, they suggest that the ostensibly lower standards adopted by HRW to adjudicate US cases be extended to other jurisdictions.
Specifically, the signatories are concerned that Human Rights Watch "has not extended similar consideration to Venezuela."

HRW Is Biased, Except When It Is Not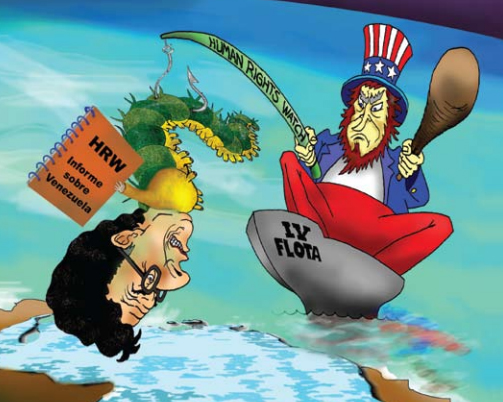 Rendition is not an issue in Venezuela. So when the signatories question why Human Rights Watch has not extended "similar consideration" to Venezuela, they are, in fact, asking for consideration of a completely different set of human rights concerns.
And therein the argument takes on new meaning.
In an attempt to illustrate jurisdictional bias, the letter questions why HRW challenged the candidacy of Venezuela for a seat on the UN Human Rights Council (UNHRC) in 2012, yet has never challenged the UNHRC membership of the United States, a country — they underscore — that practices rendition.
But this is a false analogy. Presumably if Venezuela were to engage in rendition, HRW would apply the same "considerations" it applies to the United States for that matter (and this says nothing of whether such considerations are morally defensible). If not, HRW would most certainly find itself open to charges of inconsistency.
Ironically, in questioning the suitability of the United States for a UNHRC seat, the open letter to Human Rights Watch links to an HRW report that specifically calls the indefinite detention of individuals held at Guantánamo "illegal" and a violation of international law. This complicates the central narrative of the critics' letter: namely, that HRW is silent on the improprieties of the US government.
A search on HRW's website shows the organization has catalogued significant criticisms of US policy dating back to 1991. Has the US received as much criticism from HRW as other jurisdictions for the same or similar issues? This is precisely what a detailed study would help to determine.
For its part, Venezuela has drawn criticism for its human rights record in several key areas. As detailed by HRW in a 2012 letter regarding Venezuela's UNHRC candidacy, these include: judicial bias, media censorship, the persecution of human rights defenders, and — not least — a refusal to comply with UN and other international oversight mechanisms.
If anything, the ability of Venezuela to secure a seat on the UN Human Rights Council despite facing such criticisms reflects the relative impotence of HRW's concerns in the face of a secret balloting process that has similarly granted other nations with highly restricted civil liberties a seat on the UNHRC.

Drawing Attention to Venezuela, but Not to Torture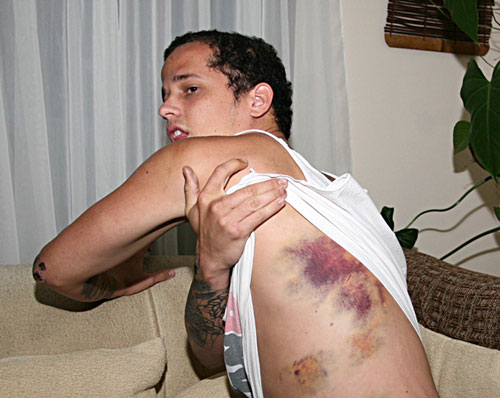 The open letter makes no mention of widespread protests that broke out across Venezuela earlier this year.
From the beginning, Venezuelan authorities have maintained that the protests are part of a destabilization campaign backed by the United States to topple Venezuela's socialist government. This narrative has been aided by reports that the CIA knew about, but did nothing to stop, a short-lived 2002 coup against former Venezuelan President Hugo Chávez.
Increasingly, however, the international community is pushing back against Venezuela's default reliance on the coup-plotting narrative. In part, this is because the evidence for coup plotting is murky at best; but it also reflects mounting concerns over the excessive use of state force.
The official death toll from protest-related violence in Venezuela stands at 44, including protesters, security personnel, government supporters, and innocent bystanders. More than 800 people have been wounded, and as many as 3,000 protesters, mostly students, have been detained or arrested.
In March, Human Rights Watch sent staff to Venezuela to investigate; in May, it released an in-depth, 103-page report detailing its findings. That report, "Punished for Protesting," documents 45 cases of human rights abuse involving more than 150 victims across Venezuela. According to the report, Venezuelan security forces "have abused the rights of protesters and other people in the vicinity of demonstrations," and have "allowed armed pro-government gangs to attack unarmed civilians, and in some cases openly collaborated with the gangs."
In at least 10 cases, HRW says, the abuse "clearly constituted torture." One of these cases involves Juan Manuel Carrasco, a 21-year-old who reports being sodomized with a rifle by Venezuelan security forces.
Calling Carrasco's claims unfounded, Venezuela's attorney general, Luisa Ortega Díaz, mocked the young man during a televised press conference, holding up a photo of a rifle and asking rhetorically: "Do you think that a person who has been violated, who had a rifle inserted in his anus, could sit down to make a declaration at his hearing?"
According to Ortega Díaz, medical reports do not corroborate Carrasco's story. But HRW says it has seen a copy of the medical report issued by the Centro Policlínico in Valencia that confirms Carrasco suffered a "rectal hemorrhage."
Carrasco is represented by lawyers from Venezuela's Criminal Forum (Foro Penal), a non-profit, non-governmental human rights organization that says it is investigating as many as 500 cases of torture, 160 of which have already been filed with authorities. Human rights experts at Venezuelan universities have similarly expressed concerns over the treatment of protesters. And both Amnesty International and the United Nations have drawn attention to reports of the use of excessive state force and the potential for protesters in Venezuela to be tortured and denied due process.
In light of this, defending the integrity of the Venezuelan regime is no easy task. But some of the signatories of the HRW letter remain staunch allies.

Redefining the Terms, Reassessing the Interests
According to a scholar sympathetic to the Venezuelan regime, there is a move inside Venezuela to redefine the protesters as terrorists: "Recently the Chavista [pro-government] television commentator Miguel Pérez Pirela called on his colleagues to use the word 'terrorism' instead of the term 'guarimba,' which is a local slang-word referring to foquista-type [Marxist-guerrilla] urban violence," writes Steve Ellner in Venezuela Analysis.
While Venezuelan officials have made off-hand references to opposition members as terrorists in the past, the call from Pérez Pirela would seem to reflect a more concerted strategy — and not without reason: if the protesters can be redefined as terrorists, then certain "considerations" may be extended to cover a breach of standard human rights protocols on the part of the government, at least if the US is any example.
And this is where the open letter to Human Rights Watch takes on more immediate significance.
As a signatory to the current letter, as well as to the letter that emerged in response to HRW's 2008 report on Venezuela, Greg Wilpert is sensitive to the issue of timing. One of Wilpert's main criticisms of the 2008 HRW report was that "the timing of the report's release was terrible, a mere two months before a major electoral contest." According to Wilpert "the suspicion that HRW is actively trying to influence these events cannot be dismissed."
Nor should the reverse be ruled out: that the current HRW open letter is meant to influence the course of the crisis now unfolding in Venezuela.
Wilpert is a co-founder of Venezuela Analysis (VA), a joint project of Venezuela Analysis, Inc., a New York-based non-profit, and the Foundation for Global Economic Justice, registered in Venezuela. Wilpert's partner in founding VA was Martin Sanchez, who had previously founded a pro-government website in Venezuela (aporrea.org) and later served as the Consul General of Venezuela in Chicago and San Francisco.
While the Venezuela Analysis website does not detail the specifics of what it calls its "editorial aims," Wilpert made these aims clear in a 2013 interview. Venezuela Analysis may take issue with some aspects of Venezuela's socialist revolution from a progressive perspective, Wilpert says; however, "the writers are always clear that progressives ought to be on the side of the government, even when there are clear criticisms or problems with the process."
Of course, such a position is the prerogative of the editorial team and the writers more broadly. It is neither illegal, nor even particularly subversive to hold these views, which flourish on many college and university campuses. Given the history of US foreign policy in Latin America, it is reasonable to exercise caution in analyzing Washington's direct and indirect roles in hemispheric affairs.
But exercising caution toward one government should not equate to acting as a mouthpiece for another.

From Caracas with Love … and "Dirt"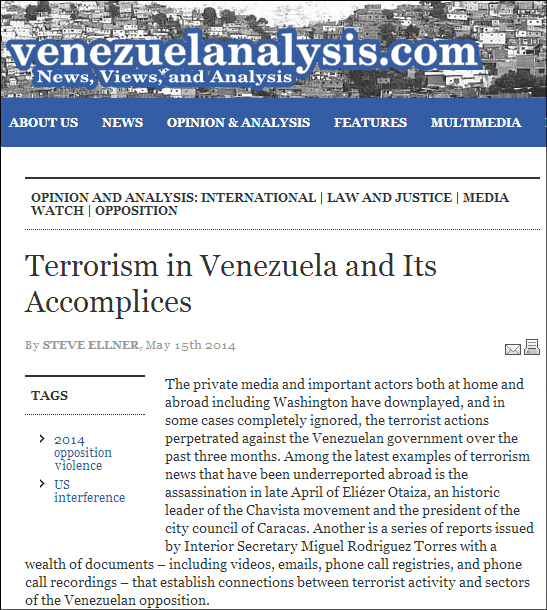 The signatories of the open letter to Human Rights Watch allege that "close relationships" between Human Rights Watch and the US government give the "appearance of a conflict of interest," which they say taints HRW's work in Venezuela, as elsewhere.
If this is the case, it would seem equally relevant for signatories of the letter to declare any conflict of interest they might be subject to as a result of having an expressed or implied commitment to defend the policies of a foreign power.
In Wilpert's case, this is straightforward. He is the co-founder of, and a contributor to, Venezuela Analysis, and he has stated clearly that VA and its writers support the Venezuelan government.
In addition, however, VA frequently reproduces the work of a handful of other signatories to the HRW open letter. This work is pulled from outlets with known sympathies for the Venezuelan regime. These include the Center for Economic and Policy Research (CEPR) and the North American Congress on Latin America (NACLA).
One of the signatories whose cross-platform work appears in Venezuela Analysis is Keane Bhatt, who is credited by another signatory (via Twitter) with "orchestrating" the open letter. The content of the letter is clearly familiar to Bhatt, since it is drawn from an article Bhatt first published in the Winter 2013 issue of NACLA.
Bhatt has promised (via Twitter) to have "more dirt soon." As an activist, that is effectively his job. Certainly any substantive information he uncovers concerning state overreach or corruption — in the United States or elsewhere – merits consideration.
Scholars, however, should not be in the business of rubber-stamping arguments based on dirt. Validating the revolving door thesis requires a serious study that examines the linkages between HRW and USG personnel and tests whether there are any significant biases in HRW's work that correlate with these linkages.
Yes, it is true: such studies take time.
But the scholars who signed the open letter to Human Rights Watch should ask themselves why the letter should have been rushed to press in the absence of a detailed investigation of its central claims.
Moreover, they should question why the letter focuses exclusively on Human Rights Watch, even though some of the five people identified as having passed through the HRW-USG revolving door have also served in advisory positions to other well-known human rights organizations. Why would a revolving door be problematic in once instance but not another?
It would be naive to think that the answers to these questions are unrelated to events in Venezuela.

Everything Old Is New Again
The original article on which the open letter to Human Rights Watch is based was written by Bhatt and published by NACLA five months ago.* On February 5 of this year, one day after the current round of protests broke out in Venezuela, the article resurfaced as a news item on NACLA's website (unchanged, save for the correction of a minor erratum).
Human Rights Watch sent its research team to Venezuela in March. On May 5, HRW released the results of its six-week, multi-site investigation, concluding that the human rights abuses it reviewed "were part of a systematic practice by the Venezuelan security forces."
As these events were unfolding, there were calls inside Venezuela to rebrand opposition protesters as terrorists and to step up resistance against US-led attempts to discredit the Venezuelan regime. Serving both of these objectives, the open letter Bhatt is credited with organizing was made public one week after the HRW report was released.
On the one hand, the open letter introduces the possibility of a conditional defense for breaching standard human rights protocols in the treatment of alleged terrorists by referencing US policy vis-à-vis Guantánamo; on the other, it seeks to discredit a high-profile US organization that has openly accused Venezuela of systematic human rights abuses by implying this organization takes orders from Washington.
The content of Bhatt's 2013 article was remobilized at an opportune moment for the Venezuelan regime, reinforcing Milton Friedman's observation that "when [a] crisis occurs, the actions that are taken depend on the ideas that are lying around." There is no mention in the open letter of the current unrest in Venezuela or of the stand-off between Human Rights Watch and the Venezuelan government over questions of torture, exemplified by the Carrasco case.
As an activist, Bhatt successfully capitalized on a perfect storm, orchestrating the open letter to HRW by inviting others to sign on to an abridged version of the work he had previously published with NACLA. One wonders, however, if the scholars who lent their names to the letter are aware of the full extent of the mission they signed up for.
A recent Twitter exchange seems to put that mission into clearer perspective:  "The letter to HRW is good," tweets user @UtpalLahiri to Bhatt, "but a more substantive response to their latest Venezuela abomination(s) would be helpful too." Bhatt responds: "Hard to get broad coalition of prominent figures to delve into the weeds on VZ [Venezuela] report; revolving door is more obv indefensible."
Indefensible, perhaps, were the revolving door thesis substantiated, which it is not.
But neither was substantiation the intent.
As Bhatt writes on Twitter, "This is 1st effort to change core institutional feature of HRW rather than fact-check or denunciation over reports/positions." In another tweet he says, "Public letters are strategic & intend to grab headlines; not displays of purity…."
This is activism in spades. But it is a sad day for academia when 100-plus scholars openly agree to privilege dogma over research and headlines over substance. And it is a sadder day still when the timing of such an exercise makes it seem like a concerted effort to do a little dirty work for the Venezuelan regime.
*Editor's note: this article includes a correction regarding the time that passed after the release of the NACLA article. Originally, the duration appeared as more than one year.