Español When Carlos Varela accepts his honorary degree at Queen's University later this year, he will address a crowd that is arguably more supportive of the Cuban regime than most Cubans.
Queen's recently confirmed that Varela, a 50-year-old musician from Havana who is internationally recognized for voicing "the frustrations of Cuban youth," will receive a doctorate honoris causa at the university's convocation in June.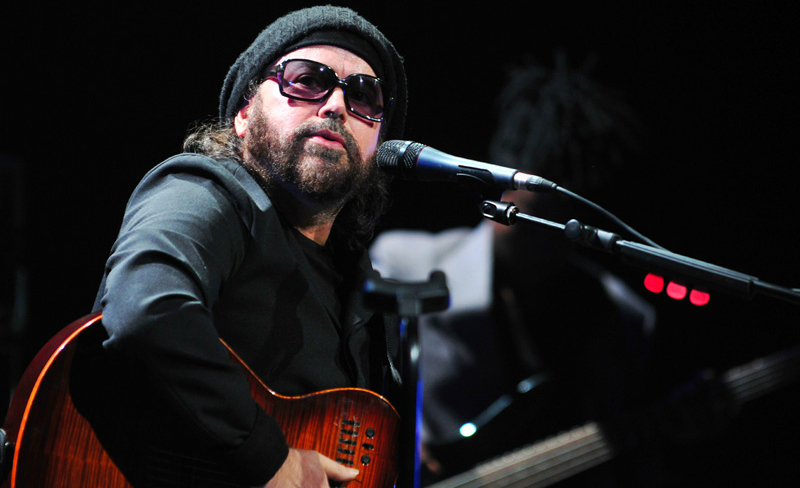 Varela is no stranger to Queen's. He is a regular participant in the university's "Cuban Culture and Society" course, and his work is the focus of a new book, Habáname, co-edited by a Queen's professor and supported by a Queen's Senate Advisory Research Committee award. The book's release will be this month in Cuba, with an English translation to follow later this year by the University of Toronto Press.
Emerging from the nueva trova musical tradition, Varela is in some ways more reflective of the protest song (also called the "new song," or nueva canción) genre outside of Cuba than in it.
Unlike the persistent and strongly anti-authoritarian message of the protest song in the rest of Latin America, Cuba's nueva trova movement — initially emboldened by a spontaneous and often explicitly critical reaction to the country's 1959 revolution — was quickly assimilated and incorporated into the state apparatus. The musicians of nueva trova received "special training" that critics say disciplined artistic production in the service of the state.
The protest element was effectively turned outward, away from the Cuban regime. So, for example, César Portillo de la Luz could be compelled to condemn US aggression in his 1968 song Oh, Brave Vietnam without reconciling the fact that a decade later Cuba had as many troops in Angola, relative to the size of the Cuban population, as the United States had in Vietnam at the height of the war.
In its heyday, nueva trova even functioned as the "cultural ambassador" of the Cuban regime. Trovadores (performers in the genre) such as Silvio Rodríguez and Pablo Milanés, whose music had once drawn rebuke from the state, were reinvented as "spokespersons for the revolutionary experience." They began appealing to both Cuban nationalism and the international reserve army of armchair socialists.
But when the collapse of the Soviet Union thrust Cuba headlong into a "special period," in which food was regularly replaced with sugar-water and the average Cuban lost upwards of twenty pounds, the propagandistic nature of nueva trova became a harder sell — at least at home.
Carlos Varela grew up in the shadow of Rodríguez and Milanés, but his contributions to nueva trova are distinct. "My cubanidad [Cuban identity] is far from the guy in a guayabera with a cigar," Varela says. "In my songs you don't see nature; you see asphalt and gasoline."
Varela is a talented artist with a critical mind. That was my conclusion after meeting the musician a few years ago during one of his visits to Queen's — and it is an assessment I share with one of the most outspoken and longstanding critics of Cuba's communist dictatorship, exiled Cuban author and journalist Carlos Alberto Montaner.
The scholarly portrayal of Varela as a consummately "controversial" yet unquestionably legitimate critic, however, stands in marked contrast to the general dismissal by Canadian academics of activists who have been labeled by the Cuban government as internal dissidents or gusanos (maggots) in exile.
The required textbook for the Cuba course at Queen's includes two songs by Varela as a stand-alone chapter but ignores the work of more outspoken critics such as Yoani Sánchez, Guillermo Fariñas, and Berta Soler of the Ladies in White, an opposition movement formed by the wives and female supporters of 75 Cuban activists rounded up and jailed in 2003.
The readings do not include anything by Montaner, although there is a chapter by Saul Landau, who says Cubans should be thankful they are not in Miami, where their labor would "enrich a true parasite class!"
In thinking about who makes the cut when it comes to scholarship on Cuba, it is worthwhile to consider Varela's own account of how Cuban state media used to relegate his music to off-hours (at the break of dawn or in the dead of night): "You know they don't call that censorship," Varela explains. "They call it selection criteria."
Drawing attention to the activist voices silenced in much of the existing academic literature on Cuba is not intended to diminish the contributions of Varela, but rather to keep these contributions — and the criteria by which they are selected — in perspective.
Varela has spoken out against state aggression toward the Ladies in White and in favor of the right of all Cubans to greater freedoms. While saying he has no desire to emigrate, Varela recognizes that Cubans are "condemned" to live in the perpetuity of the past, amid crumbling architecture and "propped up buildings, which are propping up their own disillusionment." Here, Varela seems to echo the sentiment of arch-conservative Theodore Dalrymple, who once wrote that "Havana is like Beirut, without having gone through the civil war to achieve the destruction."
Scholars say Varela's most poignant critical reflections emerge from the interpretive veil of allegory, innuendo, and metaphor. This is, of course, standard fare under dictatorship.
But when doublespeak passes from the artistic to the academic sphere, the line between politics and scholarship is problematically blurred.
Such is the case in a recent interview with Varela conducted by two of the three co-editors of Habáname (both of whom are involved with the Queen's course on Cuba). In the interview, published in the Latin American Music Review, the scholars describe Varela as a trusted figure "in a place where political leadership is complicated."
The euphemistic redefinition of Cuba's dynastic, one-party communist dictatorship as "complicated" strategically circumvents grappling with the elephant in the room.
As Montaner points out — in an article that fittingly opens with lyrics from Varela — Cuba has been ruled by one of two Castro brothers for almost half of its 115-year existence as an independent nation.
As political sagas go, it really doesn't get much simpler than that.
What is complicated, by contrast, is asking how the selection of Sánchez, Fariñas, Soler, or Montaner for an honorary degree instead of, or in addition to, Varela might impact the future of the exchange agreement between Queen's and the University of Havana.
Those attentive to innuendo might appreciate hearing Varela sing "25 Thousand Lies About the Truth" ("25 mil mentiras sobre la verdad") in place of a standard acceptance speech.