EspañolThis week, a group of self-appointed electoral observers from Canada will join hundreds of nongovernmental and intergovernmental monitors in Honduras for the November 24 general elections.
Over the past two decades, international electoral observation — once considered an assault on state sovereignty — has become a fixture in the political landscape of Latin America. Incumbent and opposition groups alike scramble to capitalize on the legitimacy that is ostensibly conferred by international endorsement.
Despite widespread enthusiasm for international electoral observation, however, there is little evidence to demonstrate that the practice improves the fidelity of elections. Moreover, some studies suggest that electoral monitors can actually obscure or entrench existing problems by introducing an additional layer of agents, who arrive with their own organizational and institutional incentives.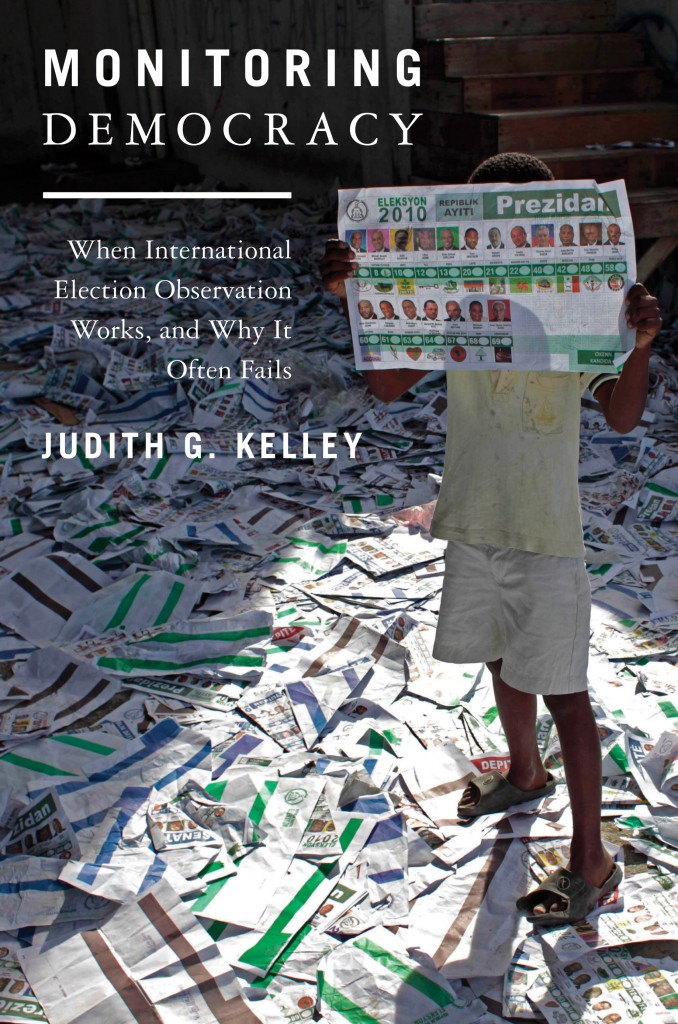 Judith Kelley, a professor of political science at Duke University and the principle investigator of the Project on International Election Monitoring (PIEM), says the idea of the neutral election observer is "a myth."
The PIEM database at Duke includes 340 elections monitored by 600 observation groups from 1984 to 2004. In almost one-third of the elections under study, the recommendations of monitoring organizations were inconsistent: the same election was endorsed outright by some monitors while others refused to endorse it or argued that electoral infractions made it impossible to accept or reject the election with certainty.
The inconsistencies, Kelley says, reflect the predispositions of observers.
In her research, Kelley finds that intergovernmental organizations such as the Organization of American States (OAS) and the European Union, both of which have signed observation agreements with Honduras for the upcoming election, tend to be less critical of the electoral process than nongovernmental organizations (NGOs).
There are a number of reasons for this, Kelley explains, including the fact that intergovernmental organizations are broad-based and, therefore, tend to include non-democratic states. These states may be incentivized to overlook electoral infractions in the hope of securing similarly favorable endorsements in the future.
Kelley's observation is apropos for the Americas, where critics have recently warned about a takeover of the OAS by constituent states of the Bolivarian Alliance for the Americas (Alianza Bolivariana para los Pueblos de Nuestra América, ALBA). While ALBA members, most notably Venezuela and Ecuador, have repeatedly tried to delegitimize the OAS by framing it as a vulgar extension of US foreign policy, the record shows that OAS representatives with sympathies for the ALBA bloc have achieved decisions highly favorable to ALBA members.
Less constrained by the interests of the state apparatus, NGOs tend to be more critical of the electoral process, Kelley says. However, these groups, in turn, may face incentives to render or reject electoral endorsements in accordance with donor interests.
Further complicating electoral observation are two issues of particular importance for Honduras, a country wracked by high levels of violence and political distrust, especially following the 2009 ouster of President Manuel Zelaya:
Kelley's research reveals that the chances of electoral endorsement are higher in a jurisdiction where the pre-election period is violent but voting day is calm, suggesting that monitors place a premium on stability over democracy.
In a country considered to have a democratic deficit, Kelley says monitors may endorse an election as a way of recognizing improvements in the electoral process, even if the contest continues to fall short of international standards.
The PIEM database includes only high-level electoral monitoring groups, namely those that have endorsed the United Nations' Declaration of Principles for International Election Observation (for example, the National Democratic Institute, Carter Center, and International Republic Institute — all of which have worked in Honduras.)
In addition to high-level electoral monitoring, however, a new generation of activist-observers has emerged. While signatories to the UN principles on electoral observation formally declare impartiality and are tasked with evaluating pre-election, election-day, and post-election periods, activist-observer delegations generally spend far less time in-country, rarely adhere to standardized evaluation and reporting procedures, and are often explicitly partisan.
The Canadian delegation to Honduras mentioned above, for example, is organized by Common Frontiers, an anti-free trade organization supported predominantly by labor unions, in addition to environmental, religious, and other civil society groups.
In its recruitment campaign for electoral monitors, Common Frontiers makes clear that it is responding to a call for "international solidarity." That call just happens to come from the populist Liberty and Refoundation Party (Libertad y Refundación, LIBRE), founded in 2012 by ousted former president Zelaya and headed by his wife, Xiomara Castro.
The approach of Common Frontiers to combine electoral observation and solidarity work is consistent with that of US groups running similar electoral delegations to Honduras (see, for example, here, here, here, here, and here). In fact, according to LIBRE, at least 280 international groups will be in Honduras this week as activist-observers in the LIBRE camp.
Ironically, while many of these groups oppose foreign involvement in the Honduran economic sphere — consider Common Frontiers' critique of the Canada-Honduras Free Trade Agreement — their own role as foreign observer-activists seeking to secure specific political outcomes in Honduras seems immune to self-reflection.
To be sure, there are reasonable concerns about political accountability in Honduras, including the uncomfortable observation of LIBRE's founder, Zelaya. As president, he admitted to the press in 2008 that fraud is an inherent part of politics, saying: "Anyone who wants to participate in politics and thinks he's going to play as if he were in the Vatican should dedicate himself to something else."
What is unclear is whether international electoral observation attends to these concerns. At best, electoral monitors document, but pose no serious threat to, the status quo; at worst, they amplify and distort existing problems.