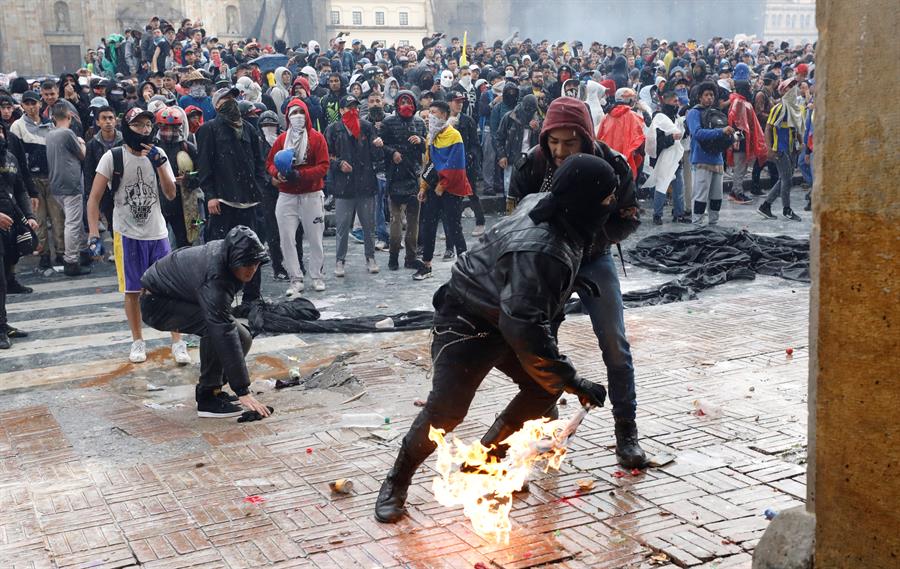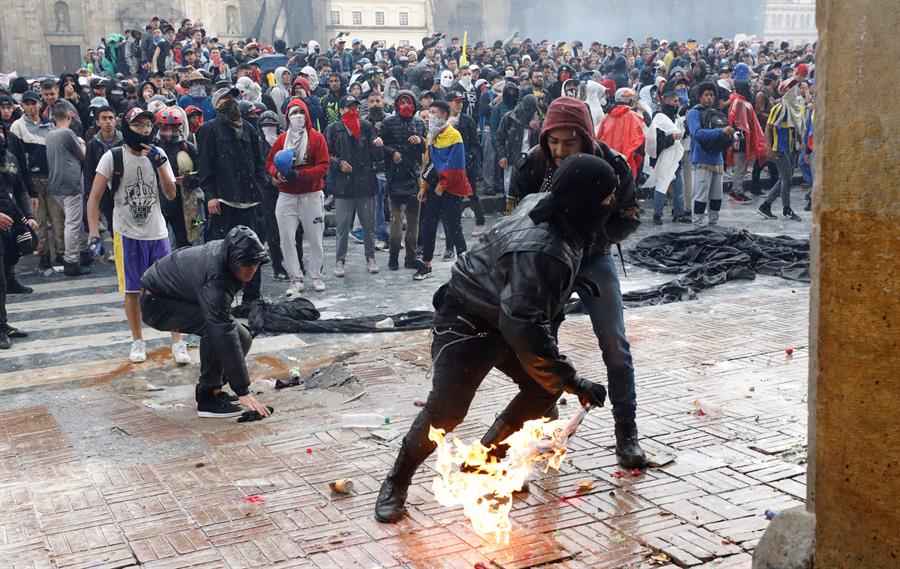 Spanish – Dilan Cruz died. It is a pity that a young man who had his whole life ahead of him is no longer alive. I feel sorry about what happened, and I am sorry about the difficult time his family must be going through. But the current situation of the country and the reactions to the death of this young man from a part of society compel me to say that the position of the Colombian police and military hurts me much more. It brings tears to my eyes.
The heroes of the country, those who risk their lives to protect us, have been abandoned by both sides.
The "demonstrators" of the "peaceful marches" that Dilan participated in the day he was wounded have set police officers ablaze, attacked them with knives, thrown explosives at them, struck them with blows, chased them, humiliated them…
But they have been abandoned both by the people who turn violently and inexplicably against them but also by the government. Each time there is a baseless yet angry protest in Colombia, I wonder, "why do they send the police with truncheons and shields to feign protecting buildings and bus stations? Why are they sent to risk their lives, be persecuted, and be at the receiving end of aggression that can cost them their lives? Who believes that five policemen who do not even have weapons can contain a mob of urban terrorists? They are ordered to let themselves be beaten, and in the worst case, they have to face death.
What kind of humiliation do the heroes of the homeland suffer!
Imagine the problematic situation in which ESMAD members find themselves. They are sent to control a march and evict people who are masked and loaded with incendiary devices and explosives. They have to prevent these people from taking over buildings and destroying stations. However, they cannot do this difficult job because, at any moment, they can lose their career and get into legal trouble. This can "ruin someone's life," as the ESMAD agent who allegedly opened the rubber bullet that killed Dilan said.
How does this man feel about being branded a murderer by a bunch of ignorant and unconscious people? He is facing investigations as if he were a criminal; he is targeted and vilified by those who side with terrorists.
They are already doing a challenging job. Unfortunately, things can go wrong. The police can end up using a less-lethal weapon, one that they use to defend themselves, and it ends up in the death of someone. An obnoxious part of society is calling this murder.
Dilan's death is upsetting because he was just beginning his life, and because even if the video evidence that the public prosecutor has indicated that the young man was masked and attacking the police, well, we all deserve a second chance.
But Dilan was there by choice. Everything suggests that he was one of the leaders of the group of vandals that were attacking the ESMAD at the time. The policeman who shot him was defending himself and doing his job of dispersing and controlling the riots. Unfortunately, an accident happened.
This young man could have come around and realized that it's not okay to attack cops, nor is it okay to be hooded and leading vandalism. He could have stepped down at a time when things were getting tight. But he didn't.
The police and members of the ESMAD play a crucial role. What would the people of Bogota do if they were at the mercy of these "demonstrators" during these days? They literally risk their lives for our safety and to protect our property from criminals. It is unacceptable and humiliating that they are not given all the legal armor and support they need to do their job.
Those attacking the police and siding with the vandals, including those renowned Colombian artists who pretend to be very sensitive, the next time they are in danger, remember not to call the police, as they are said to be enemies of the people. Call the urban terrorists you are defending today.
If someone disobeys a police officer in the United States, the consequences are severe. That is why everyone respects their authority. In Colombia, the police must allow themselves to be beaten, and even when faced with attacks with explosives, it seems the expectation is they shouldn't react.
Sensible Colombians today demand that the government stop putting our police and military at risk, that if anyone is legally answerable, it is the one who orders an unarmed police officer to face a mob of criminals. We urge the president and the congressmen to give all the necessary legal armor so that the heroes of the country feel protected and safe from being attacked if they carry out their work under the established rules.
Today we are grieving for the policeman who lost an eye, the soldier who had his face smashed with a brick, the policeman who was set on fire, and the one who had an explosive device thrown at him. We are hurt by all the videos of police officers persecuted, cornered, and beaten during the marches of the last few days. Humiliated, yet not even trying to defend themselves.
We are grieving over 300 wounded cops. Several of them will not be able to return to work because they will have lost mobility in their limbs. They, unlike the injured "demonstrators," did not go out to harm anyone nor attack anyone. They went out to defend the majority of Colombians.