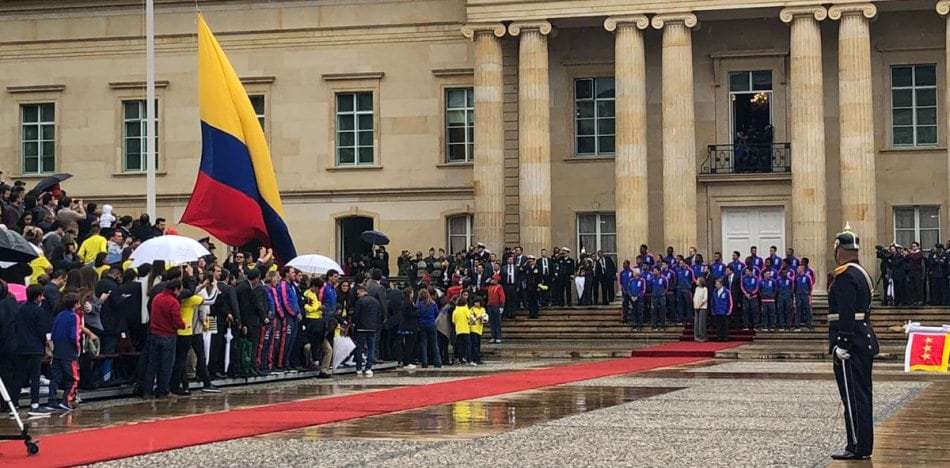 In the May 27 presidential elections in Colombia, former senator Ivan Duque, the anointed candidate of Uribe, won 7,569,693 votes, representing 39.14% of the vote.
Leftist former guerrilla Gustavo Petro won 4,851,254 votes, or 25.08%. Thus Colombians will have to proceed to a second round to choose, on June 17, who will assume the presidency of Colombia at this key moment for the country. We are at a point of "no return."
The electoral result is a half-triumph for the right. Duque obtained 3,798,443 votes more than what Uribe achieved in the first round four years ago when the candidate was Óscar Iván Zuluaga.
On the coast, where Gustavo Petro was expected to dominate, the Democratic Center candidate put up a strong fight, and ended up winning the key states of Bolivar, Magdalena, and Cesar. Petro won only La Guajira, Atlántico, Sucre, and Córdoba, a result that surprised many.
In addition, in Bogotá, where the left has historically captivated the electorate and where Petro was mayor and campaigned for the presidency for four years, Duque was close behind Petro, obtaining 983,931 votes, to Petro's 1,098,478 votes.
Of course, the winner in the capital was Sergio Fajardo who represents a very moderate social-democratic voter compared to the hard-left profile of Petro supporters. So, really, losing Bogota was a considerable blow to Petro.
However, the victory that we all expected was to win the presidency in the first round. The fact that a character like Gustavo Petro has managed to advance to the second round shows that the right is not doing things right.
It is worrisome that given the ilk of the leftist candidate and what is happening in Venezuela, a tragedy that we are witnessing first hand because in Colombia there are hundreds of thousands of Venezuelan refugees, the ex-guerrilla has obtained almost 5 million votes.
Petro has achieved the highest vote total in Colombian history for a leftist candidate in a presidential election, which indicates a dangerous growth of acceptance of socialist ideas.
The most worrying thing of all is that the Petro is neither a moderate leftist nor a social democrat. He openly speaks with major media outlets, which have offered him significant coverage, about expropriation. He has even mentioned which entrepreneurs he would like to deprive of their land.
Never in our country has a presidential candidate proposed a socialism so pure and hard. Though we have obtained victory, and Iván Duque has had achievements that many of us did not even expect, the growth of the extreme left makes the first round election a bitter pill to swallow.
What will happen in the second round?
Petristas dream that the 4,589,696 votes that Sergio Fajardo won will end up going to Petro in the second round. However, such a fantasy has no basis in reality. The first thing that must be taken into account is that some of Fajardo's votes were from Uribistas who were clear that it was practically impossible for Duque to win in the first round, and as he had already secured his passage to the second, they decided to vote for the professor of mathematics to try to reduce the risk of Petro reaching the second round at all.
But the fundamental reason why the majority Fajardo's voters, I would say at least 70% of them, will not end up with Petro, is that the typical Colombian voter is not an extreme socialist.
Maybe he does not identify with the right nor with Uribe, but Petro has already put the cards on the table and his program is openly socialist, thus it is very difficult that Fajardo voters really want to run the risk of the country falling into the clutches of socialism.
Petro's share of the vote will increase little in the second round. Petro has tried to soften his image in the past few days that have elapsed since the elections, to appear more moderate, but after having said that he is planning expropriations, that he will convene a Constituent Assembly, and that with only one term in office, he will not unable to realize the changes he desires, it is very difficult to deceive the people. Needless to say, he has a very controversial past, that hardly gives one ease of mind.
If Fajardo voters are consistent and analyze the behavior of their political leader, they will remember that during the first round Petro tried several times to form a coalition with Fajardo, and the offer was always refused, even when Petro offered to move aside so that Fajardo could lead the coalition.
Fajardo's followers will now need to consider why the candidate gave up such a good offer. And for those still in the dark as to what the ex-mayor of Medellín thinks about Petro, in a recent interview, he referred to the ex-guerrilla as "populist."
So, while it is not clear how many Fajardo voters will end with Duque, some of them will surely go for the blank vote or abstention, and it is clear that very few Fajardo voters will actually end up backing Petro.
What will be the strategy for the June 17 second round election?
Both Petro and Duque must captivate centrist voters if they want to win the second round. Petro already has the votes of the most extreme left; they are never going to vote for Duque although the ex-guerrilla seems to be softening his positions, and moving towards the center.
Of course, his sudden "moderation" is nothing more than a farce designed to delude the Colombian people.
His playbook has already been set in motion: he has already retracted at least two fundamental policy positions. Now he assures us that he will not expropriate after he said in one of Colombia's main media outlets that he would.
Additionally, now he suggests that the Constituent Assembly, to rewrite the Colombian Constitution, will only be realized "if it is necessary."
Petro is taking a page right out of Hugo Chavez's book. He must have reviewed one by one the videos of the interviews and speeches given by the Venezuelan before he came to power in 1998 when he denied being a socialist and talking about the importance of private enterprise.
Fortunately, it is very difficult for anyone who knows the history of Petro and who has followed his speeches before the first presidential round to believe that he is any stripe of moderate or centrist.
Barring some unforeseen disaster, on June 17 Iván Duque will be elected president.