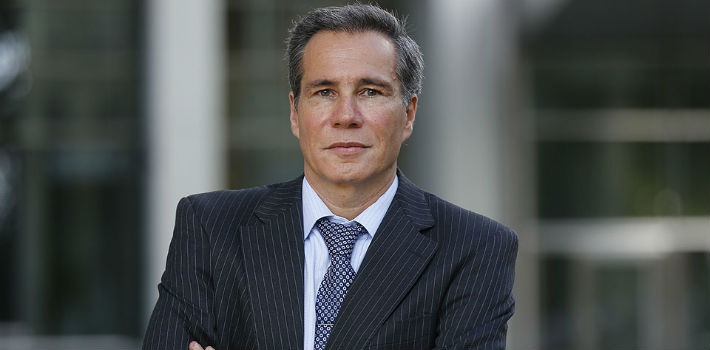 EspañolA lawyer by profession, prosecutor Alberto Nisman was 51 years old. He was divorced and had two teenage daughters. He was a specialist in international terrorism, narcotrafficking, money laundering, state corruption, and weapons smuggling. Alongside his work heading up the special commission investigating the 1994 bombing of the AMIA center, he was a university professor in Buenos Aires and Belgrade.
Nisman was a close associate of the late President Néstor Kirchner during his 2003-07 term in office. However, he began to fear for his life when he became a thorn in the state's side, as he demanded an investigation into the role of current President Cristina Kirchner in covering up those responsible for the terrorist attack that claimed 85 lives.
"Prepare yourself for the worst. They're going to say anything and everything about me on the radio and television," he told his eldest daughter, days before he issued a public call for Kirchner to be investigated. Nisman was born in a middle-class home, and from his student days excelled in his discipline. He took courses in Hindu-based meditation after a back injury prohibited him from physical exercise.
Nisman had dedicated years to this case, determined to find out the truth about the 1994 attack on Argentina's largest Jewish community center in Buenos Aires. He'd discovered links between terrorist organization Hezbollah and the massacre.
He knew the legal issues back to front, and was famous for his archival memory of every detail of the case. But he soon began to be troubled by the direction the paper trail in front of him was leading.
"I'm snowed in by work, sorting out papers. I don't know what this is. I still don't know whether I should ask questions first, or whether I should wait to expose the evidence," he told Laureano Pérez Izquierdo, an Argentinean journalist. "I'm playing with my life here," he told colleagues on the case.
Nisman was convinced of the importance of the case, and that Argentinean officials had made a secret deal to secure immunity for the accused Iranians.
http://youtu.be/4nFQ7AsXmf8
"I don't want them to make a show out of this. I don't want the newspaper headlines on Tuesday to be that the exposure of evidence is a scandal, without them reporting everything that I have to tell," he told Pérez Izquierdo on Saturday.
Twenty Years of Injustice
The car bomb that exploded July 18, 1994, outside the AMIA wasn't the first of its kind in Buenos Aires. A similar explosion had taken place outside the Israeli Embassy in the capital two years earlier. Juan José Galeano, the federal judge then in charge of the case, received evidence allegedly linking Iran to both attacks.
As a result, Iranian diplomats Abás Zarrabi Krorasani, Mahvash Musef Gholan Reza, Ahmad Allameh Falsafi, and Akbar Parvaresch were charged with involvement.
https://twitter.com/liberyprogre/status/557204113629642752


Think-tank Liberty and Progress calls for mass rallies across Argentina on the evening of January 19 for the memory of Nisman and against "impunity" in the AMIA bombing case.
From July 1995 to the end of that year, police made a series of arrests on Argentinean nationals accused of involvement in the AMIA bombing. One of those detained, Carlos Telleldín, accused the Buenos Aires police of being involved in the attack, leading to the arrest of four officers.
In 1997, Nisman became involved as a prosecutor. In 2001, proceedings began against Telleldín and the four police officers — Juan José Ribelli, Raúl Edilio Ibarra, Anastacio Ireneo Leal, and Mario Norberto Bareiro. Telleldín was accused of providing the van used to carry out the attack.
In 2003, Hade Soleimanpour, the Iranian ambassador to Argentina during the 1994 attack, was arrested in London, but the UK government refused to extradite the diplomat to face charges. At the end of 2003, Galeano was removed from the case and replaced by Rodolfo Canicoba Corral.
However, on September 2, 2004, all of those accused of complicity in the AMIA attack were absolved due to lack of evidence. Then on September 13, judicial authorities created a special investigation unit to examine the attack, under the direction of Nisman and Marcelo Martínez Burgos.
In March 2007, Interpol gave orders for the arrest of nine people, eight of them Iranian.
In May 2008, Nisman called for the arrest and investigation of former President Carlos Menem (1989-1999) on charges of seeking to obstruct the investigation and cover up evidence.
In May 2009, the Argentinean Supreme Court ordered the reopening of further inquiries into the attack, and in September, at the United Nations, Cristina Kirchner requested Iran's collaboration in investigation.
In 2010, legal proceedings began against Menem for his role in an alleged cover-up. In 2012, the trial proceeded to an oral hearing.
In January 2013, a joint Argentinean-Iranian commission was created to investigate the case, provoking a fierce response from Argentina's Jewish community. In May 2014, the commission was declared unconstitutional by the Supreme Court of Justice.
On January 14, 2015, Alberto Nisman accused Kirchner with making a secret deal with Tehran to protect those Iranians accused of the bombing. Nisman was due to appear before Congress on Monday, January 19 to give evidence to legislators, but he was found dead in his Buenos Aires apartment late on Sunday night.
Translated by Laurie Blair. Edited by Fergus Hodgson.