Amid persistent concerns over instability in El Salvador and Central America, Dr. Juan José Daboub, former Salvadoran finance minister (2001-2004) and World Bank managing director (2006-2010), came to Washington, D.C., on Thursday. He offered insights regarding El Salvador's upcoming presidential election on February 2, 2014, for Mauricio Funes's successor and the 2014-2019 term.
His hour-long presentation and question-and-answer period, hosted by the Center for Strategic and International Studies (CSIS), garnered 60 attendees. Moderated by Carl Meacham, director of the CSIS Americas Program, Daboub's discussion covered the current state of El Salvador as it relates to the three contending party platforms and their candidates vying to be the next president:
Daboub says all three platforms are very similar and, assuming there's no fraud, Quijano has a good chance of winning. While there's no clear favorite, it's obvious Saca doesn't have an opportunity to win. A former ARENA party member, until his party expelled him in 2009, Saca only has about 15 percent support, consisting of votes that would otherwise go to Quijano.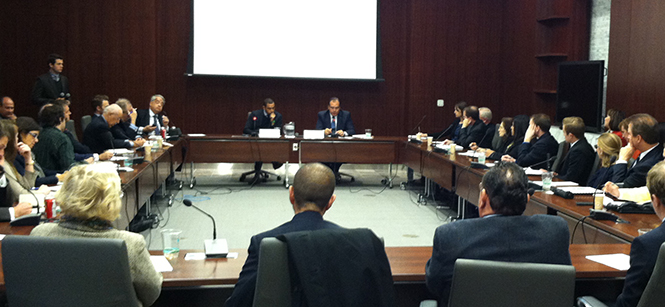 Between ARENA and FMLN, Daboub said, ARENA would create a healthier environment for investment and be more likely to strengthen El Salvador's judicial system. Governing El Salvador won't be easy, he said, but ARENA gives him more optimism. This includes controlling the fiscal debt — almost double that of previous years — strengthening weak governmental institutions, and addressing security. Right now, he contends, innocent people must protect themselves by hiding inside their homes, while drug cartels and gangs have license to operate freely in certain areas and do whatever they want.
Daboub argues that the best outcome, beyond the candidates, will be a freely-contested election where the winning candidate addresses fiscal and security issues. Most important, the individual will work with the United States as a partner.
Although he thinks there will likely be a second round in the elections, he's confident Salvadorans can find prosperity independently from political parties. He insisted on Salvadorans being resilient and said it has shown through history that El Salvador can overcome setbacks and find its path to prosperity again.