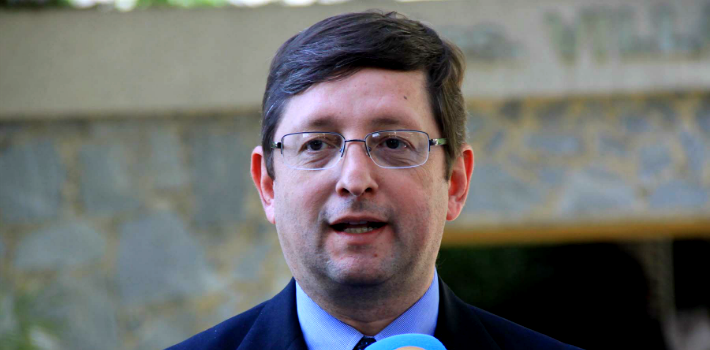 EspañolOn Sunday, February 21, Bolivians voted in a referendum to decide whether or not they agreed with a constitutional reform to allow President Evo Morales to run for the presidency for the fourth time in 2019. The final results are still not available, but exit polls suggest that the people of Bolivia voted against Morales's goal of staying in power until 2025.
Until a few days before the election, voter preference was not clear. PanAm Post spoke with opposition Senator Óscar Ortiz Antelo regarding Bolivia's situation and what could happen in the South American nation after the referendum.
What are the expected scenarios in Bolivia?
If No wins, it would be a signal that citizens are intent on limiting the president's power and that they don't want Morales to leave sooner rather than later. The current government has changed the constitution every five years in one way or another so that President Morales can stay in office.
If Yes wins, the president will have four more years and then he could run again in the 2019 elections. Otherwise, his party would have to find a new candidate.
Why hasn't the Bolivian opposition managed to hinder Evo Morales's ambitions?
In this referendum, we have demonstrated the serenity and maturity. Different political organizations understood that opposing Morales is a challenge that goes beyond the political parties' narrow interests. We know that we needed the support of many citizens who are not members of any party, but who can actually oppose this constitutional reform.
All opposition parties have supported this campaign and political organizations are monitoring the electoral system. But we have maintained a cautious approach which has allowed us to incorporate many youth activists. Their activism is not partisan; they share the goal of limiting the politicians' power by restricting the number of terms which government officials, beginning with the president, can serve in office.
Do you think the triumph of the opposition in Argentina and Venezuela might influence the outcome of Bolivia's referendum?
There is some kind of influence, yes, but I do not think it is decisive. Bolivians obviously look at what is happening in these countries; we view them as concrete examples of how authoritarian, populist leaders can cause enormous economic and social problems.
The situation in Bolivia is not as bad as in, say, Venezuela, but there are other problems. Inflation is under control but the government, despite high revenues, has not improved health care or education.
With declining international commodity prices, revenues are lower and new economic problems are emerging.
I think that Bolivian public opinion, including former Morales voters, is generally opposed to his aim of remaining in power and fixing the constitution at his convenience.
The polls are saying that there are many swing voters could tip the scale one way or another. 
I believe people will mostly vote "No". The proof of this is that the government had to run a very expensive campaign including the president, vice president, and all the ministers for three months, using public funds and state media.
They started with 40 percent of support but got stuck there. President Morales has been in power for 10 years, and he has never stopped campaigning. Yet this time most people are not convinced that the president should remain in power.
Also, several scandals involving the government. Bolivians recently found out that Gabriela Zapata, Morales's former partner, has a very important position in a Chinese company to which the government has awarded large contracts. Moreover, in the town of Hato, a mob led by Movement For Socialism (MAS) leaders recently assaulted the town hall, burned it, and left six dead.
I think these are all factors that can unite a majority vote against the constitutional reform.
In case that the "No" option wins, will President Evo Morales and his followers seek another alternative to achieve their goals?
We can't speak for them. We do not trust them either. Clearly, the Morales administration doesn't like having term limits, but it will be more difficult for them to do away with checks and balances after a No vote.
In fact, they are already having a hard time. I think that this administration is already in decline. They have four more years in power, but they will enjoy less public support.
What would you tell Bolivians?
It is essential to vote No and reject any amendment to the constitution based solely on the interests of two individuals — Morales and his vicepresident — and of a small elite who have abused power for the past decade.
As [opposition leader] Rubén Costas said, "No is the best vaccine against corruption." When there are no term limits, governments become degenerate and corrupt. That is what we are already experiencing.