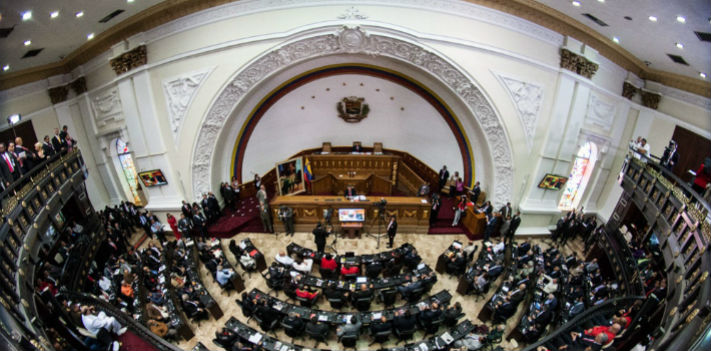 EspañolAfter 15 years of Chavista control over the Venezuelan Congress, the opposition's victory in the recent legislative elections means that the government may finally look into the numerous corruption scandals involving the ruling United Socialist Party of Venezuela (PSUV).
With its 112 seats, the Democratic Unity Roundtable (MUD) can now pass and abolish "organic" laws, remove Supreme Court justices, and even call for a new Constitution. However, this doesn't seem like the wisest course of action, at least for now.
1. The Forex Racket
The top priority for the new Congress should be to look into those scandals where officials allegedly stole taxpayer money. A good place to start would be former Chavista minister Jorge Giordani's accusation that government cronies stole US$25 billion from the Transaction System for Foreign Currency Denominated Securities (SITME).
Many more fraud accusations have emerged over the past 13 years of foreign-exchange controls. While the Commission for the Administration of Currency Exchange (Cadivi) denied common Venezuelans currency, it awarded army officers, and those with ties to the ruling party, millions to import products that never arrived to the country.
2. Maduro's Birth Certificate
The new National Assembly could also clear up, once and for all, the truth about President Nicolás Maduro's birth certificate, and make sure he is not of Colombian origin.
[adrotate group="8″]
3. Drug Running
It should also appoint a committee to travel to the United States and investigate the accusations against current National Assembly Speaker Diosdado Cabello and his alleged ties with drug cartels. On that note, it should also look into the arrest and indictment of Franqui Flores and Efraín Campos Flores, both nephews of First Lady Cilia Flores, for international drug trafficking.
4. Missing Oil Money
Chavismo will go down in history as the government that enjoyed the highest oil prices, but handled Petróleos de Venezuela (PDVSA) funds with the least transparency. That is why the new lawmakers should demand an investigation into every accusation of embezzlement during Rafael Ramírez's tenure as head of PDVSA. Even US courts are investigating the charges, according to the Wall Street Journal.
The state-run firm became Chavismo's personal piggy bank to finance its programs, and Congress is the ideal institution to unveil these alleged crimes.
5. Rotting Food Shipments
Another priority is undoubtedly the funneling of taxpayer money to import thousands of tons of food through a PDVSA subsidiary, which the authorities left to rot in several states. The scandal dates back to 2010, and the government never revealed the results of the investigations that supposedly took place. In this case alone, three former officials remain under arrest.
6. Chávez's Death
It would also be convenient to clear up the mystery surrounding President Hugo Chávez's death on March 5, 2013, three months after he left the country for Cuba to receive cancer treatment.
Chávez returned to Venezuela on February 18 and was "recovering," according to Communications Minister Ernesto Villegas. However, 15 days later, the government announced he was dead.
7. Like Father, Like Daughter?
Another scandal emerged in July 2014, this time tying Chávez's daughter, María Gabriela, to fraudulent rice and corn imports from Argentina. Two Venezuelan congressmen from the opposition requested an investigation, which of course never happened. It's high time for an explanation.
8. Mysterious Newspaper Owners
Furthermore, the Chavista government has violated many human rights in Venezuela, but freedom of expression has come under a particularly fierce attack. Recently, it began co-opting traditional newspapers through mysterious buyers to quash dissent.
A recent investigation revealed that ruling-party supporters acquired no less than 25 media outlets over the past five years. The National Assembly could help expose those behind these transactions.
These are just a few of the issues that newly elected congressmen should investigate to begin rooting out corruption when they are sworn in on January 6, 2016.