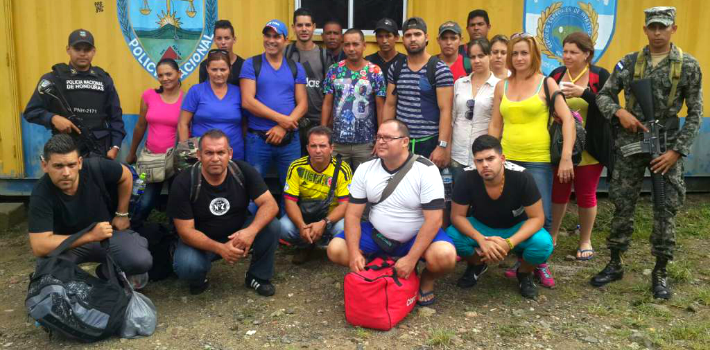 EspañolFor roughly half a century, thousands of Cubans have battled to reach US soil and secure the benefits of the Cuban Adjustment Act, which allows them to live legally in a country that grants them the individual rights denied to them on their native island.
According to the Cuban online independent daily Diario de Cuba, a record number of Cubans went through Mexico in order to reach the US "promised land" last October.
Joel Crespo, a 35-year-old Cuban who arrived in the United States two months ago after a 45-day journey across Central America, says that he "decided to seek prosperity, [and] a better, different life; having the things you want, which, in Cuba, you can't get."
Every week, Central American authorities report the arrests of hundreds of Cubans who illegally attempt to enter one country from another. Panama's Migration National Services reports that, as of August 31, 8,745 migrants had received assistance from that country alone in the Darién Gap area, an inaccessible swampland that borders Colombia.
According to Diario de Cuba, the number of Cubans arriving in the United States has increased 78 percent this year compared to 2014. This comes after Washington and Havana began to restore bilateral relations, which had been broken since 1961, last December.
Luis Enrique Ferrer García, who serves as the Cuban Patriotic Union's (UNPACU) international spokesman, tells the PanAm Post that "the recent exodus provides further evidence of the Cuban people's desperation." 
"Even as diplomatic — and soon commercial — relations are restored," he says, "Cubans are not hopeful that their lives on the island will improve. That's why they keep risking their lives to move to the United States."
Crespo tells the PanAm Post that his peripatetic experience began with a plane trip to Ecuador, a country Cubans can enter without a visa. From there, he began to make his way north towards Central America. He says that he prefers not to remember certain stages on his journey since he lived terrifying moments.
"The hardest part of the trip is when a little motorboat in Colombia takes you to Playa Miel, in Panama. They leave you on the top of a little hill and another motorboat picks you up. That scared the hell out of me," the Cuban exile says.
[adrotate group="8″]
Passing through seven countries in three and a half months cost Crespo some US$6,000, and he claims that Nicaraguan border officials charged him $81 for safe conduct. In Mexico, the coyotes who offered to guide him from the Guatemalan border to the US border pocketed $1,700, and then vanished after walking alongside him for a short distance.
"In Mexico, I had to go on by myself. I paid those people, and they ran away. I finished the journey on my own."
Profitable Human Trafficking
Honduras is one of the Central American countries which reports the most arrests of Cubans each week. So far this year, at least 10,000 Cuban migrants have been captured by the country's security forces.
On Tuesday, November 10, Costa Rican authorities dismantled a human-trafficking ring, whose victims were expecting assistance to cross the border. They were mostly Cubans, Africans, and Asians.
According to Costa Rica's Attorney General's Office, the group charged Cubans between $7,000 and $10,000. The fee for Africans or Asians could reach $30,000.
Ferrer says that "unscrupulous traffickers are now aware that Cubans will use any means available to leave the island, since they know things won't change. If jobs are created, it will be only unskilled labor for US companies, but the island will remain under a totalitarian regime. This is why the silent exodus to the United States will continue."
He added that, once the Castros began to restore diplomatic ties with Washington, they may have reconsidered their demands for the Cuban Adjustment Act's repeal.
"They know that's an escape valve for any dissident who wants to leave the island and reach the United States. Otherwise, they would stay in Cuba and oppose the regime. [The government] knows that's not good for them."