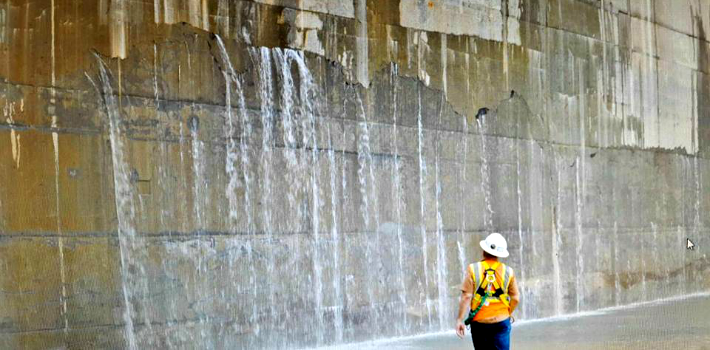 EspañolThe contractor overseeing the Panama Canal expansion is in deep water. After severe leakage problems became visible, the relevant state authority, the Panama Canal Authority (ACP) issued a warning that it would not accept the current works until all flaws are fixed.
The ACP posted the message on August 21, after pictures emerged over social media showing water leaks in one of the new lockheads on the Pacific shore.
United Groups for the Canal (GUPC), the consortium responsible for the expansion works, is investigating the matter to give Panamanians an answer on whether the new section of the waterway will be ready by April 2016, as authorities promised.
GUPC and Montgomery Watzon Harza, the firm tasked with designing the new lockheads, are currently working on a strategy to repair the crack and seal the leak.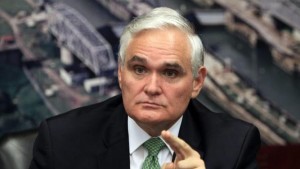 "[We aim] for the best quality. We won't accept low-quality repairs. This is a new lockhead, and we expect it to work properly. We aim for a lifespan of 100 years," Panama Canal administrator Jorge Luis Quijano told HispanTv.
The ACP has yet to return our requests for comment.
According to Panamanian daily La Prensa, GUPC admitted that the images were real but assured the consortium was already working to correct the flaws.
[adrotate group="7″]
"GUPC informs that the pictures published in social media are from one of the lockheads on the canal's Pacific side. Technical personnel are handling this issue. The goal of the testing phase is precisely to detect any problem that requires adjustment or reinforcement," said the company in a press release.
For its part, the ACP stated that the GUPC is the sole responsible party for the expansion works, and ACP won't accept anything short of perfection: "Our technicians are closely monitoring [developments] so that every detail complies with the quality standards."
On August 22, the ACP and GUPC met to discuss the next steps to fix the damages. GUPC representative Guissepe Quarta explained to canal authorities the extent of the leak and its possible solutions.
ACP Chief Engineer Jorge de la Guardia, praised GUPC's swift reaction to the errors and highlighted that company representatives tasked with the design immediately flew to Panama to review the situation.
"We already know how to fix the problem," De La Guardia assured.
In the following weeks, Panama Canal spokesmen will offer further details on when the repair work is expected to be wrapped up, as well as if the deadline for completion will be postponed.