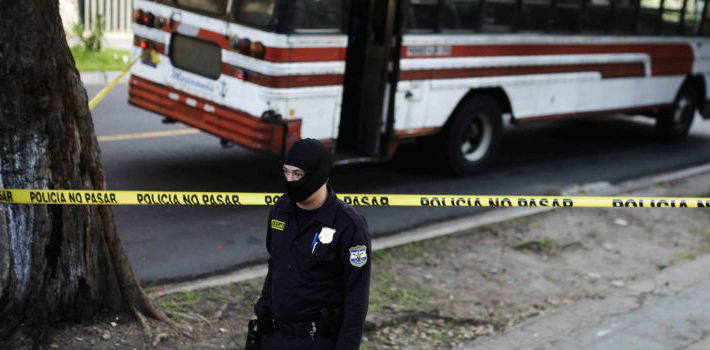 EspañolLast week, members of the two largest and most violent gangs in El Salvador — Barrio 18 and the Mara Salvatrucha — brought the country's public transportation system to a standstill.
The gangs ordered public buses stop running and killed nine drivers who disobeyed their demands, all in an attempt to pressure to Salvadoran government to negotiate and ease their crackdown, according to officials.
The government of Salvador Sánchez Cerén has so far refused to negotiate, and on Friday, July 31, resumed public transportation services after deploying heavily armed police and soldiers to guard drivers and allow Salvadorans to commute safely.
Roberto Soriano, president of the Public Passenger Transportation Association, said 90 percent or more of buses were operating as of Friday, adding that the interruption in service cost the transportation sector around U$3.2 million in losses last week.
Just the Beginning
According to Jeanette Aguilar, director of the University Institute for Public Opinion of UCA El Salvador, it was the government's refusal to renegotiate with gangs that led to this latest escalation in violence.
In late June, gang leaders held at the maximum-security prison in Zacatecoluca sent a letter to the National Council of Citizen Security and Coexistence calling for renewed dialogue. It was after their letter received no response that the gangs demanded public buses abandon their routes, paralyzing services in 14 municipalities.
"This is a new chapter in the escalation of confrontations between the government and the gangs, which were aggravated last semester," Aguilar said.
"On the one hand, the government refusing to talk with the gangs. On the other, these gangs have threatened to seek revenge for what they claim are government-mandated extrajudicial killings."
Aguilar tells the PanAm Post that she believes the government underestimated the importance of the letter sent by gang leaders, and ignoring it has cost the lives of nine bus drivers.
"The president has harshly condemned these events. From the government's perspective, they cannot negotiate nor give into the pressure from these criminal groups. There won't be any negotiation process; instead, police and military operations will attempt to keep order in the country," she says.
The Salvadoran government announced as early as Wednesday evening that it was prepared to deploy military forces to curb gang violence in the streets and prevent further attacks on drivers.
Defense Minister Munguía Payés said President Sánchez Cerén asked the military to increase its patrol efforts in the San Salvador metro area and collaborate with police "as much as necessary."
"The are 600 soldiers ready to be deployed … if it is necessary," he said.
Aguilar says El Salvador's security forces have radicalized their operations in response to gang attacks on judges, jail employees, and the killing of 40 police officers and five army soldiers.
"The government has applied an eye-for-an-eye policy, and it will leave us all blind and dead if it does not stop soon," Aguilar said.