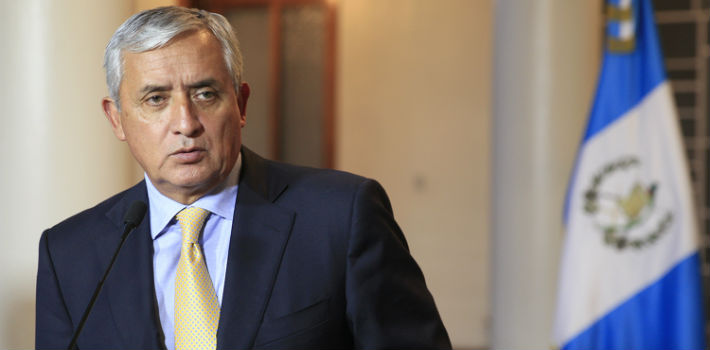 EspañolGuatemala's Supreme Court ruled on Wednesday, June 10, that President Otto Pérez Molina should be stripped of the immunity that protects from prosecution, allowing Congress to move forward with their investigation into allegations of corruption.
Judge José Baquiax explained that opposition Deputy Amílcar Pop initiated the request for a congressional committee to investigate the president over his alleged links to corruption scandals that have emerged in recent months. One case involves an alleged customs-fraud scheme in which businesses paid millions in bribes to dodge import taxes, and the other dealing with inflated contracts for the Guatemalan State Institute for Social Security (IGSS).
Baquiax said the court voted unanimously to give Congress the go-ahead for their investigation. Lawmakers could vote Friday to form a five-member committee to determine whether or not to remove Pérez Molina's immunity, whose term ends January 2016.
"The process is the same as the one carried out against the former vice president, [Roxanna Baldetti]" Congressman Luis Rabbé Rabbé told press. Baldetti resigned as Guatemala's vice president on May 8, citing "personal reasons," while under investigation over her alleged involvement in a customs-fraud scheme that implicated her former personal secretary, Juan Carlos Monzón Rojas.
Congressman Pop issued his request for an investigation of President Pérez Molina on May 22 before the Public Ministry. The inquiry is based on the president's connection to Juan de Dios Rodríguez, his one-time personal secretary and former director of the IGSS.
Guatemalan authorities have so far detained at least 17 people allegedly involved in the IGSS corruption scandal. According to investigators, officials within Pérez Molina's administration awarded the Mexican pharmaceutical company Pisa an inflated contract worth US$14.5 million to provide treatment for kidney-related conditions. Authorities argue, however, that the company's lack of expertise in the field caused the death of 11 patients, while others became gravely ill.
Over the last two months, Guatemalan citizens have responded to the allegations with street protests, demanding the resignations of Vice President Baldetti and now Pérez Molina.
In April, Congressman Pop demanded Pérez Molina be investigated along with Baldetti for the customs-fraud scheme, but the Supreme Court denied his request.
"This is a legal process that has come before the Congress for a second time, and we await its resolution," presidential spokesman José Ortega said on Wednesday during a press conference.
"The social security institute and tax collection agency are bodies that are independent of the state," he added. "The only responsibility the president has is naming two or three people in each one."
Several of Pérez Molina's cabinet ministers have either resigned or been dismissed since the scandals first emerged, including Secretary to the Presidency Gustavo Martínez and Interior Minister Mauricio López Bonilla. The officials that authorities have arrested so far include the former IGSS director, Rodríguez, and the former head of the tax authority, Omar Franco.
In Baldetti's case, the Guatemalan Supreme Court concluded that the information gained from recorded telephone conversation entered into evidence was enough to remove the vice president's immunity.