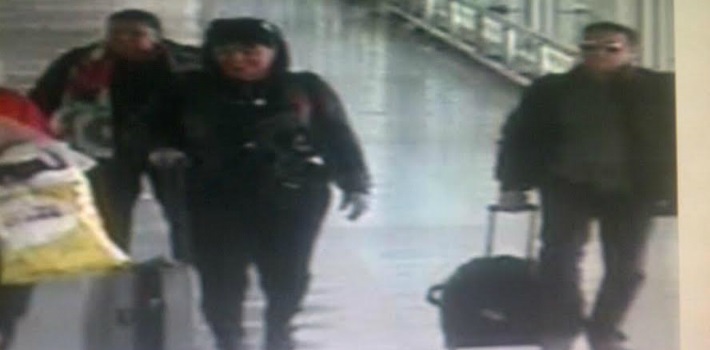 EspañolThe news spread like wildfire through Venezuela early on Sunday. An image circulating on digital outlets showed a smiling woman pulling a suitcase behind her alongside two men in an airport corridor.
The picture of complacent friendship was reportedly taken moments before the woman, former Supreme Court Judge Miriam Morandy, and one of her companions, Richard José Cammarano Jaime, were arrested by drug-trafficking police. Venezuelan officials claimed that the CCTV image dated to April 23, but the details of Saturday's events were no less striking.
According to Venezuelan outlet RunRun.es, both arrived at Simón Bolívar International Airport in Maiquetía, just north of Caracas, to board a TAP airlines flight for Portugal. The Venezuelan National Guard's Anti-narcotics Unit swooped in and seized Cammarano, Morandy, and her assistant Tibisay Pacheco as they got out of a taxi. Cammarano is wanted by a high-level Caracas criminal court for his alleged role in international drug trafficking.
The scandal has shaken the government, but no Venezuelan official has yet issued a statement regarding Morandy's involvement with Cammarano, known as "the foreign minister," who is also wanted by US judicial authorities for theft.
The focus on Morandy appears to stem from a power struggle within the administration of President Nicolás Maduro: broadly divided between officials and institutions loyal to him and his wife, and those that answer to Diosdado Cabello, president of the National Assembly and Chavista strongman.
The former member of the the Criminal Chamber of the Supreme Court has a long-standing friendship with First Lady Cilia Flores, and is godmother to Flores's children from her first marriage.
In late 2014, Morandy was a strong candidate to replace Luisa Ortega Díaz as Venezuela's Attorney General at the request of Maduro's wife. However, the National Assembly, presumably under Cabello's direction, ratified Ortega in her post for another term, blocking her from the position.
Anonymous sources within the government told the PanAm Post that Saturday's incident at Venezuela's main airport goes to show the extent of the power struggle within the ruling party. According to their testimony, the arrest of Cammarano and Morandy was designed to prevent the former from giving evidence about Cabello's alleged ties to the Soles Cartel, and as a warning to the faction loyal to Maduro.
Closed Ranks
On Sunday, Venezuelan press reported that Morandy no longer remained in custody and had arrived at her home.
The sources also confided with the PanAm Post that Attorney General Ortega refused to take a call from the First Lady, but has been in permanent communication with the Gladys Gutiérrez, president of Venezuela's Supreme Court.
Ortega's office, according the sources, requested the airport's full CCTV footage showing Morandy can be seen arriving with her assistant, Cammarano, and two officials: one from the Finance Ministry and another from Venezuelan migrations office Saime.
Suspicious Release
Criminal lawyer Claudia Mujica told the PanAm Post that Morandy, as well as the rest of the officials detained at the airport, should have been brought before the criminal courts investigating Cammarano.
"When caught red-handed, as in this case, where one person is sought by two Venezuelan courts for drug trafficking, there is no reason not to take the people accompanying him before the Control Courts as well. One could think they were aiding his escape from domestic and international justice by means of privileges such as special passports," she argued.
Mujica said it was necessary that all individuals involved, without exception, show up at court at least to explain what they were doing with the alleged drug smuggler, as he was caught committing a criminal act: running away from a judicial case pending in Venezuela.
Defection Prevented?
In the wake of Cammarano's arrest, a web of ties between him, Morandy, and other high-ranking officials begun to emerge.
Unofficial sources within the Venezuelan police said the real motive behind the drug kingpin's abortive journey was to make contact with the US Drug Enforcement Administration in Europe and negotiate his participation as a witness, similar to Chavista defector Leamsy Salazar, a former bodyguard to Cabello and confidante of former President Hugo Chávez.
Cammarano is also allegedly involved in a romantic relationship with Dougeli Wagner, a former Venezuelan judge and legal advisor to the Finance Ministry, who now lives in Miami.