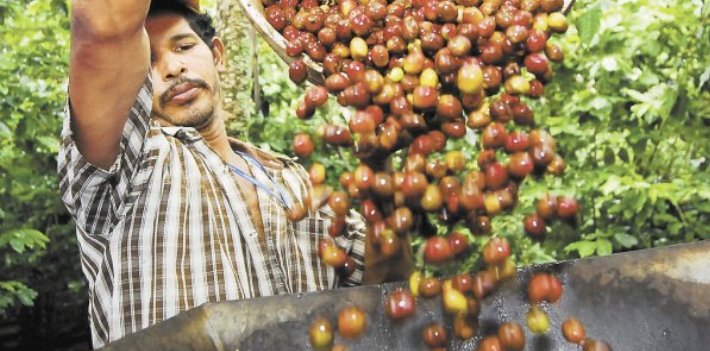 EspañolVenezuela's food sovereignty has reached a nadir, to the point where Caracas now has to pay Nicaragua's coffee exporters an extra 24 percent on average prices to secure Venezuelans their coffee fix.
According to Nicaraguan export data center Centrex, the average price of a quintal (45.36 kg) of coffee is US$176.40, while Venezuela buys its coffee beans from the Central American nation for $207.84 for every quintal received.
Sales to Venezuela made up 12 percent of all coffee exported by Nicaragua between January 2014 and April 2015, according to Centrex data.
"The problem is that the the coffee being brought to Venezuela is a very low-quality product. It's not the coffee which the local consumer is used to. It doesn't leave a pleasant smell," said Vicente Pérez, president of the Confederation of Agricultural Producer Associations of Venezuela (Fedeagro).
Nicaragua meanwhile sold coffee to another 28 countries aside from Venezuela, but only Singapore, Dominica, the United Kingdom, and Denmark paid over $207 per quintal.
Without including sales to Venezuela, the average price of a quintal of export-quality beans from Nicaragua was $167.86, meaning that Caracas is paying significantly more than the average price the product is sold at.
"Presuming that we're not dealing with any kind of corruption, what could have happened with the price that Venezuela paid Nicaragua is that they tried to make a last-minute purchase, and evidently they had to pay more than if they'd done the transaction as normal, making purchases in advance," Pérez told the PanAm Post.
The biggest buyer of Nicaraguan coffee during the same period was the United States, with 416,000 quintals, for which it only paid $161.95 per unit, reaching a total of $67.3 million.
According to official Nicaraguan reports, Venezuela obtained at least 196,000 quintals, or 9,000 tons, and paid over $40.8 million.
No Bucks
In March 2015, news agencies reported that Venezuela was set to exchange petroleum for Nicaraguan coffee via the Petrocaribe agreement, a framework through which Caracas receives goods and services from its neighbors as payment for preferential access to hydrocarbons.
However, the quantity of coffee entering Venezuela still isn't enough to satisfy local demand.
The Fedeagro president explained that Venezuela historically boasted an annual production of 1.6 million quintals of coffee, more than enough to meet local demand of approximately 1 million quintals, and Venezuela was recognized globally as an exporter of quality coffee.
However, price controls and limited investment in technology have prompted local production to deteriorate dramatically. Venezuela now only produces enough coffee to satisfy half of internal demand.
"We didn't have a huge market on the level of Colombia, but Venezuelan production supplied the United States and Europe. The problem is that with price controls, we can currently say that in Venezuela coffee is almost as cheap as gas, and there's a big discrepancy between production costs and the sale price for the consumer," Pérez explained.
The current price fixed by the Venezuelan government for the sale of a kilogram of coffee is 46 bolívares ($0.14 at the black-market exchange rate), while the same kilo goes for $4.51 on the international market.
"No producer wants to work at a loss. To cover costs, a kilo of raw coffee costs 109 bolívares, and yet the government forces us to sell the final product to the public at 46 bolívares. This is almost three times lower than the real cost, and they're definitely importing at a loss, because the price doesn't even correspond to international markets," Pérez concluded.