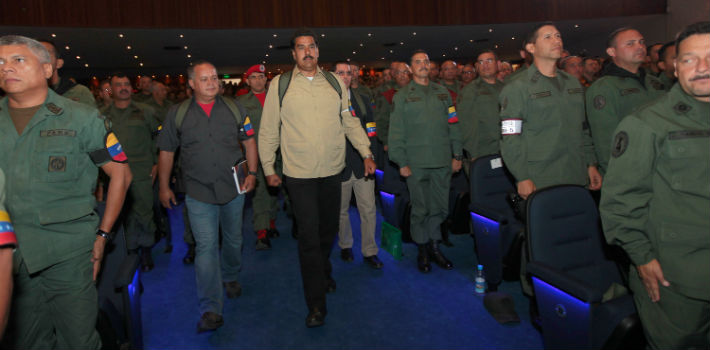 EspañolDays after Lieutenant Colonel Leamsy Salazar embarked for the United States — as a protected witness to give testimony against senior Chavista official Diosdado Cabello — the Venezuelan Defense Ministry issued orders for all military commanders to take measures to detect US penetration of the armed forces.
In the written orders signed by Brigadier General Iván Rafael Hernández Dala and read out over military radio on February 19, commanders are to create a list of all military personnel under their command with US or EU visas or passports. The list must then be handed to their superiors by March 13.
The official document, which the PanAm Post has seen, calls on the civil authorities to collaborate with army High Command in helping the armed forces acquire all requested information.
The briefing, bearing the letterhead of the General Directorate of Military Intelligence (DCGIM), describes Salazar's defection as part of "recruitment activities carried out by members of the US diplomatic corps (military attachés and consular officials) and its allied countries, during the years 2010, 2011, and 2012."
The text accuses US authorities of using information gleaned through personal interviews conducted as part of visa assessments "with the intention of establishing operative links with the soldiers to determine who was disposed to planning and executing subversive activities against the Venezuelan state."
State of Paranoia
Rocío San Miguel, a lawyer and expert in Venezuelan military issues, told the PanAm Post that the latest military communique fits into a pattern of a "paranoid state" within the Bolivarian National Armed Forces (FANB) whereby generals seek to test the loyalty of the rank-and-file through the planting of "false positives."
"What's happened with Leamsy Salazar? Since it became known that he was in the United States collaborating with investigations with the Drug Enforcement Administration (DEA), in Venezuela he hasn't even been declared a deserter in the Official Gazette, which would have been appropriate in his case. Historically, officials have been obliged to give notice when leaving the country," San Miguel said.
"This kind of activity speaks to massive paranoia," he added, referring to to the secret radio broadcast that followed Salazar's escape from Venezuela.
Salazar belonged to the the personal security detail of Hugo Chávez until the death of the former president. Afterwards, he was assigned to National Assembly President Diosdado Cabello.
Salazar's identity emerged in late January through news published by Spanish daily ABC. It was subsequently revealed that the soldier had journeyed to Washington DC, where he was subjected to a series of interrogations and psychological tests to verify his testimony that Cabello had masterminded a drug-trafficking cartel whose reach extends throughout the region.
In the radio broadcast, the Defense Ministry also demanded that military commanders submit information about other lines of investigation carried out by the DCGIM in recent years. Among the activities under investigation are visits by ambassadors and military attachés, links between FANB officers and foreign armies, including contact via social media, and links with foreign civilians.
Clamping Down on Defections
The actions taken by the Defense Ministry and other Venezuelan government agencies would suggest that the administration of President Nicolás Maduro is seeking to prevent any more public officials from offering secret information to the United States in return for Washington's protection.
The measures were taken prior to Monday, when US President Barack Obama issued an Executive Order in which he described Venezuela as a "threat" to the security and foreign policy of the United States. Obama also announced the first list of six military officials and a Public Ministry prosecutor whose US-based assets are to be frozen by Washington, and who are now denied entry to the United States.
Obama's announcement provoked a wave of vociferous criticism by Chavista officials, including statements to the effect that the United States was planning an invasion of Venezuela. However, activities within the FANB reveal that preparations against the "imperial" enemy began some months ago.
On December 15, 2014, two days before the White House and its Cuban counterparts announced an imminent rapprochement, Venezuela celebrated a government-backed march against the United States. The demonstration was in response to Congress passing the Venezuela Defense of Human Rights and Civil Society Act, which signalled the forthcoming sanctions.
In January, Venezuelan Prisons Minister Iris Varela suggested in a television program transmitted by the state channel that all government officials with a US visa should burn them in a public act. No public figure is known to have followed Varela's instructions to date.
https://www.youtube.com/watch?v=oSNXe9dGQk4
Patriot Games
Another Defense Ministry radio broadcast dated February 26 makes further reference to alleged US espionage within Venezuela. The document, signed by Colonel Alex Hernández Aquino, suggests that FANB has knowledge of a US Army official identified as Ann Hester Leigh making contact with Venezuelan soldiers to obtain information.
"We have knowledge of military professionals who have received in their email inboxes a message from the account [email protected], belonging to a supposed North American citizen," the text of the broadcast reads.
The document goes on to claim that the alleged US military official wrote to Venezuelan soldiers in Spanish as follows:
"Hi, my name is ANN HESTER LEIGH, an official with the US Army, searching for a reliable person with enough trust to gather more information, you can put yourself in contact with me via my email ([email protected]) kind regards."
Venezuelan military officials have demanded a list of the personal details of all military professionals who allegedly received this or a similar message. This list must be handed to superior officers by March 10, according to the document.
"With this kind of activity all they're doing is testing loyalties. The idea is to use a false agent to see who agrees to give information or who is disposed to keep these kind of incidents to themselves," argued San Miguel.
"It's a strategy that they could have put in place to test internal loyalties, because only by contacting the given email address can you know whether its a real or fake account," the analyst concluded.