EspañolFive commanders of the FARC Colombian Marxist guerrilla are operating from southwest Venezuela, concentrated in Apure State, according to a report from the Venezuelan Directorate of Military Intelligence (DIM).
The official document, made available to the PanAm Post, also mentions the existence of secret landing strips located throughout multiple Venezuelan states and used in the trafficking of drug shipments.
Venezuelan military surveillance reveals that the commanders in question belong to the Revolutionary Armed Forces' 10th front, and that they enjoy effective control over the communities in which they're based.
"Various individuals have been seen wearing camouflaged uniforms, carrying large and small arms, with insignia alluding to FARC… [They] have implemented various rules and mobilized patrols during both the day and night, in various vehicles, including Toyota 4.5 pickup trucks, and all-terrain motorbikes," the official text reads.
One of the senior FARC officers, Jaime Alberto Parra Rodríguez (a.k.a. Mauricio Jaramillo), is described as the commander of FARC's Eastern Bloc, and has his operating base in the Capanapero sector of the Rómulo Gallegos region. The second guerrilla boss to be identified and located is "Polanco," who presumably controls the sectors of Achaguas, Guachara, Yagual, and Aguarito.
The document mentions another high-profile leader under the alias "Gollo," who reportedly controls the entire population of Capanaparo, Tres Bocas, Paso Arauca, and Cunaviche, as well as all traffic of narcotics into Venezuela via the Colombian border.
In the map provided by the Venezuelan authorities, another commander operating under the name "Buda" is based in the town of San Juan de Payara, together with three other FARC operatives. During the investigations carried out by the intelligence services, Buda was seen in the company of Pedro Leal, mayor of Pedro Camejo, who is a member of the governing United Socialist Party of Venezuela (PSUV).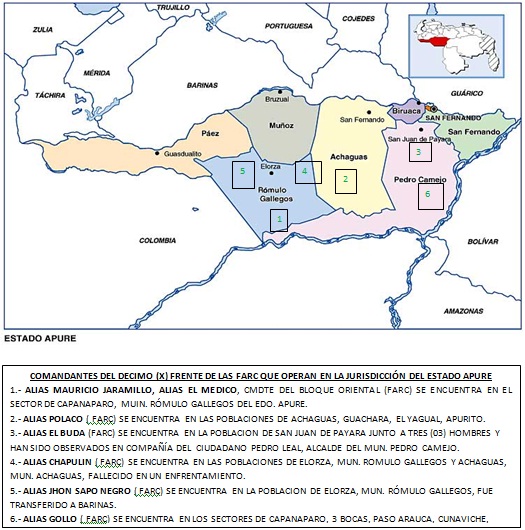 Apure State is Venezuela's third largest region, with an area of 76,500 square kilometers (slightly smaller than South Carolina, and comparable to Central American nation Panama), and shares a porous border of 685 kilometers with Colombia. According to the report, alongside narco-trafficking, "these irregular groups have turned a significant part of this zone into sites where they carry out killings, extortion, kidnapping, and petroleum smuggling."
Other areas of Apure where FARC activities have been observed include Cinaruco, El Meta, San Juan de Payara, La Soledad, Cunavichito, Río Claro, Achaguas, Guachara, El Yagual, El Samán, and Elorza.
Last Known Operations
A sixth commander mentioned by the DIM, alias Chapulín, was operating in Elorza, one of the Apure's most important population centers. However, he died in a shoot-out with the Colombian army in the border zone in 2014.
Police also captured 10th front commander Germán Arturo Rodríguez Ataya (a.k.a. "El Gago") on December 24, 2014, in the same town.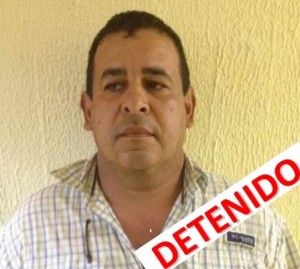 Ataya was apprehended by an Interpol task force operating in the area. An international warrant for his capture, signed A-4489/6-2014, was issued on January 11, 2003, after police seized a 2002 shipment of drugs in Bogotá, the Colombian capital. The interdicted shipment belonged to FARC's tenth and 16th fronts, both directed by Ataya.
In 2005, he was arrested in Colombia for transporting guerrilla fighters and drugs via air, and his pilot's license was revoked. However, he apparently averted a significant jail term and later spent multiple years in Venezuela, even becoming a Venezuelan citizen.
Police and military authorities had knowledge of his presence in the country from at least 2012, according to an internal report from Venezuelan forensic and criminal police agency CICPC, dated January 15 of that year.
The CICPC began investigations after an anonymous tip-off signaled that Ataya was in possession of "an estate called San Rafael, located in Capanaparo, Rómulo Gallegos region, Apure State, which was used as a collection center for huge quantities of narcotics and psychotropic drugs, which were later taken via air on board private aircraft to the capital of the country and nearby countries for sale, relying on the hidden airstrip belonging to the said estate."
When Interpol Venezuela arrested him shortly before Christmas in 2014, he was freed on the orders of the 15th Public Prosecutor of the Venezuelan Public Ministry, which denied the authority of country's Supreme Tribunal of Justice (TSJ) to authorize Ataya's extradition.
On January 26 this year, however, the Venezuelan TSJ ruled in favor of a Colombian extradition request for Ataya, with his case subsequently taken up and enforced by magistrate Héctor Manuel Coronado Flores.
The Venezuelan military authorities have also signaled the presence of another FARC agent in the region,  under the alias "Jhon Sapo Negro." He was reportedly operating in the Elorza area, but has since been transferred to the town of Barinas, in the state bearing the same name.
Aerial Drug-Trafficking Extends to Other States
The military unit that carried out the investigation has determined that aside from Apure State, the states of Mérida and Zulia also host territories used by FARC units for the landing and dispatch of planes laden with illicit narcotics.
One of the hidden airfields is located in the La Burra Mocha locale of Mérida State, within an estate called San Francisco. The estate reportedly has a front as a ranch for caballos de paso (dressage horses), but also comes with a 900-by-20 meter field used for the landing of small aircraft.
Meanwhile in the neighborhood of Francisco Javier Pulgar, Zulia State, military officials have detected the presence of a 800-by-30 meter runway attached to the La Mano de Dios estate. Otherwise, the ranch appears to host no productive activity.
In the same area, the DIM team investigated the Bramaderos estate, apparently dedicated to the breeding and sale of buffalo — although also host to a runway a kilometer long and 30 meters wide, as well as a helicopter landing area.
Elisa Vásquez contributed to this article. Translated by Laurie Blair. Edited by Fergus Hodgson.