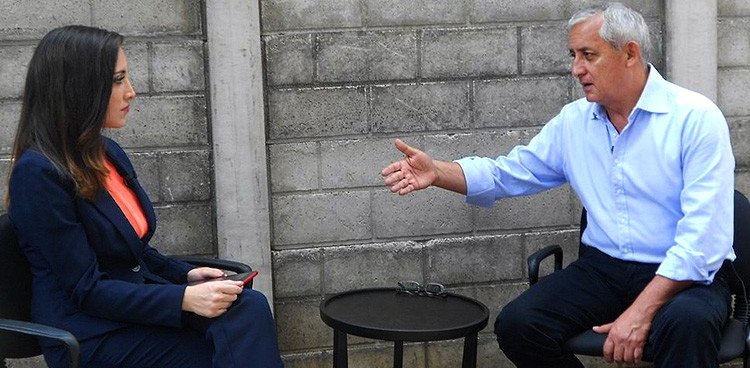 EspañolFrom his prison cell, Otto Pérez Molina has played cry-baby by telling Russia Today — an odd bedfellow indeed — that the agent of his downfall was none other than the United States, up to its old tricks; and working in this case through the UN commission, the CICIG, a worthy partner in official corruption.
Pérez is actually telling the truth, but it's a truth which amounts to a lie. It's the cry of a gangster who, about to be killed by a fellow gangster, cries out with feeling: "He betrayed me!"
As Guatemala's president, Pérez was in the betrayal business. He insulted the interests of the Guatemalan people, which he had promised to serve. He entered into an unwritten pact with the United States — that he and his cronies could do their sordid business of corruption as long as they also upheld the sordid aims of the United States.
In particular, Pérez agreed with Hillary Clinton and the Obama administration that their ally, Attorney General Claudia Paz y Paz, could remain in power and pursue the guerrilla plan for seizing power in the country. Among other things, this meant allowing the seizure of power in the countryside by guerrilla militias, one of whose outcomes was to produce a new flow of immigrants to the United States.
[adrotate group="8″]
Pérez told Russia Today that the United States used the immigration to justify its "interference and greater control of our countries." But it was Pérez himself who had ushered the wolf into the chicken coop.
President Barack Obama's benefit from this is manifold. The flow of immigrants into the United States, which Obama welcomes, adds to the Democratic Party's power base and hastens the ethnic takeover of the United States. At the same time, Obama uses the immigration crisis as a pretext for playing the Maoist in Guatemala, destabilizing the political order of the hemisphere and raising his friends, the Castro party, to new heights.
A part of Pérez's dirty business was submitting his former military colleagues to judicial persecutions. A judge involved in that, Miguel Ángel Gálvez, is also the judge in the customs fraud cases. He is in the Paz y Paz mold and uses the rhetoric of "justice" as a wedge against the constitution and the law. It is only poetic justice that Pérez himself should now fall victim to the same abuse.
The best that Pérez can do is to get out of jail as quickly as possible, and disappear with as much money as he can carry. Hopefully, his successor will do better by the people who elected him.