Español Ecuador's government and the European Commission launched trade negotiations in Brussels today with one objective: to reach a trade agreement. The negotiations, which will be held until this Friday, mark the first official dialogue between both parties since the South American country withdrew from talks in 2009. The outcome of this process is already in doubt, however, due to Ecuador's obsolete approach to protectionism as a supposed way to guarantee economic growth.
EU talks with the Andean region date back to 2007, when the European Union started to negotiate a trade agreement with the Andean Community of Nations (CAN) — a trade bloc between Colombia, Peru, Ecuador, and Bolivia. The European Union is the second most important trading partner for the Andean region, with major imports including manufactured goods, transportation machinery, and equipment, as well as chemical goods. In turn, CAN supplies the European Union with primary goods, fuel, and minerals.
At the end of 2008, however, problems surfaced when CAN members differed on major elements of any trade deal. The European Union then had to continue towards agreements with each country on a bilateral basis. Further complicating the situation, Bolivia rejected outright and Ecuadorian President Rafael Correa halted negotiations in 2009. That left Peru and Colombia as the only group members to sign a trade agreement with the bloc in 2012.
Then in 2013, after seeing his Andean neighbors enjoy economic returns from the agreements, Correa decided to resume trade negotiations.
Trade Agreements to Promote Protectionism
EU leaders tend towards understanding new markets and the liberalization of goods, services, government acquisitions, and investments as benefits of trade agreements. In this particular case, the European Union guarantees CAN preferential access to its market, through the Generalized Scheme of Preferences (GSP). The GSP offers generous tariff reduction to developing countries on their exports to the European Union, which extends in some cases to being exempt from export tariffs entirely.
Since its creation, the European Union has always pushed forward free trade policies that promote free movement of goods, services, people, and capital. In contrast, Ecuador's Correa administration has worked hard to adapt its trade agreements to preserve central planning and protectionism.
During an April 2013 economic conference in Germany, Correa asked the business community to invest in Ecuador with the following claim:
"We are a project of the left, but a modern left — conscious of the role of private companies in development, but also conscious of the role the state must have."
Even though Correa is aiming to close the deal with the European Union during the first months of this year, he stressed that he wouldn't complete a deal "at any cost." He reassured the nation that an agreement with Ecuador would in no way be a free trade agreement — pointing to calamities that "lame liberalization" has caused in Latin America.
Ecuador's minister of knowledge and human talent, Guillaime Long, stated in an interview with newspaper El Telégrafo that an FTA would "undermine all the effort we are making to diversify the economy, change our productive matrix, and distance ourselves from the exclusively primary-exporter model."
Instead, the minister asserts that a potential EU agreement that Ecuador might sign would "aim to stabilize banana, shrimp, and flower exports — in other words, all current economic activities in Ecuador." Ecuador also reserves its right to apply internal taxes on EU products, as well as taxes on currency outflows.
This means the trade agreement, if we can even call it that, must suit Correa's project for the country's development, based on a production assortment of the government's choosing.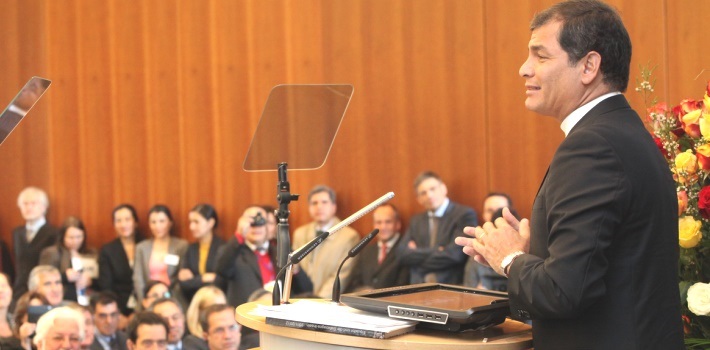 Outdated Debates Guide Policies for the Future
Correa is not the first one to claim he's changing the "production matrix," and to use this to justify the protection of certain sectors. However, economist Alberto Benegas Lynch disagrees, and he believes that protectionism neglects consumers, while benefiting incompetent businesses.
"If a company needs a period before becoming competitive enough, they are the ones who should take on the costs, and not rely on consumers," he countered regarding the famous infant industry argument.
Ecuador, unfortunately, is far from completely alleviating tariffs: industry lobbies keep impeding free trade and the consumers' freedom to choose.
Those in the government of Ecuador don't seem to understand that free trade never stunts development. In his interview, Minister Long explains his approach to international economic relations:
"Let's recall that powerful nations always seek liberalization, but in times of weakness, they have also adopted highly protective measures to protect their emerging industries."
A broader familiarity with past economic patterns would save us from making the wrong decisions: the world didn't develop through protectionism, but in spite of it. Bruce Bartlett explains in this Cato Institute article how the United States suffered from protectionist policies for several decades, and the only positive impact they had was its independence. In fact, British protectionism was the major cause for the American revolution.
The many compelling arguments against protectionism naturally lead us to the alternative — free trade — as a way to achieve development and social cohesion. Many observers believe protectionism led to both world wars; even socialism at the end of 19th century was against protectionism. Consider that in 1896 the Argentinean Socialist Party addressed the "abolition of direct taxes, especially on consumption and customs" in their political platform.
According to The Economist, the debate over protectionism versus free trade had its peak in the 19th century, more than 200 years ago. Even though these protectionist ideas remain enticing, the period of the great depression in Europe and the United States led economists to overwhelmingly and finally admit that protectionist policies at best are viable for limited and short-term instances. Even John Maynard Keynes acknowledged that in the long-term, the best policy for economic growth is free trade.
Translated by Marcela Estrada.