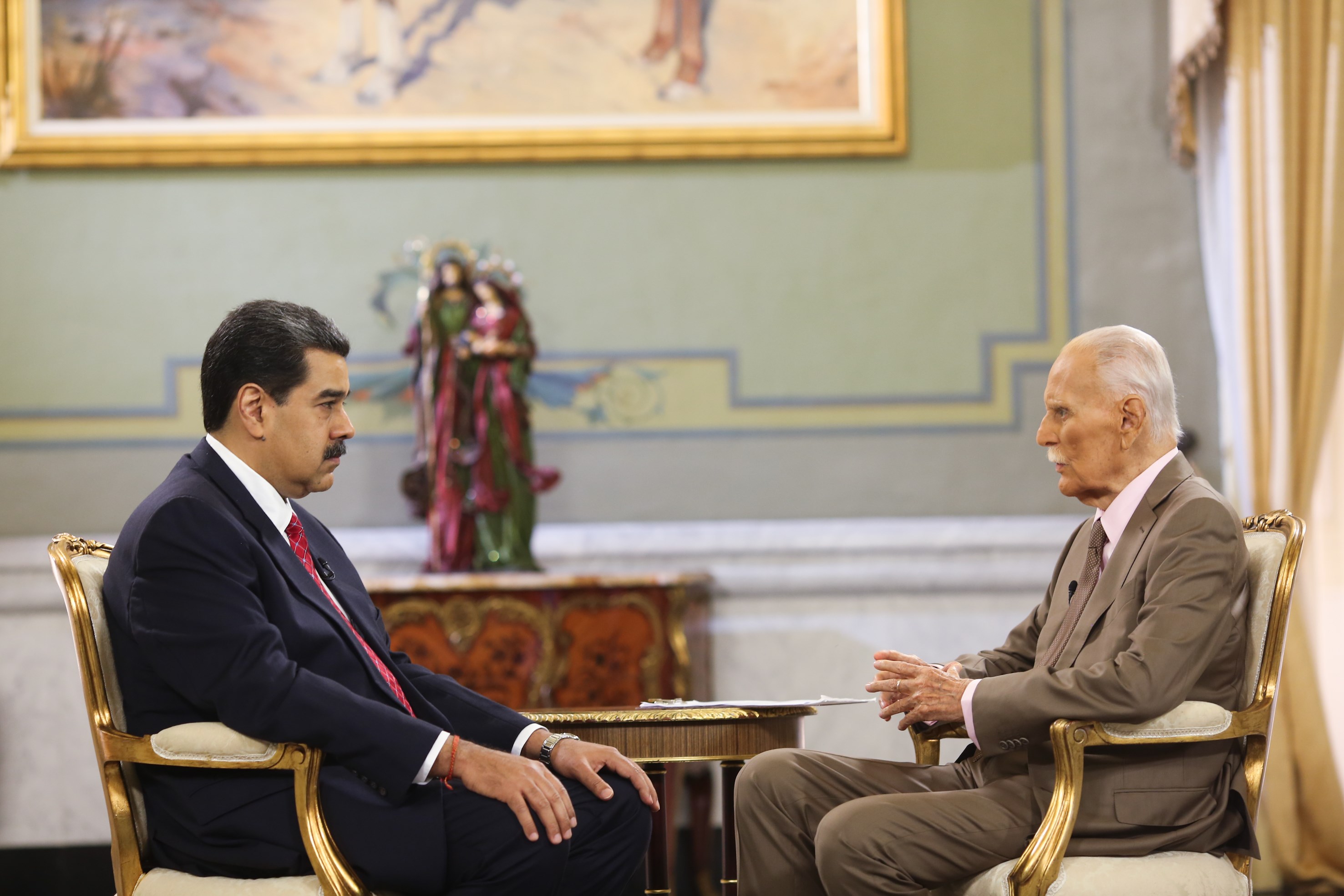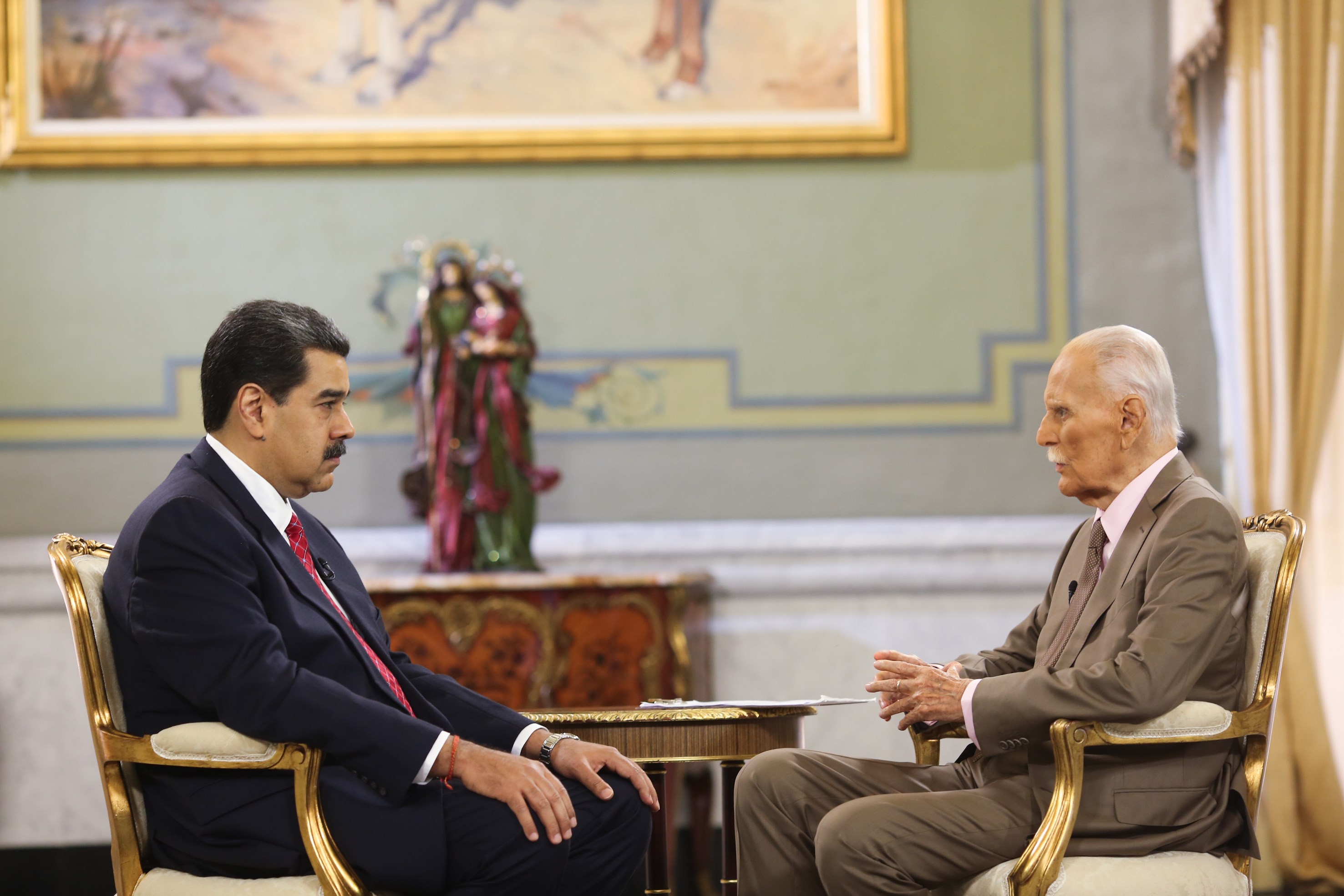 Spanish – Nicolas Maduro reverses his position and "thanks God for the dollarization in Venezuela." Twenty years of strict exchange control destroyed Venezuela's economy, and the country was in a tight spot without foreign exchange income. The regime has finally changed its opinion.
For more than two decades, Chavismo imposed laws, economic and penal sanctions on those who freely accessed the dollar. Besides, its exchange control killed more than 10,200 companies and devalued the Bolivar to its peak. However, Maduro, who had said that the dollar was a currency "without backing," is now thanking God for the dollarization of the country.
— Víctor Amaya (@victoramaya) November 18, 2019
In a television interview, the dictator said that dollarization acts as an "escape valve" that contributes to the "recovery and unfolding" of the productive forces. 
"This process called dollarization can serve for the recovery and unfolding of the country's productive forces and the functioning of the economy. It is an escape valve; thank God it exists," he stated.
Venezuelans were repulsed by Maduro's declarations because they have suffered the onslaught of socialism and its controls. Thousands of Venezuelans have died because of the shortage of food and medicine caused by the exchange control and the obstacles that the industry faces in gaining access to foreign currency to import inputs.
Vídeo año 2015. Maduro: "En Venezuela no habrá dolarización" / Escupiendo para arriba como siempre. pic.twitter.com/8gr6KBJ8Ao

— Watcher (@Watcher_Ven) November 18, 2019
It was the regimes of Hugo Chavez and Nicolas Maduro that destroyed the country's economy and waged war on the dollar and its commercialization. They created Cadivi, Dicom, cryptocurrencies like Petro, criminal laws against free access to currencies. They talked about access to foreign currencies like the yuan to disguise the devaluation and the strength of the dollar.
After drowning in international sanctions, Chavismo was forced to give in and allow Venezuelans to trade dollars. It is already common in the South American country to charge in U.S. currency for private medical consultations, insurance, tourist services, electrical appliances, real estate, restaurant bills, private education, and even commercial activities such as shopping in the market and transportation.
Maduro said that "all the economies of the world are dollarized" in some way. In the Venezuelan case, the Bolivar currency was stable in the 1970s. The situation is not new. "It was always dollarized (a sector of the Venezuelan economy). What has happened is that it was dollarized with the petrodollars of the State, and now the self-regulation of the economy has appeared," he said.
We must remember that during these 20 years of socialism, Chavismo tried to "bury its head in the sand" and went so far as to block websites that estimated the price of the dollar on the black market. Chavez and Maduro criminalized those citizens who had free access to foreign currency. In fact, they referred to the currency as "Miami's criminal and terrorist dollar."
(AYER) Maduro::" Será arrestado todo aquel comerciante que fije precios usando DOLAR TODAY!. https://t.co/9ClS3gdWpe …..

(HOY) Maduro; " La DOLARIZACION" puede servir a la recuperación y despliegue delas fuerza$ Productiva$ del país y funcionamiento de la economía..????

— B.C.★ (@BELLAYROJiTA) November 18, 2019
However, although the country has become dollarized, the truth is that the majority of Venezuelans do not have access to dollars since salaries are still paid in Bolivars, the most devalued currency in the region.
Currently, according to Dolar Today, the dollar is quoted at 29,794.31 bolivars. The minimum wage in Venezuela is about five dollars a month, while the basic consumption basket is about 300 dollars.
According to Aurelio Concheso, an engineer and PanAm Post columnist, "the exchange liberation is nothing more than a desperate measure" after "hyperinflation reached 1,304,494% in one year, an enormous economic contraction, and a rigorous legal reserve fence that has stifled banks such that no possibility of lending to their clients even in the short term."
According to him, Venezuela needs more than just dollarization that has been developing in the country. It also requires a massive injection of resources in hard currency (dollars, euros, or yen), private investment, commercial credit lines to importers, and loans from multilateral entities.
Economist Alicia Sepulveda explained to PanAm Post that lifting exchange control would mean letting the exchange rate fluctuate freely and allowing everyone to access and trade foreign exchange.
Over half of all transactions in Venezuela are in dollars
A study carried out by Ecoanalítica and published by Bloomberg revealed that more than half of the retail transactions in American currency in a country where salaries are set in bolivars and the minimum wage is less than five dollars a month.
The dollarization, which has rebounded in the country, is due to the recent relaxation of price controls. However, prices are so high that those who depend on wages in bolivars cannot afford anything.
The crisis in Venezuela has generated a massive migration of Venezuelans facing an unprecedented economic situation. More than four million have left the country because they have not been able to overcome the humanitarian crisis. In fact, the upturn of dollarization is also because thousands of citizens are dependent on remittances sent by their families from abroad.
In a report in the newspaper El Pais, Leonardo Vera, economist, and professor at the Central University, said, "on average, according to studies, Venezuelan families receive about 90 dollars a month in remittances or complementary payments."
"In January 2019, 100 USD was a sufficient amount of money in Venezuela for one month's expenses. Today, 100 USD barely lasts five or six days," the report says.
As long as the situation does not improve in the South American country, Venezuelans will have to continue to face an improvised economy where only those who have access to foreign currency can survive. Those who do cannot access foreign currency live in misery because of the price of food increase in dollars and bolivars with every passing day, diminishing the purchasing power of citizens.