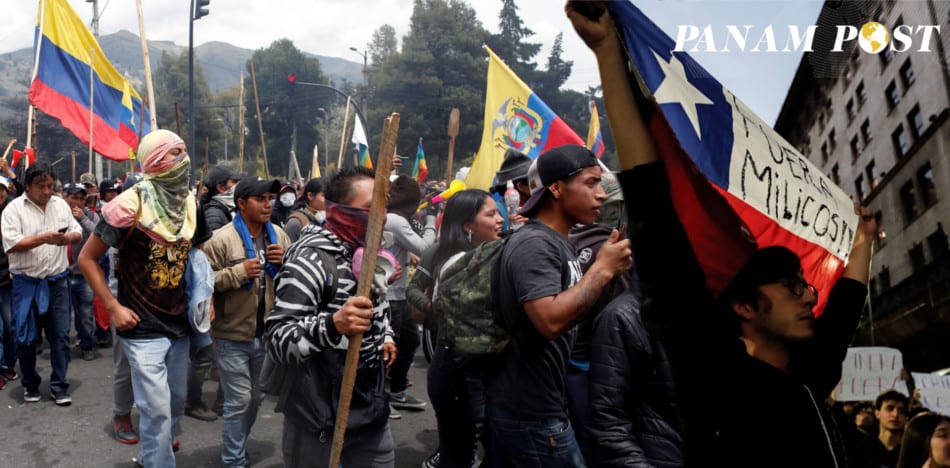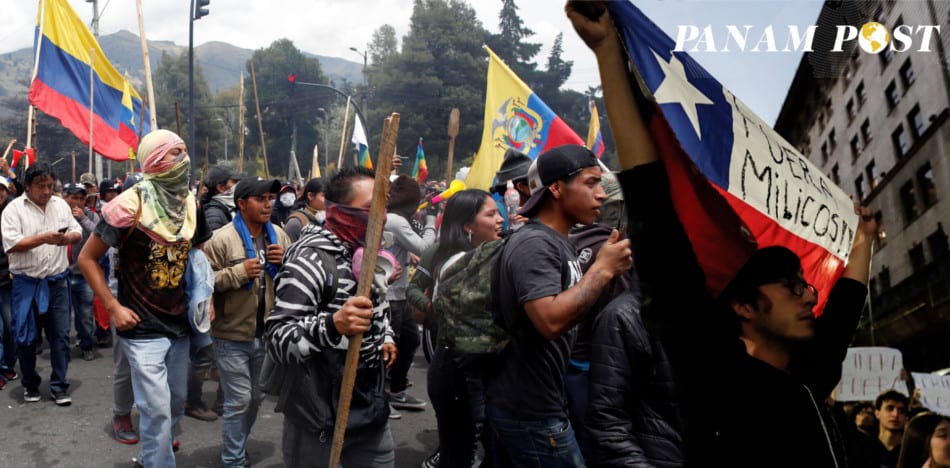 Spanish – In just one month, the left has managed to destabilize at least three Latin American countries with protests and violence. For the first time, there is strong evidence that the Cuban and Venezuelan regimes are behind such actions. Nonetheless, democratic governments are virtually standing idly by.
Countries of the region announced new measures against the tyrannical regime by activating the Inter-American Treaty of Reciprocal Assistance (TIAR). However, there is no evidence that they have implemented these measures so far. Their solutions are inadequate to address the violent actions perpetrated by Nicolas Maduro and his accomplices through intervention in the internal affairs of nations such as Chile, Ecuador, and Argentina.
"What is happening is what I term counteroffensive to Castro-Chavismo in the Americas. The dictatorships of Venezuela and Cuba are in a dire state, and they have decided to set the region on fire to sustain and save themselves," Carlos Sanchez Berzain, lawyer and former minister of the Presidency of Bolivia, told the New Herald.
Este es el esquema de desestabilización que utiliza Maduro y Cuba para destruir la democracia de los países del mundo libre.

¡Tenemos que frenar esta amenaza real para todo el hemisferio! pic.twitter.com/9CMEhGe0fA

— Julio Borges (@JulioBorges) October 25, 2019
For the first time, Julio Borges, the presidential commissioner for Foreign Affairs of Juan Guaido's government, held a press conference on Thursday, 24th October, "to present evidence of the regional destabilization promoted by Nicolas Maduro and the Cuban regime."
In his speech, Borges showed how people connected to the Maduro regime have arrived in Costa Rica, Ecuador, Chile, and Colombia, with the sole intention of organizing revolts to destabilize the democratic governments of those countries.
He pointed out that according to official information in Ecuador, 41 Venezuelans who had been paid to "go and protest and support the protests" were arrested. He also mentioned the case of Colombia, where a month after the Sao Paulo Forum meeting, a video of Jesus Santrich and Ivan Marquez re-launching the FARC narco-guerrilla was released with clear evidence that they are refugees in Venezuela and backed by Chavismo.
Commenting on recent protests in Chile, Borges added that at the Sao Paulo Forum, Senator Navarro said that "the constitution is rotten and foul" and Maduro later asserted that Chile would return to Allende's path. It is important to remember that the presence of Venezuelan citizens in Chile was also recorded. These included the well-known Chavista correspondent Pedro Carvajalino who confessed via social media that he was in Chile "hooded" and protesting against Piñera.
Referring to Costa Rica, Borges explained that a few weeks ago, "the police captured a group of Cuban agents at the border," and that they were posing as migrants in a caravan. He insisted that "they were planning and doing intelligence work, penetration and infiltration."
Finally, when mentioning Argentina, he pointed out that Wilmer Apostol, "right-hand man" of Iris Varela, Chavista minister of Penitentiary Affairs in Venezuela, had entered that country with a group of people. He added that according to official information, it was demonstrated that agents of the Bolivarian National Intelligence Service (Sebin) arrived in Chile  Macri to have "meetings with the radical groups of the most violent left."
Delayed sanctions or counter-intelligence failure?
Specialists, as well as Guaido's ambassador, suggested that it is no coincidence that all these violent and destabilizing demonstrations took place after the Sao Paulo Forum, which met in July this year in Caracas.
They agree that most of the protests led by the left were organized and established at that Chavista event. If so, then one has to ask what happened to the sanctions set by the Lima Group and the member countries of TIAR that had claimed that people related to Chavismo would be prevented from entering the different territories.
The TIAR plan of action was announced last September. However, a month later, Argentina allowed the entry of Apostol and Chile that of Carvajalino.
It seems that the events of the region are also a consequence of the delay on the part of the democratic governments of the region in enacting sanctions and stopping the Venezuelan and Cuban regimes from becoming a grave threat to the region's security.
Joseph Humire, executive director of the Center for a Free and Secure Society, told the PanAm Post that the situation in Latin America is much more complicated, as he believes that it is not only the Sao Paulo Forum, but also the influence and participation of Russia, China, Iran, and Turkey to penetrate their networks in the region.
Humire adds that democratic governments must enact sanctions and take more steps against the allies of Maduro. And that they should also strengthen their counter-intelligence services in immigration to prevent the entry of people who could become a threat.
He noted that the United States could play an essential role in assisting and advising governments on counter-intelligence.
The countries have refused a military coalition
While Argentina, Colombia, Ecuador, and Chile are victims of the violent actions of the left, they oppose the formation of a coalition to remove Maduro from power.
An analysis written by the professor and columnist Hector Schamis, published in the newspaper El Pais, writes that in the case of Venezuela, "the diplomatic solution would be ideal." However, he argues, "the problem is that, in politics, the ideal rarely takes place in reality."
According to Schamis, the worst dictatorships and regimes in the world were overthrown thanks to military intervention, situations that are very similar to the crisis that Venezuela faces today.
The expert recalled that "without American troops, Slobodan Milosevic would not have come to the diplomatic table for negotiation, and he would not have died as a prisoner in the Hague in 2006."
"The international community must understand, once and for all, that the Venezuelan democratic transition will not be from an authoritarian regime like Pinochet, Videla, Franco, or the apartheid. All those were autocracies had a political and ideological definition, and were largely willing to negotiate when their time had come. Maduro's dictatorship is a criminal organization in state power. It is involved in laundering and drug trafficking, and is an accomplice to Colombian and extra-regional terrorist groups," he said.