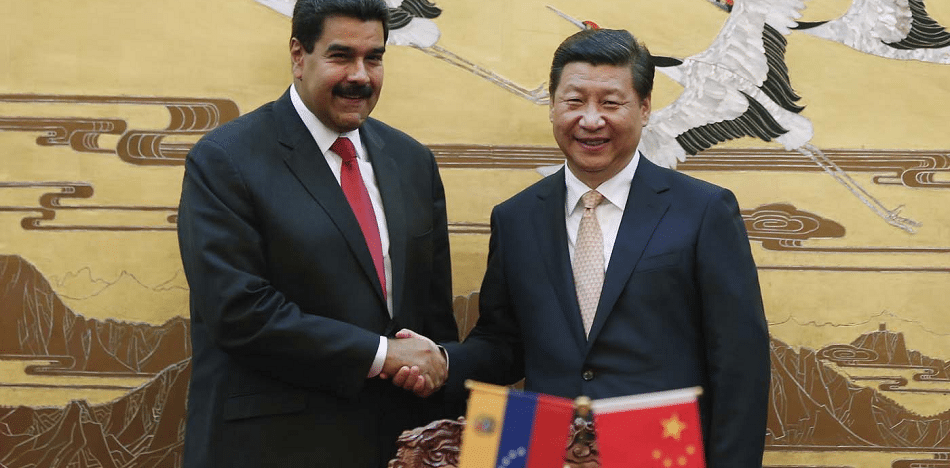 China is continuing with its plan to rescue Nicolás Maduro from international sanctions, and is committed to helping the regime revive the refining network that has been all but abandoned due to mismanagement and incompetence.
Just hours after the United States government issued new sanctions against the dictatorship and against the companies that support the regime, it became known that a Chinese company will help Maduro rescue Venezuelan refineries in exchange for petroleum products.
According to Bloomberg, Wison Engineering Services Company, located in Shanghai, is a chemical engineering and construction company that will try to save the regime's petroleum production. According to the news agency, the agreement was reached a month ago. However, the Chinese company did not complete a contract it won in 2012 to renovate the Puerto la Cruz refinery, in Anzoategui.
Now the Chinese company will find itself faced with US sanctions for agreeing to aid Venezuela's economic rescue through the refineries that have been abandoned by the regime and that are currently operating at their minimum capacity.
Earlier this week the United States issued a partial embargo on the Maduro regime to limit its income. The US is seeking to dissuade American or foreign companies from doing business with Venezuela. If they do so, they will be sanctioned.
On Thursday, August 8, the Chinese government criticized the Trump administration's sanctions, describing them as a means of "psychological terror against countries that decide to trade with Venezuela," and said that it is a "serious interference" and "a violation of the fundamental principles of international relations."
According to a Bloomberg source, the Chinese company's repairs are expected to last between six months and a year. Venezuela's oil production is currently at its lowest levels, to the point that it has been importing Russian gasoline through Malta.
Venezuelan refineries have been in gradual decline due to theft, improper maintenance, and a brain drain of qualified personnel. In recent years, PDVSA has not even been able to meet the internal demand for gasoline that historically has been around 250,000 barrels per day.
Meanwhile, China and Russia have an interest in preventing the total collapse of the Venezuelan oil industry because it is the only way to recover tens of billions of dollars in loans and investments they have made in the last decade to the regimes of Hugo Chávez and Nicolás Maduro.
It is not the first time that China has rescued Maduro. In July 2018, the regime managed to acquire a Chinese loan of USD $5 billion to, supposedly, "rescue oil production in Venezuela." This was something that never happened.
So far it is unknown what happened with that credit and how it was "invested." However, it was a kind of "lifeline" for Maduro, whose incompetent management reduced the production and export of crude oil to historic lows.
China has become Venezuela's main financial partner, granting loans for more than USD $60 billion in the last ten years. Venezuela pays for those credits with oil shipments.
A vicious circle
In November 2016 it was learned that Maduro signed an agreement with China to increase crude oil exports. The government of Venezuela and the National Petroleum Corporation of China (CNPC) agreed to an investment plan for USD $2.2 billion dollars that would supposedly increase oil production by 277,000 barrels more per day.
It is also unknown what happened with that investment, since Venezuela currently produces only 720,000 barrels per day, the minimum recorded in its long history of oil production.
On several occasions the Asian country has threatened to stop helping Venezuela in the event of non-compliance with binational agreements. In fact, in May 2018, the grace period had expired on a Venezuelan loan that China had granted to the tune of more than USD $20 billion. On that occasion, the Asian power made it clear that it would not offer any additional relief to Maduro if he did not start paying the debt. However, in July of that same year they gave him another loan.
China and Russia on the verge of a financial blockade
The United States government is evaluating the possibility of sanctioning Maduro's main allies for their constant support for the regime. In fact, the last executive order signed by Trump states that any company that maintains business relations with the regime will be sanctioned. With the new measures, the United States seeks to give ample warning to Russia and China, Maduro's main allies.
Specifically, the order authorizes the Secretary of the Treasury, in consultation with the State Department, to "impose sanctions on those who support Nicolás Maduro and his illegitimate regime," the White House said in a statement.
In a blunt manner, at the meeting in Lima, John Bolton, National Security Advisor for the Trump administration, asked Beijing and Moscow to withdraw their support from Maduro, and told them that if they continue to support him, they may never be able to recover the money that they are lending him, because the Maduro regime has seen its income diminished substantially.