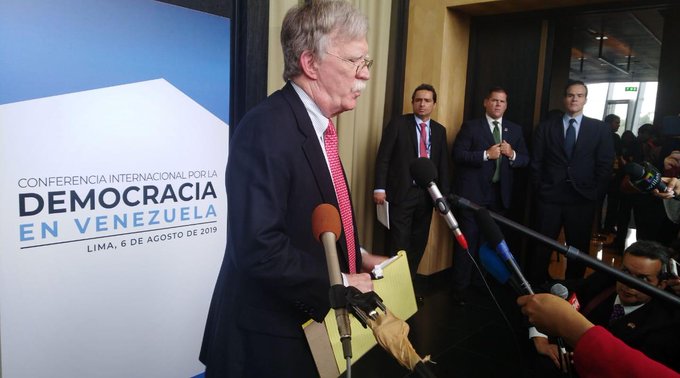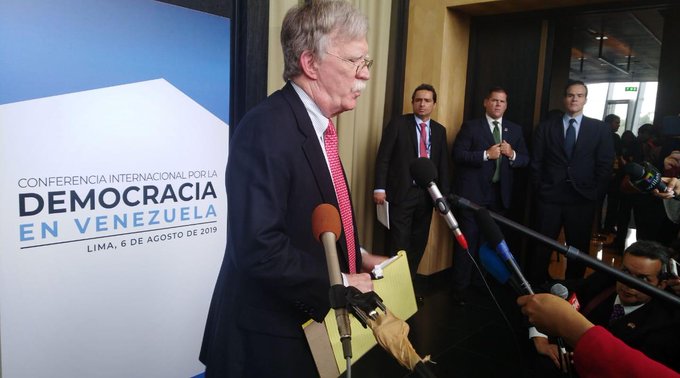 Spanish – U.S. National Security Advisor, John Bolton, announced that the recent sanctions issued by Donald Trump's government would not affect humanitarian assistance, and reiterated his appeal to Nicolas Maduro's regime to step down from power.
During the International Conference for Democracy in Venezuela, Bolton, in statements to the press, asked the companies that are connected with the dictatorship, "do you prefer to have business with the United States, or with the dictatorial regime of Venezuela?"
#AHORA | @AmbJohnBolton desde la Conferencia por la democracia en #Venezuela: No caeremos en los juegos de un dictador cansado. Ha acabado el tiempo del diálogo. #6Ago pic.twitter.com/jfCcG8i321

— PanAm Post Español (@PanAmPost_es) August 6, 2019
The National Security Advisor pointed out that the recent measures undertaken within the framework of an embargo on Chavismo are focused explicitly on pressuring businesses and individuals linked with the regime, not to punish the people of Venezuela.
"We even announced 20 exception licenses to make it clear that humanitarian assistance organizations are not included," he reiterated.
"The sanctions are aimed at any person, business, or entity that is economically or materially aiding the Maduro regime to remain in power. The United States has rarely used this measure. We have only used it a few times in the century, and now Maduro's regime joins the exclusive club of rogue states including Cuba, Iran, Syria, and North Korea who have faced similar blockades in the past," he said.
#AHORA | @AmbJohnBolton sobre las más recientes sanciones de #EEUU contra el régimen de Maduro: "pusimos a escoger, prefieren negocios con el régimen de Venezuela o con Estados Unidos" #6Ago pic.twitter.com/QLfIXFONtS

— PanAm Post Español (@PanAmPost_es) August 6, 2019
Bolton reiterated that the collapse of the Venezuelan economy began with the regime of Hugo Chavez; it is not the responsibility of the U.S. government. He added that the Trump administration's sanctions were not meant to pay back those guilty for the damage they have caused, but to achieve fair and free elections in the South American country.
"Although it hurts us very much, we are willing to offer the Maduro regime a retirement on a beautiful beach somewhere," he said.
.@AmbJohnBolton: "El bloqueo está específicamente enfocado en el chavismo y sus vinculados, no en los venezolanos. Incluso anunciamos 20 licencias de excepción para aclarar que las organizaciones que se encargan de asistencia humanitaria no están incluidas en la orden." #6Ago pic.twitter.com/YKbYI9FIQT

— PanAm Post Español (@PanAmPost_es) August 6, 2019
"This is a demonstration of President Trump's intention to seek a peaceful transition. I think today's conference demonstrates the solidarity that exists not only in the western hemisphere but in almost 60 countries that recognize Guaido as the legitimate president of Venezuela," he said.
He also mentioned that the U.S. has an economic plan to help rescue Venezuela once the dictatorship falls.
On Monday, 5th August, Donald Trump signed an executive order completely blocking the Venezuelan government's state assets in U.S. territory, a rule that came into effect immediately.
In its announcement, the Trump administration cited "human rights abuses," "interference with freedom of expression," and "attempts to undermine the authority of President Guaido," whom the U.S. considers as the legitimate leader of Venezuela, as motives for the measure.