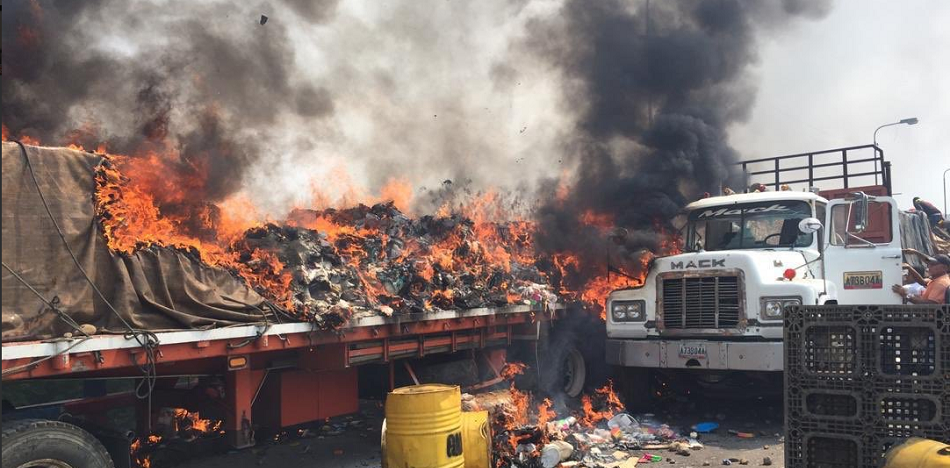 Venezuelan Congresswoman Gaby Arellano, confirmed that the Bolivarian National Police, prepared by Nicolás Maduro to prevent the entry of humanitarian aid, burned three trucks containing food and medicine that had managed to cross the border.
After more than three hours of repression, thousands of Venezuelans managed to enter the country with a truck full of humanitarian aid. Then, molotov cocktails were launched at the vehicles to prevent them from continuing on their way either by police officers loyal to the regime or armed groups.
Hundreds of Venezuelans tried to rescue the uncountable boxes with food that would help save lives.
#ATENCIÓN Ciudadanos intentan salvar parte de la ayuda humanitaria que fue incendiada por funcionarios de la PNB en el puente Santander, Ureña #23Feb pic.twitter.com/tIyJiaJ8Vb

— NTN24 Venezuela (@NTN24ve) February 23, 2019
"They decided to set the first container with food on fire, this hurts a lot because it would have saved lives, but Maduro's decision is to set humanitarian aid on fire," said the congresswoman.
"All of the aid trucks on Francisco de Paula Santander bridge are now on fire – the cargo from the last truck was recovered and taken back across the bridge to Colombia," tweeted World Central Children.
The event took place on the bridge called Ureña which connects the Colombian city of Cucuta to San Antonio del Táchira in Venezuela.
Early Saturday morning there were reports that Cuban militias were guarding the bridge and assaulting anyone who came near it.
Not only were they involved, but it is said that they were in charge of repressing Venezuelans.
DEVELOPING: We are receiving intercepted transmissions of Cuban agents present & directing repressive actions in Ureña. #23Feb https://t.co/kLfpBYpQQ4

— Marco Rubio (@marcorubio) February 23, 2019
According to US Senator Marco Rubio, after intercepting telephone receptions, the officers who are repressing at the border, specifically in Ureña, are of Cuban nationality.
Moments prior to the burning, the interim president of Venezuela, Juan Guaido, said that the human avalanch was unstoppable and referred to Maduro as a usurper.
El régimen usurpador se vale de los actos más viles e intenta quemar el camión con ayuda humanitaria que se encuentra en Ureña.

Nuestros valientes voluntarios están realizando una cadena para salvaguardar la comida y las medicinas.

La avalancha humanitaria es indetenible pic.twitter.com/bU2PPzSGcu

— Juan Guaidó (@jguaido) February 23, 2019
However, the volunteers' effort to  make a human chain to safeguard food and medicines was not enough, the explosives used by the regime and their allies overpowered the unarmed civilians.
This is the information available so far, any updates and follow ups will be published as soon as they occur.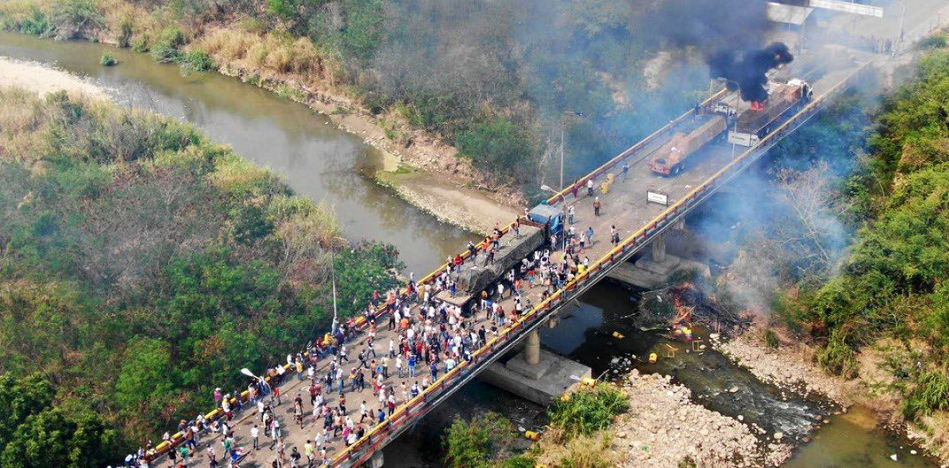 (Developing news)
*Mamela Fiallo contributed to this article.