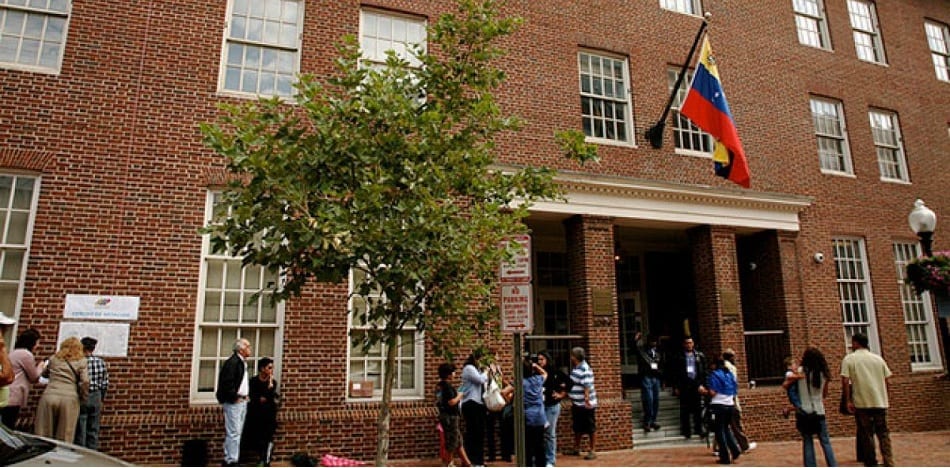 The interim president of Venezuela, Juan Guaidó, has called on Venezuelan diplomats and officials to rebel against the dictatorial regime of Nicolás Maduro. What ensued was a stream of pronouncements in support of the new government.
"Mr. President Guaido, I am at your orders and at your disposal to serve my country," said Yajaira Flores Villasana, consular assistant in Houston, who recorded a video stating her willingness to continue working for the country.
Yajaira Flores trabajó como funcionaria local en la sede diplomática hasta hace dos días, pero reconoció a Juan Guaidó como "presidente encargado de Venezuela en este proceso importante de transición", según dijo en un video trasmitido por el canal VPI. https://t.co/atwwRx5p2h

— Univision 23 Miami (@Univision23) January 29, 2019
Flores had been working for the consulate in Houston, Texas for two years and for ten years was a Venezuelan Foreign Ministry official; but on Tuesday, January 29, she decided to break with Maduro, and lend her support to Guaido, the head of the democratically elected National Assembly.
In an exclusive interview with the PanAm Post, Flores suggests that with the passage of time, more and more members of the diplomatic corps abroad will likewise shift their allegiances.
"I think that the shift will occur little by little, because the situation is really very complicated and difficult. Here in the United States what I think is that there may be fear of losing their jobs," she said.
"I made the decision to speak out about the ongoing situation; what really motivated me was when Maduro said that the United States has its hands full of blood, when really it is the Maduro regime that is killing people in Venezuela. And the other powerful reason was my daughter, who at one point said to me: Mom is there nothing we can do?" she explained.
Flores said she does not have any consular or diplomatic aspirations, but said she is at the disposal of President Guaidó to "continue performing her administrative and consular activities."
In a message to Venezuelan diplomats, the official said that they were "trained to serve the country and the only alliance and commitment must be with Venezuela."
Flores took the opportunity to denounce the ongoing salary problems, whereby Maduro has repeatedly been arrears with respect to wages:
"Sometimes they go six or seven months without paying us, and maybe there are some who are afraid of not receiving their payment. There is a possibility that when officials see that the government in charge may have access to accounts abroad, then they will maintain their loyalty to the Maduro regime. The debt that the government of Maduro has with the diplomatic service abroad is tremendous, many have gone months and months without being paid. There may be a lot of fear," she said.
"At the consulate we always try to help our people, but we were unable to do so due to lack of resources from Venezuela, due to lack of support, as is the case with passports. We had the machine, but we depended on SAIME (Administrative Service for Identification of Foreign Migration) in Venezuela, it was a state policy. Thus, the process to obtain a passport for a Venezuelan citizen can be from one to three years," she said.
But Flores is not the only official who has expressed her support for Juan Guaidó; the first consul of Venezuela in Miami, Scarlet Salazar, also recorded a video in which she recognized Guaidó as president in charge of the country and called Maduro "usurper."
https://twitter.com/EVTVMiami/status/1089922108120023040
We must also remember the military attaché of the Venezuelan embassy in the United States, José Luis Silva, who left his post and also announced his support for Guaidó.
[#VIDEO] El agregado militar de Venezuela en Washington, coronel José Luis Silva, se puso a la orden del Presidente encargado Juan Guaidó https://t.co/iAXgDPph4e

— NTN24 Venezuela (@NTN24ve) January 29, 2019
"This Defense Attaché does not recognize President Nicolás Maduro, considers him a usurper and recognizes Juan Guaidó as legitimate interim president," he said. "This position is based on the Constitution and the laws of Venezuela and I call on my military brothers to join me in support of Guaidó," he added.
Little by little, new officials are abandoning the Maduro dictatorship, especially as the new government appears increasingly confident of having access to the Venezuelan state's accounts abroad.