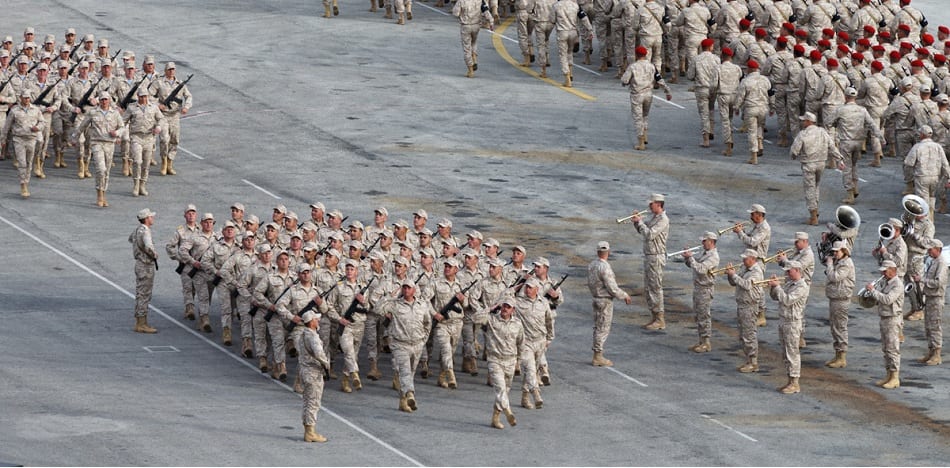 The government of Vladimir Putin is currently seeking to install a military base in Venezuela as part of an agreement with the dictatorial regime of Nicolás Maduro.
According to the Daily Mail and the news agency TASS, Russia has chosen the island of La Orchila, in the waters north of Caracas, as a possible base for its military.
It is an island that serves as the headquarters of a military camp. Only the president of Venezuela and his relatives, military personnel, and senior government officials have access to the exclusive island. Civilian aircraft are prohibited from flying over it, and tourism is only possible with previous military authorization.
"Russia will now be deploying the strategic Tu-160 plane on the island, after obtaining the permission of Venezuelan leader Nicolás Maduro," states the article.
According to TASS, "the deployment will represent one of the largest semi-permanent deployments of Russian military equipment in the region since the 1962 Cuban missile crisis, which marked the height of the Cold War."
Russia has 21 military installations in 10 foreign countries. These facilities include motorized infantry divisions in Armenia and Tajikistan, radar bases in Belarus and Kazakhstan, air bases in Kyrgyzstan, Syria and Armenia, and seaports in Vietnam and Syria.
Shamil Gareyev, a military expert and Russian colonel, told the newspaper that it is the correct strategy to include Venezuela in long-range aviation missions. "Previously, our strategic bombers would have had to return to Russia every time, but now they will also not need to carry out aerial refueling on patrol mission in the Americas. Our Tu-160 aircraft will arrive at their base in Venezuela, take flight, execute their missions, and then be replaced on a rotating basis. This is how it should be done," he suggested.
Emil Dabagyan, a researcher at the Institute of Latin American Studies of the Russian Academy of Sciences, told Kommersant that Russia is indeed helping Maduro "stay afloat," because he wants to continue benefiting from oil exploration.
National Assembly deputy Edgar Zambrano, commented on his Twitter account that the alleged Russian military base is a "another iteration of the Cuban military in Venezuela."
Sobre las especulaciones del interés de Rusia de instalar una Base Militar en La Orchila. Más allá de recordar que la Constitución de Venezuela lo prohíbe. Rusia podría tener interés, pero no la capacidad económica para hacerlo pic.twitter.com/7ALdDy135B

— Rocío San Miguel (@rociosanmiguel) December 18, 2018
Rocío San Miguel, president of the NGO Citizen Control for Security, Defense, and the National Armed Force, said on social media: "With regard to speculation about Russian interest in building a military base on the island of La Orchila; apart from remembering that the Constitution of Venezuela prohibits it, Russia may have interest, but not the economic capacity to do it."
The presence of Russian military personnel in Venezuela is a distinct threat, especially when Russia recently sent bombers to the South American country as part of so-called "military exercises."
On September 28 Maduro also announced the mobilization of military troops on the Venezuelan border, with the cooperation of officials from Russia, China, and Cuba.
Putin will adamantly support keeping Maduro in power, especially after Russia has benefited greatly from Venezuelan riches. Putin and Maduro enjoy a corrupt and self-serving relationship, to the detriment of the Russian and Venezuelan people.
We must remember the statements of the Russian opposition leader Alexei Navalni, who assured that Russia finances the Maduro regime, adding that the Kremlin will never recover the USD $8.8 billion granted in credits to Caracas.
In 2017, the Russian state oil giant Rosneft transferred six billion dollars to Venezuela as an advance for shipments of future Venezuelan oil. And in December 2016 it was discovered that Maduro had secretly mortgaged the Citgo refinery in Russia for a massive multi million dollar loan.
If Citgo or PDVSA fails to pay, the Russian state company Rosneft could end up owning these major oil refineries and pipelines in the United States.
Putin and Maduro thus are and remain the quintessential totalitarian "brothers in arms."