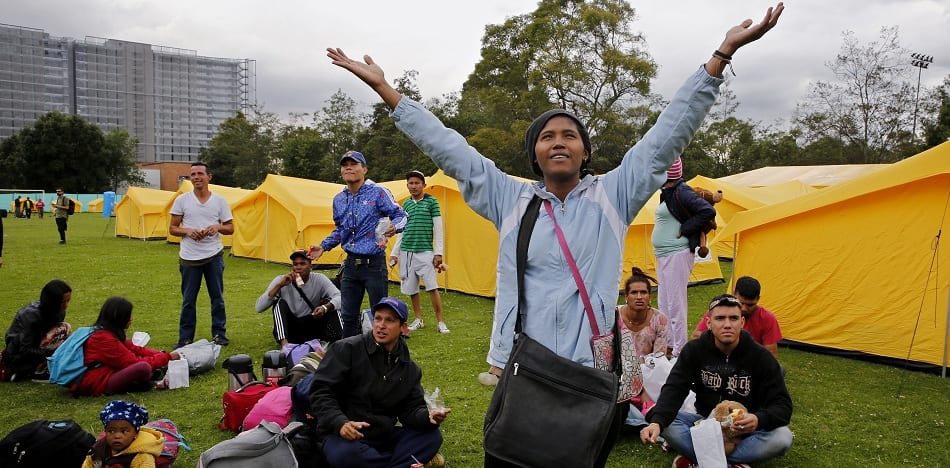 Venezuelan military agents have a new strategy: infiltrating shelters for migrants in Colombia. According to Colombian broadcaster Caracol, at least five of fifteen Venezuelans who were recently expelled by Colombia had false documentation, and three of them were members of the Armed Forces of Venezuela.
The disturbances began with protests and riots in a shelter in Colombia regarding the distribution of food. The demonstration ended violently and resulted in a confrontation with Colombian security forces. The result: the expulsion of 15 Venezuelans.
During the investigations, the Colombian authorities discovered that there were officials of the Venezuelan Armed Forces among those involved, and with this the hypothesis arises that they infiltrated the shelter in order to create chaos.
Christian Krüger, director of Migration Colombia, said the situation was "quite strange" and said that there is information regarding "people who want to commit acts of sabotage."
He added, "I do not want to get ahead of the facts, but there are many coincidences that catch our attention, because given what we have learned from the inhabitants in that temporary shelter, as the facts were presented, at the time they were presented, it makes us believe that there is a group whose motive is sabotage."
Given the situation, on Thursday, November 22, Migración Colombia issued a strong statement in which it also refers to the possible presence of members of Chavez collectives.
"We have initiated, with the other authorities, a series of investigations that will allow us to locate these people, because we will not allow a few to damage all the work being carried out by the mayors, and the Colombian state to assist the Venezuelan people who need it," says the statement.
The agency also asked the Colombian citizens "not to stigmatize" the Venezuelans:
"We ask the Colombians not to stigmatize, because not all Venezuelans come to do harm. While we ask the Venezuelans to help us find these people, who are seeking to further denigrate the image of a country where people are dying."
Regarding the false documentation that was carried by several of the expelled Venezuelans, the head of the Colombian migration authority said that this situation occurred in at least four cases, and promised to be vigilant at the national level.
According to the newspaper El Tiempo, during 2018 alone, 371 Venezuelans have been expelled from Colombia because they were considered a risk to national security, public order, or social tranquility.
The last Venezuelans who were expelled, according to Migración Colombia, were 7 of the 15 citizens of that country who carried out abuses inside the El Camino shelter, in Bogotá. The rest of them remained in the hands of the Colombian authorities to be prosecuted for attempted escape, a situation that occurred during their transfer to the border area on Wednesday.
According to the entity, the captured foreigners could face penalties between 4 and 8 years of imprisonment to prove their responsibility in these events, which left an official wounded.
Maduro facilitates emigration of criminals
Daniel Blanco, a journalist specializing in events, ruled out the hypothesis that there is a "Venezuelan state policy of sending criminals"; however, he added that he suspects that there is an "open door policy where criminals are leaving without their criminal or police records being verified."
According to Blanco, "Colombia is in the midst of a crime wave…there is organized crime, there are armed groups that were left without work and without money in Venezuela; there are paramilitaries who no longer have anything to eat and decide to emigrate. The criminals who have been affected in one way or another by the crisis are now in Colombia, and those who have a little more money head to Ecuador and others to Peru," he said.
For his part, Fermín Mármol, a criminal lawyer, told the PanAm Post that from the criminological point of view, Venezuela is considered a "sieve country."
"Venezuela does not have the institutional strength to prevent the entry and exit of unwanted people, such as those involved in illegal trafficking of drugs, arms, and ammunition," he said.
In 2014 there was already evidence of the spread of violent Venezuelan criminality, to the Caribbean Sea, Panama, and Colombia. And today we know that it has reached the United States and the Southern Cone.
The criminal lawyer explained that migration flows are generally not planned and therefore it is difficult to establish immigration control.
"Venezuela does not prevent the entry of minerals, precious stones, does not stop and detain people requested by international justice; this is a reason why many professionals have fled from socialism, and also people who really intend to bring their criminal modus operandi with them," he added.
Mármol explained that all this happens because the country governed by Maduro has high rates of impunity. "In Venezuela for every 100 crimes only 8 are ever solved and prosecuted, so the level of impunity is around 92%. The deficit of uniformed police officers with true patrol work exceeds 80%, and the deficit of criminal investigation police is around 300%. The deficit of prosecutors who really dedicate themselves to judicial processing exceeds 50%, that of criminal judges exceeds 40%. It is logical to assume that in a country with high levels of impunity criminals will seek to export their methods," he said.