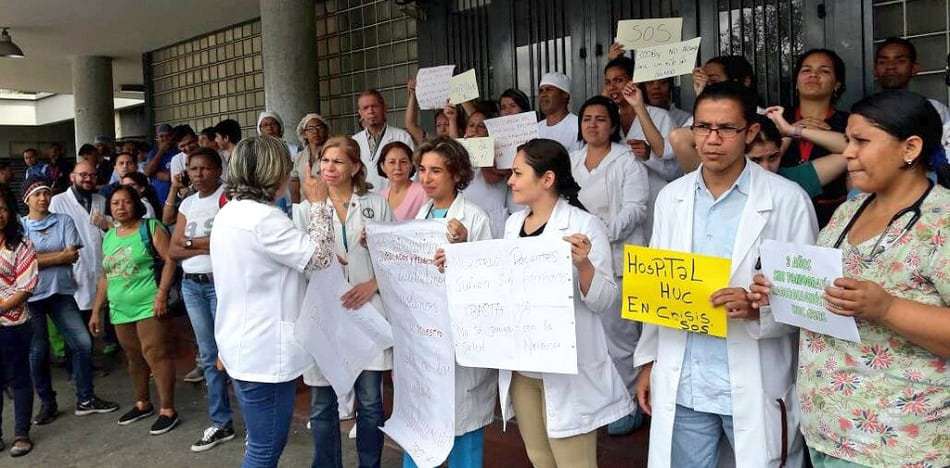 The total paralysis of the healthcare system in Venezuela is looming, after the nurses union called for an indefinite strike to demand decent wages, an action that will presumably be joined by doctors in the country.
The South American nation, which has been plunged into an unprecedented crisis, will now face massive protests on the part of healthcare unions protesting salaries that prevent them from surviving economically.
Nurses in Venezuela, as well as teachers, are in an increasingly precarious situation, and looking for different ways to increase their incomes in a country where the minimum wage is about USD  2 and the basic monthly items needed to sustain a family cost 220 million bolivars (USD $78.50).
The case of Venezuelan nurses is sweeping professions throughout the country, where mere basic survival is at risk; a typical paycheck is now of 700,000 bolivares might be enough to only buy two bananas.
"We believe that the President of the Republic, by increasing the minimum wage, should take into account Article 91 of the Constitution that says that every worker is entitled to a sufficient salary that allows him to live with dignity, and provide for himself and his family their basic material, social, and intellectual needs. And that should be adjusted every year, but taking as a reference the cost of basic items, and we, the workers of the healthcare sector, continue in the same situation of extreme poverty," denounced Ana Rosario Contreras, president of the Nurses Association of Caracas.
"Minister of Health, we do not want to work just in order to earn enough to eat; we need enough in order to buy provisions and supplies for the hospitals, the purchasing power, Mr. Minister, to buy whatever we need, whenever we want," she added.
The deputy José Manuel Olivares, who is also a doctor and a representative of the health sector, said that nurses will join doctors, stewards, stretcher-bearers, medical technicians, and nutritionists to "wave the red flag about decent wages for workers in this country."
The healthcare sector in Venezuela is in ruins, not only because salaries are insufficient, but also because hospitals do not have the necessary medical supplies to care for patients, nor do they have consistent running water at hospitals and clinics.
Faced with this dire situation, many nurses have not only decided to give up their positions, but also in their free time seek side gigs to earn much-needed additional income.
Many offer services such as sewing, hairdressing, or even selling sweets in order to survive; all this as desertion in the healthcare field is rapidly increasing.
Numerous workers have had to work double shifts due to the mass resignations, or seek better paid work abroad.
Hospitals are running out of nurses
A report published in El Nacional newspaper reveals that because of low salaries, the Central Hospital of San Cristobal in Tachira state is running out of nurses.
"This is worrying. The impact of the exodus of nurses going to another country means that healthcare shuts down. They simply grabbed their bags and went looking for new horizons. The hardest thing is that it is the youngest population is leaving the most; they are between 18 and 35 years old. So, who is going to be left? How many healthcare workers are going to stay to take care of the patients who need it?" said the president of the Tachira Nurses Association, Daniel Liscano.
The same thing happened in the Ángel Larralde University Hospital, which is a subsidiary of the Venezuelan Institute of Social Security, where 200 nurses resigned, according to reports from that health center.
"We were 700 nurses and now we are 400; we earn 160,000 bolivars every two weeks, and that's not even enough to buy a kilo of rice," said Luz Suarez, a nurse for El Carabobeno.
The College of Nurses of Carabobo reported that between five and eight nurses a day are filing forms enabling them to practice their profession in another country.
Likewise, the College of Nurses in the state of Aragua said that approximately 20 nurses are resigning every day at each hospital in the state. "According to the registry, 40% of people ask for professional letters to leave the country," he said.