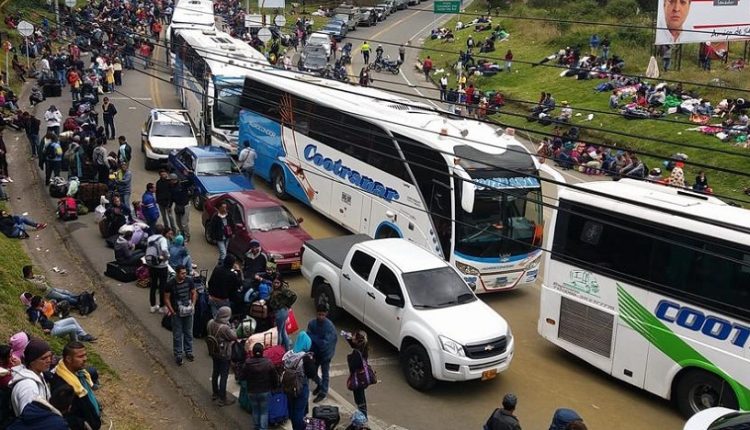 "Nations could be avoiding issuing stronger economic sanctions against Maduro's dictatorship because this could drive even more the migration of Venezuelans," says Mariano de Alba, an expert in international affairs.
The political and international analysts said in an interview that, despite governments studying new sanctions against Venezuela's dictatorship, there is concern about the consequences to the Venezuelan people.
However, On March 19, Trump's government took decisive actions by deciding to bar any transactions with "Petros", the illegal cryptocurrency created by Maduro. The decision 'clips the wings' of Maduro's attempts to avoid economic sanctions. The G20 attendees and European Union's member states followed suit and decided not to recognize the "crypto-assets" as a sovereign currency, in another blow against Nicolas Maduro's attempts to legitimize the petro as an international form of payment.
Maduro reacted by saying, "Nothing will stop the petro, buddy. Not Trump, nor a million Trumps can stop us with the petro. The petro will be implemented, no doubt, and it's blooming. Long live Venezuela's people! Nobody is going to stop the Venezuelan cryptocurrency, nothing will stop it."
De Alba told the PanAm Post that Nicolas Maduro is in "a more difficult position" because he is facing "a tight international isolation."
"Nothing will stop the petro, buddy. Not Trump, nor a million Trumps can stop us.."

-Nicolas Maduro
For the analyst, recent sanctions directly affect the regime's corrupted officers and put more pressure on Maduro. He explained that an oil embargo or suspending international relations would further deteriorate the dictatorship, especially its already precarious financial situation.
"If the oil embargo is implemented, the economic problems will worsen, ..which means less revenue to support the government," said De Alba.
María Teresa Romero, a Ph.D. in Political Sciences, says the international community is about to make stronger decisions against the dictatorship. She expects that oil and generalized sanctions are getting closer.
"Now governments are not only joining the US with sanctions, but are also starting to take measures for a near future, including, for example, expelling Maduro from international groups and organizations, and from multilateral bodies," she said.
"I believe that in cases of extreme governments such a Maduro's regime, international pressures work. We should remember that in Cuba's case, governments left the US virtually alone with the sanctions, if other countries had isolated Cuba in the same way they are doing with Venezuela, the island experience would have been totally different," she noted.
Still, it remains to be seen just how long restraint on sanctions will last in the face of the increasingly untenable situation in Venezuela.