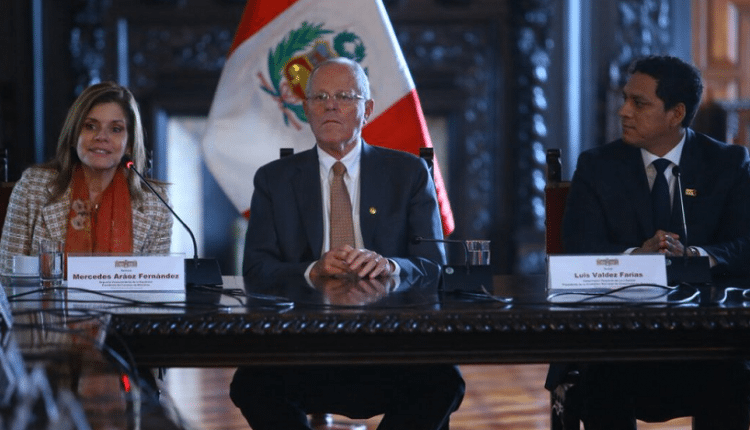 Pedro Pablo Kuczynski (PPK), addressed Peru for the last time immediately following his resignation from the presidency of March 21st, saying he considered himself "innocent" and "a victim of constant hampering."
"Faced with this difficult situation that unfairly makes me appear guilty, I think the best thing for the country is for me to resign the presidency of the republic," he noted.
In a two page letter, the ruler pleaded not guilty on all counts against him regarding the Odebrecht scandal and criticized the disclosure of allegedly "flawed reports used against him."
"I do not want to be an obstacle so the country to continues suffering with the uncertainty of these recent times," he said in his resignation, promising a constitutional transition and thanking all of those who supported him.
"The opposition has tried to paint me as a corrupt person (…) I categorically reject these unsubstantiated claims…" he added.
Kuczynski decided to resign and avoid impeachment by the parliament through an imminent-presidency-vacancy procedure that would have taken place on March 22.
PPK was in office for one year and nine months, accompanied by a Congress where the opposition held the majority, led by the party Fuerza Popular (FP) and party head Keiko Fujimori.
After PPK's resignation, the vice president Martin Vizcarra should take power and finish the presidential term until 2021; otherwise, the president of the Congress would take his place and call for elections in within the next year.
According to Reuters, Luis Galarreta, an opposition lawmaker who is the current president of Congress, told a press conference on Wednesday that all the country's legislative blocs had agreed to accept Kuczynski's resignation in a plenary session on Thursday. Vizcarra could be sworn in as president, likely at around 11 a.m. or noon on Friday
Drowning in accusations
PPK decision came few hours before the disclosure that his newest ally, Kenji Fujimori, had tried to "buy votes" in Congress to avoid a presidential-vacancy vote; a development that galvanized congressmen to take action. In fact, if a vacancy had been declared, at least 107 will have been ready to remove him.
It recently came to light from reports by the Financial Intelligence Unit (UIF) that unreported transfers linked to PPK were in the millions of dollars in while he was a minister in Alejandro Toledo's presidential administration. The development contradicted his denials of any financial relationship with Brazil's now infamous Odebrecht construction firm.
According to the financial unit, PPK not only received money from Odebrecht while he was a public officer but also made numerous amounts bank transfers to his driver and to the congressman Gilbert Violeta.
The information disclosed included evidence that suggested PPK may have been doing consultancies for Odebrecht's companies when he was a minister in Toledo's government.
According to the UIF, Westfield Capital (a company owned by PPK) also consulted for other government's service providers, implying that this was a common practice among his professional activities.
Too many mistakes to ride out the crisis
"I can't find a single success during his government," said Fernando Tuesta, political analyst, after PPK's resignation.
In an interview, political analyst Luis Fernando Nunes said that Kuczynski's "fall" came after a political and personal chain of errors that doomed him to fail "from the beginning".
For Nunes, one of PPK's main errors was that he lacked a strong cabinet, with "real political operators."
"If you're facing an opposition parliament you have to build bridges. PPK is an economist that had only 40,000 votes over Keiko Fujimori, he should have understood that, and negotiated."
Nunes said Kuczynski should have watched his back to avoid corruption missteps like the Odebrecht scandal.
"He is a businessman that was in high government positions, and obviously was involved in shady business. He should have invoked a figure called blind trust, leaving a written testimony that he ignored what was going on in his companies; he simply decided to hide himself behind a verbal arrangement that never existed," Nunes said.
Nunes added that the mistake that finished PPK was saying half-truths or 'drip-fed' truths.
"As his hoaxes became known, little by little he accepted his relationships with Odebrecht; so many lies or half-truths cost him his position," he said.