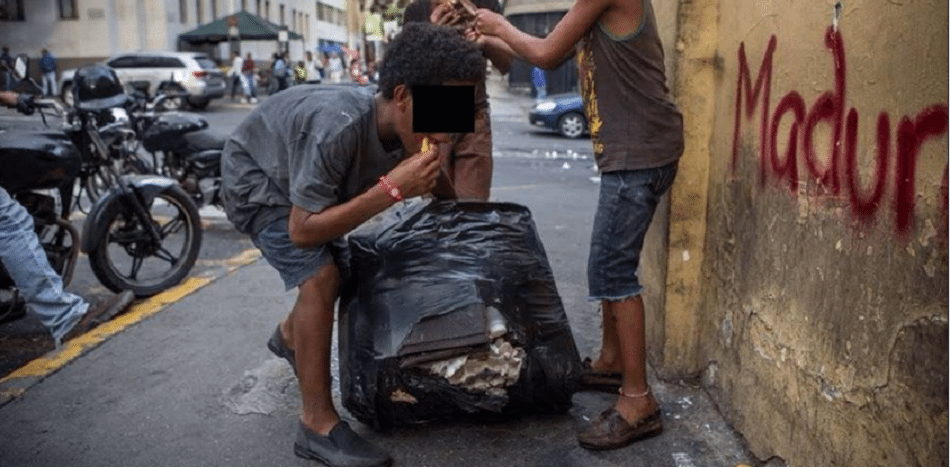 EspañolPresident Nicolás Maduro's regime in Venezuela continues to deny that the country is suffering an unprecedented humanitarian crisis characterized by food and medicine shortages. Though the regime has done everything in its power to hide that reality, several new videos have come out recently that show what is actually happening.
Venezuela has the highest rate of inflation in the world, the lowest wages in the region, and severe shortages exceeding 90 percent. It's a crisis on par with that of a war-torn nation: people eat from the trash, looting has become a common occurrence and food transportation trucks are prime targets for hijacking.
A video that came out Wednesday, January 10 provides a glimpse into that reality. It shows hundreds of Venezuelans looting a truck carrying corn flour.
Venezuela fue el país más rico de Latinoamérica. Actualmente la gente desesperada por el hambre, hasta recoge del suelo harina para hacer arepas. No podemos guardar silencio cómplice. La tiranía se tiene que acabar YA! pic.twitter.com/zT21Nr6j45

— María Fernanda Cabal (@MariaFdaCabal) January 10, 2018
Venezuela was once the richest country in Latin America. Nowadays people are desperate and hungry, resorting to picking up flour spilled on the ground to try to scrounge together enough for an arepa. To remain silent is to be an accomplice. The Tyranny must end NOW!
But it isn't just common citizens who are going hungry and rebelling in Venezuela. Members of the military have begun to fight back as well. Another video came out this week showing members of the National Guard asking for help. "General, we are hungry, our salaries get spent in one day," one soldier says in the video.
Son muchas las personas que han dicho que en los cuarteles los soldados están pasando hambre. Ahora no se si este video es cierto o un montaje pero hace ver lo que se viene diciendo. Un GN llama pidiendo comida. pic.twitter.com/Oz6vfYjzvA

— Pablo Aure (@pabloaure) January 11, 2018
Many people have said that soldiers are going hungry in their barracks. I don't know if this video is real or fake, but it shows what people have been saying. A call to a general for food. 
Venezuela is also experiencing a wave of looting that threatens to leave every shelf in the country empty. The regime forces supermarket chains to lower their prices, and then stampedes of customers come and clean them out in one day.
Increíble la estampida de gente para saquear en #Trujillo anoche!
Sin precedentes, el vandalismo, producto del hambre que genera el Régimen de Maduro! pic.twitter.com/dNmVUuzE6C

— GéGé (@GegeRpz) January 10, 2018
The stampede of people in #Trujillo last night! This is unprecedented. Vandalism as a result of hunger caused by the Maduro regime. 
It is no longer just the lower classes that riot and loot in this crisis. Those who remain in the middle class also show their desperation after an imposed reduction of food prices. The measure results in a significant loss for storeowners, but it helps those struggling to survive in an economy almost entirely controlled by the regime.
The Venezuelan Human Rights Education and Action Program (Provea) reported that some people buy animal food to eat. It toured different supermarkets in Caracas and found that many carried "dog sausages" made of crushed chicken bones and other inedible animal parts.
"Venezuelans consuming food for animals is a dramatic consequence of the state's violation of the right to food," the organization said in a press release.
This dramatic level of shortages has resulted in a spike in crime, too. Venezuela is the most dangerous city in the world, experts say. Some people carrying bags of food on the street are often robbed.
Roberto Briceño León, Director of the Venezuelan Observatory of Violence (VOV), reported that gangs are taking advantage of the crisis to recruit new members.
"Recruitment techniques that used to be focused on fashion or luxury items have been replaced by basic food supplies," the VOV report said.