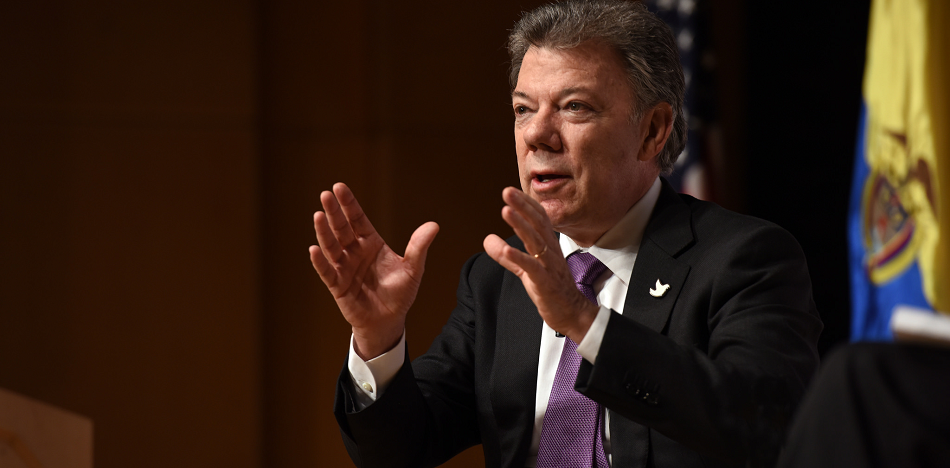 Once again President Juan Manuel Santos had strong words for his Venezuelan counterpart Nicolás Maduro, demanding that he stop using Colombia as an "excuse to disguise the shortcomings of your failed revolution."
Santos rejected Maduro's suggestion that the health system of Colombia was a failure and that supposedly thousands of Colombians crossed every day into Venezuela in search of healthcare and medicines.
The Colombian president also offered humanitarian support with food and medicines to mitigate the shortage of supplies in Venezuela.
Santos, in a statement issued from the presidential residence, said:
"By God, what cynicism. Everyone knows that the opposite is true. It is here, in Colombia, where we are serving more and more Venezuelan citizens who are unable to find even the most basic drugs in their country."
The Colombian leader observed that vaccination coverage in Venezuela is limited and that diseases such as diphtheria and measles have reappeared.
This is the most recent incident between the two leaders, who have enjoyed a tense diplomatic relationship. On November 28, Santos also responded to accusations made by the Chavista leader about an alleged blockade of drugs to Venezuela.
The Venezuelan dictator has attacked Juan Manuel Santos on several occasions. In one bizarre incident, he referred to the Colombian president as his son, and suggested that Santos should be asking for "a blessing."
Several weeks ago, he also introduced the unproven theory that Colombia is preventing Venezuela from importing medicines: "Santos, swallow your medicines, it does not matter, we will not buy them from you. We are already buying them from India…so keep you medicines, your drugs, and your cocaine! You have to be very evil to do that."
Nicolás Maduro has not been able to contain his anger over Colombia's repudiation of the dictatorship, and giving asylum to persecuted officials such as Venezuela's attorney general, Luisa Ortega Díaz.
Santos, who initially maintained a "friendship" with Nicolás Maduro, has now admitted that "Venezuela is his worst nightmare" in the face of a possible social implosion. "If you ask me what my nightmares are, then my worst nightmare is Venezuela," the Colombian president said at the time.
Santos is concerned about a massive migration of Venezuelans fleeing the country and not returning, as the South American is now suffering from a shortage of 90% of basic medicines and foodstuffs, as well as hyperinflation and the lowest wages in the region.
"If there is an implosion in Venezuela, it is not that we will not merely receive 500,000, which is what we have currently received; there will be millions and that will be a tremendous problem for the peace process and for Colombia in general," said Santos.
It should be noted that thousands of Venezuelans cross daily to Colombia to work, study, or buy medicines and food, but many have entered major cities such as Bogota, Medellin, Cali, and Barranquilla in search of new opportunities, according to immigration authorities.
The crisis in Venezuela, characterized by shortages and the scarcity of medicines, has caused families to travel to neighboring countries to access goods and services. In Colombia, for example, Venezuelans look for vaccines for their children.
In 2017 there were at least 40 families daily arriving in Cúcuta to request vaccination for their babies; despite the fact that the clinics could only accommodate 20 people daily.
Brazil is another country that has been affected by the migration of Venezuelans. The situation in the border region of Roraima, especially in the town of Paracaima, is increasingly complex due to the fact that the Federal Police and the Brazilian public services are overwhelmed by serving newly arrived Venezuelans.
The same has occurred in Guyana, a country that reported an increase in the number of Venezuelans arriving to seek treatment for diseases such as malaria.
The head of the Medical Council of Guyana, Shamdeo Persaud, said that Venezuelans are treated free of charge; he added that malaria cases also increased in the border area.
He also noted that the authorities of that country are investigating reports of a measles outbreak in Venezuela.