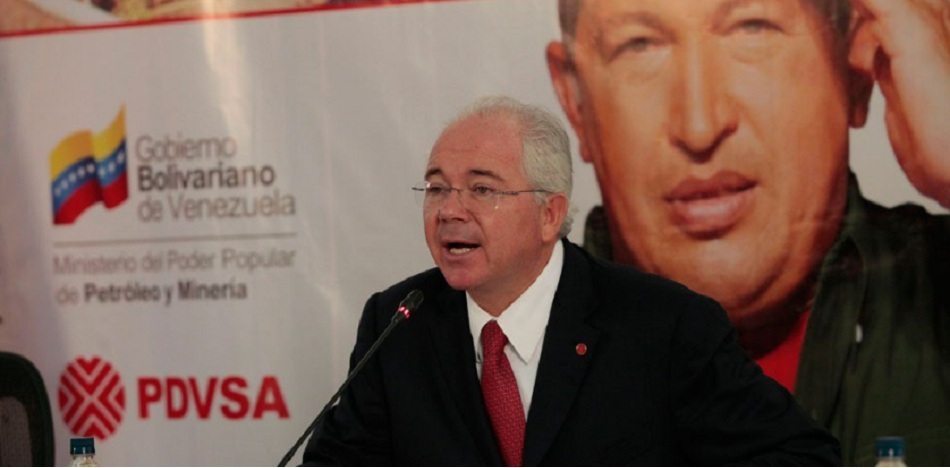 Español The Venezuelan regime has announced a criminal investigation into Rafael Ramírez, the country's United Nations representative who resigned and left the country due to corruption within state-owned oil company PDVSA, which he used to oversee.
Before his dismal, Ramírez reportedly met with Foreign Minister Jorge Arreaza, who would later denounce him for money laundering through Venezuela's PDVSA. It's strange, however, that the regime allowed him to leave the United States, even reportedly facilitating is escape and disappearance to Ecuador.
In his letter of resignation, Ramírez said he had "made an agreement" with Arreaza about his dismissal. Then, on Tuesday, December 12, Venezuelan Attorney General Tarek William Saab announced he would be opening a criminal investigation into Ramírez's activities.
Ramírez was the "protege" of Hugo Chávez and continues to be one of the most powerful men in Venezuela, having presided over PDVSA for 10 years of unprecedented crisis.
Last year, Venezuela's National Assembly discovered a misappropriation of funds of US $11 billion between 2004 and 2014 — the period that Ramírez served at the head of the company. The Assembly's report revealed misconduct ranging from bribes and fixed pricing to misappropriation of funds, as well as the use of tax havens for public resources that ultimately resulted in a significant loss of government money.
#ÚltimaHora Ministerio Público anunció investigación penal contra Rafael Ramírez. Tarek William Saab: hemos decidido abrir una investigación penal al ciudadano Rafael Ramírez, #NoticiasEnVIVO por: https://t.co/7htf6Sf83H pic.twitter.com/FAT71zS44q

— VIVOplayNews (@vivoplaynews) December 12, 2017
#BreakingNewns Prosecution authorities announce criminal investigation against Rafael Ramírez. Tarek William Saab: we have decided to open an investigation against Rafael Ramírez.
Investigations citing this evidence were blocked in 2016 by the current and illegitimate Supreme Court of Justice following a nullification request by Ramírez.
Only now is the regime citing evidence that shows Ramírez is guilty. Arreaza said documents taken from a safe found on the property of Ramírez's cousin Diego Salazar Carreño — who allegedly withdrew hundreds of millions of euros from the Banca Privada d'Andorra (BPA), a subsidiary of Banco Madrid — incriminate Ramírez as an intermediate in unlawful oil transactions. During a press conference, Saab confirmed that Salazar had made statements that directly involve Ramírez in the activities.
According to Saab, 67 people have been arrested on PDVSA corruption charges, 18 of them having held high positions.
On December 8, Ramírez tried to wash his hands of the crisis facing PDVSA by stating he is "absolutely innocent of any charge of corruption." He reportedly knew the regime would come for him, saying in his letter of resignation that "attacks and vilifications" were going to be levied against him.
Ramírez has been under investigation by the United States and Europe for money laundering through PDVSA, so why are investigations inside of Venezuela only beginning a week after he left his post at the UN? And why did Arreaza allegedly accompany Ramírez to a hiding spot in Ecuador rather than detain him?
Confirmado por PC: El 1 de dic. a la 1:30PM viajó Rafael Ramírez con su esposa, acompañado por María G. Chávez y Jorge Arreaza en el avión Dessault 900B(YV-2040) que salió desde Newark Nueva Jersey a Quito, Ecuador. Ramírez quiere tener bajo perfil. Arreaza logró que un acuerdo pic.twitter.com/AGfRF6KnQX

— Maibort Petit (@maibortpetit) December 5, 2017
Confirmed by PC: on Dec 1, at 1:30PM Rafael Ramírez flew with his wife, along with María G. Chávez and Jorge Arreaza on Dessault flight 900B(YV-2040) from Newark, New Jersey to Quito, Ecuador. Ramírez wants to keep a low profile. Arreaza reached an agreement [with him]