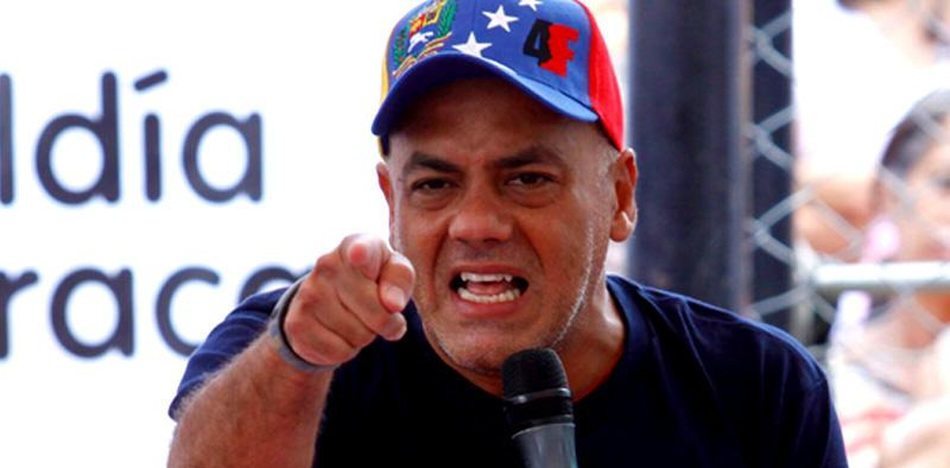 Español Negotiations between Nicolás Maduro's regime in Venezuela and the country's political opposition have reportedly fallen into a "vicious cycle" of threats that isn't productive for either side. Maduro's side has expressed an unwillingness to negotiate, even trying to blackmail its way out of international sanctions with threats of eliminating elections altogether.
Minister of Communication and regime spokesman Jorge Rodríguez said there will be no elections in Venezuela if the United States does not lift its sanctions against the country. The elections, which are laid out in the Venezuelan constitution, are scheduled for 2018.
"Venezuela will not have an election, nor will we sign any agreement with the Venezuelan opposition until the gross sanctions that the Venezuelan right-wing leadership requested from the Treasury Department of Donald Trump, from Spanish and Canadian authorities, and from any and all foreign and international entities, are lifted," Rodriguez said.
It's an ironic threat given that Maduro originally called the US sanctions a victory and an honor for Venezuela. In fact, Maduro's new attempt at blackmail shows the sanctions — which were handed down by  the United States, Canada and now the European Union — are starting to work as intended.
The opposition coalition Democratic Unity Roundtable (or MUD, by its Spanish acronym) called for "patience and confidence" with negotiations despite having fallen victim to the regime's disingenuous interest in advancing discussions about transparent elections and humanitarian aid.
"I understand that there people are anxious to know what is going to happen with each of these issues, but I would recommend patience and confidence in the negotiation team," Deputy Luis Florido, a MUD spokesmen, said. "Let's wait until December 15. We hope to have good news by then."
Julio Borges, President of the disbanded National Assembly, insisted that the opening of a humanitarian food and medicine channel is his primary concern. However, the regime has been clear that there will be no humanitarian aid, let alone free elections.
The regime blames the US for the financial sanctions that prohibit Americans from working the Venezuelan government or with the state-owned oil company PDVSA. These governments have made it clear that sanctions will only be lifted when the rule of law and constitutional democracy are restored.
President Trump has already announced there is no way to reverse the sanctions. Meanwhile, the rest of the international community has the ability to pressure Maduro's regime further, and ultimately drown it through the seizing of its foreign resources goods as well as by eliminating the visas of top government officials.
Reactions
It did not take long for people to react to Jorge Rodriguez' comments on social media.
En realidad es al revés.. Nadie levantará sanciones si no se ve acuerdo .. https://t.co/vt7muDvEc6

— Jorge Roig Navarro (@jorgeroig) December 4, 2017
This is totally backwards. Nobody is lifting any sanctions until they make concessions. 
No es que EEUU no levantará las sanciones ni que se lo pida para Dios, sino que ya el Senado las convirtió en ley y durarán toda la vida de los sancionados

— Manuel Malaver (@MMalaverM) December 5, 2017
The US won't lift their sanctions even if they want to. Their Senate has already ratified them into law, and those sanctioned will continue to be until the end of their days. 
Si saben que "no habrá acuerdo hasta que no se levanten las sanciones" y dichas sanciones son de terceros países, entonces, ¿para que negocian?

— Roberto Smith P. (@RobertoSmithP) December 5, 2017
If its the case that "there will be no negations until international sanctions are lifted" and these sanctions are imposed by a third party, then what are they negotiating for?
Ahora el narcorégimen pretende que se quiten las sanciones internacionales para poder convocar a las elecciones presidenciales en el 2018. No se debe aceptar este chantaje.

— Padre José Palmar (@PadreJosePalmar) December 4, 2017
Now the narco-government wants their sanctions lifted or else there won't be a presidential election in 2018? We shouldn't go along with this blackmail. 
https://twitter.com/miguelhotero/status/938019954997256192
If Maduro wants the sanctions lifted, he should be negotiating with the US.