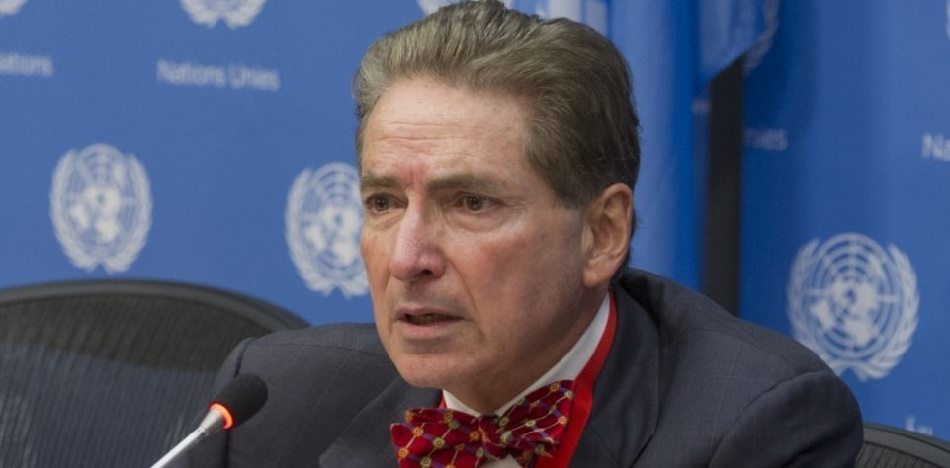 EspañolAn official from the United Nations arrived in Venezuela this week to evaluate the country's human rights situation.
Alfred de Zayas plans to stay in the country between Monday, November 27 and December 5 during his first official trip to Latin America. He will visit Ecuador afterward to gather information about regional trade cooperation, governance, social protection and human rights.
Zayas said he is visiting Venezuela to "listen to the government and the opposition" about the political, social and economic crisis that is occurring in the region.
#Venezuela??#Ecuador??@Alfreddezayas, experto independiente de la #ONU sobre la promoción de un orden internacional democrático y equitativo, realizará una visita a ambos países que se extenderá hasta el 8 de diciembre.

Más información:https://t.co/rbIjewJf7R pic.twitter.com/8GYSpQxfiB

— ONU Derechos Humanos – América del Sur (@ONU_derechos) November 27, 2017
"I will examine joint efforts to promote social progress and better standards of living in accordance with the provisions of the International Conventions on Economic, Social, and Cultural Rights, the International Conventions on Civil and Political Rights, and the agendas of global social forums from Porto Alegre," he said in a statement.
"Threats to human rights and development cross borders in today's globalized world, and I will recommend ways to strengthen relationships in order to overcome obstacles impeding the enjoyment of civil, cultural, economic, political and social rights in the region," he said.
De Zayas, an independent expert, is the first UN special rapporteur to travel to the country governed by Nicolás Maduro, who has rejected requests for visits from experts from other international organizations.
#Venezuela | Canciller Arreaza se reunió con experto de la ONU Alfred De Zayas https://t.co/GER4xOf6ct pic.twitter.com/ljjZbWn1mw

— teleSUR TV (@teleSURtv) November 27, 2017
During his speech at the 36th session of the Human Rights Council on September 11, Venezuelan Foreign Minister Jorge Arreaza announced the regime's decision to invite three special rapporteurs to visit Venezuela in the coming months. Arreaza's statements came as a surprise to some, as entities from the Office of the UN High Commissioner for Human Rights (OHCHR) have not had access to Venezuela since at least 2014, despite making requests to visit on several occasions.
In response to news of the UN official's visit, the NGO Transparency International sent him a letter demanding that he  "guarantee independence, seriousness and success." The organization also asked Zayas to include human rights defenders and organizations that have "long-term and recognized work both nationally and internationally" in his investigation of Venezuela.